I have no doubt that we will be successful in harnessing the sun's energy…. If sunbeams were weapons of war, we would have had solar energy centuries ago. ~Sir George Porter
Announcements
Help Amazon. Smile Smile on us
Amazon.com has a shopping site, http://smile.amazon.com, that will donate 0.5% of the price of your eligible purchases to the charity of your choice.
If you select Broward County Audubon Society, our parent group, you will be providing a service to South Florida Audubon Society
that will help us to provide more and more effective service to you, our members, and to our community.
Remember, if you want Amazon to donate to Broward County Audubon Society Inc, you need to start each shopping session at the URL http://smile.amazon.com and we will donate 0.5% of the price of your eligible purchases.
Of Interest to All

How Eagles Deal with Turbulence Could Save Airline Passengers' Lives
Pilot error is the number one cause of plane crashes, accounting for just over 50% of total accidents, according to statistics dating back to the 1950′s up to the present. Mechanical failure comes in second, at 20% of accidents, with weather third at 12%.
Much has been done to reduce accidents due to pilot error and new designs and technology are always under development in order to reduce mechanical failures. But dealing with weather is not an area that has had a lot of research until recently.
A team at Oxford University is studying the "collapsible wings" found in eagles and other birds as a way to develop a better understanding of how to help planes cope with air turbulence. The team fitted an eagle named Cossack with a camera and flight recorder and monitored 45 flights in windy conditions, when Cossack would often collapse his wings in response to strong gusts rather than holding them out, like an aircraft.
Data from the device showed that when Cossack would experience a significant loss of lift when flying through a pocket of turbulence. He would tuck his wings in, streamlining his body to pick up speed and better respond to unpredictable wind patterns.
In a paper published in the Journal of the Royal Society Interface, Graham Taylor of Oxford University's Department of Zoology wrote:

Our evidence suggests that wing-tucking (collapsing the wings) is a direct response to a substantial loss of lift that occurs when a bird flies through a pocket of atmospheric turbulence. We think that, rather like the suspension on a car, birds use this technique to damp the potentially damaging jolting caused by turbulence. Whilst we won't see large aircraft adopting collapsible wings this kind of technique could potentially be used to keep micro air vehicles aloft even in very windy conditions.'
David Russell Schilling|November 4th, 2014

In surprise move, US, China agree to limit greenhouse gases
President Obama and Chinese President Xi Jinping agreed Wednesday that their countries would limit greenhouse gas emissions.
The historic, unexpected deal commits each country to far-reaching goals to cap greenhouse gas emissions believed to cause climate change.
The United States will cut its emissions between 26 percent and 28 percent below 2005 levels by 2025, the White House said.
It is the first time the U.S. has agreed to cuts greater than the 17 percent reduction Obama set as a goal in 2009.
China agreed that its emissions of Earth-warming gases would peak by 2030 or earlier, according to the White House.
Xi's end of the deal represents the first time China has made any pledge to stop its rapidly growing greenhouse gas pollution, the highest of any country in the world. China has resisted calls to cut emissions, saying that as a developing country the pollution is necessary to its growth.
In a joint press conference with Xi in Beijing, Obama emphasized the historic nature of the pact and the impact on the world as a whole.
"As the world's two largest economies, energy consumers and emitters of greenhouse gases, we have a special responsibility to lead the global effort against climate change," he said.
He called the U.S. commitment "an ambitious goal, but it is an achievable goal," that would help public health and the economy while creating jobs and providing many other benefits.
"This is a major milestone in the U.S.-China relationship and it shows what's possible when we work together on an urgent global challenge," Obama said.
He was also clear that he and Xi hope to put pressure on other major countries to come forth with deep emissions reduction plans.
"By making this announcement today, together, we hope to encourage all major economies to be ambitious," he said.
The announcement from the White House came as part of Obama's trip to China, which included agreements over tariffs, military conflict and visas. It was announced late Tuesday in the United States, which was Wednesday in China.
An administration official told the Washington Post that the White House expects the U.S.-China deal to energize the world's major countries as they prepare to write a binding international agreement to cut climate change in Paris next year.
Both countries face political and economic pressure against the cuts. Any additional government action to cut carbon pollution in the U.S. is likely to face a tough fight in the newly Republican controlled Congress, and China is burning more and more coal each day.
But officials told the Post that they are confident that Obama has the power and ability to implement the necessary cuts to live up to the new agreement.
Senate Minority Leader Mitch McConnell (R-Ky.) blasted the deal as unrealistic, and said last week's election showed how unpopular Obama's environmental policies are.
"Our economy can't take the president's ideological war on coal that will increase the squeeze on middle-class families and struggling miners," he said in a statement.
In an opinion piece published after the announcement in the New York Times, Secretary of State John Kerry framed the deal as a landmark effort by the world's two largest economies to fight climate change and spur the rest of the world to follow suit. "The commitment of both presidents to take ambitious action in our own countries, and work closely to remove obstacles on the road to Paris, sends an important signal that we must get this agreement done, that we can get it done, and that we will get it done," he wrote.
But from a diplomatic standpoint, Kerry said the deal is a major milestone in U.S.-China relations. "It was an effort inspired not just by our shared concern about the impact of climate change, but by our belief that the world's largest economies, energy consumers, and carbon emitters have a responsibility to lead," he said.
Environmentalists applauded the deal as a historic step toward controlling climate change.
"These landmark commitments to curtail carbon pollution are a necessary, critical step forward in the global fight against climate change," Frances Beinecke, president of the Natural Resources Defense Council, said in a statement.
"We're seeing the emergence of an enormously positive new dynamic between the U.S. and China: bilateral cooperation that includes specific actions within each country," said Fred Krupp, president of the Environmental Defense Fund.
"As we look ahead to the Paris climate talks in late 2015, this level of cooperation between the two largest emitting nations is unprecedented — and essential," he said.
Lou Leonard, vice president for climate change at the World Wildlife Fund, said the deal sends a strong signal to other countries to get their acts in order on greenhouse gases.
"By acting together, the world's largest historical emitter and the globe's current leading emitter have put the rest of the world on notice: Game on; it's time to act," he said.

My other children, the orphan gorillas of Virunga
Park ranger Andre Bauma has been taking care of orphaned mountain gorillas at Virunga, Africa's oldest national park, for the past seven years, and he says he loves them as if they were his own children.
One gorilla, Ndakasi, is particularly close to Bauma. She sees him as her mother, and despite being a man – and a human to boot – he has taken on that role. "We shared the same bed, I played with her, I fed her… I can say I am her mother," he says.
They met in terrible circumstances. Ndakasi was a two-month-old infant when her mother was shot at close range through the back of the head – the park describes it as an "execution". Ndakasi was still clinging to her dead mother when they found her. "She was tiny, she only weighed a couple of kilos," says Bauma. Ever since he picked her up from the forest floor, he has dedicated his life to saving hers.
"Every single individual gorilla is crucial because it's an endangered species – so we had to take care of it, we took her in," he says.
Ndakasi was born into a renowned group of mountain gorillas called the Rugendo family, seven of whose members were slaughtered in the attack in 2007 that orphaned Ndakasi.
Illegal charcoal traders, engaged in a constant struggle with park rangers, are thought to have been behind the shootings.
The law says no human activity of any kind is allowed inside the park – located in the Democratic Republic of Congo – and the rangers are there to prevent it. It's a dangerous job – since 1996, more than 130 rangers have been killed. "We are constantly threatened, not only by the militias inside the park but also in general by the population," says Bauma. "There is a lot of poverty, so people try to survive. They will try to use the natural resources of the park, whether it be wood to make charcoal, fields for agriculture or illegal fishing."
Andre Bauma caring for gorilla orphans (C) Virunga The Movie / Grain Media
Bauma now heads the gorilla orphanage, located at the park headquarters in Rumangabo. Ndakasi was the first to be housed there, but she was soon joined by Ndeze, another member of the Rugendo family. In 2010 the two females were joined by Maisha, another female, and Kaboko, a male – both had been seized by poachers, and Kaboko had lost his hand in a snare. Kaboko died in 2012, but since then another orphan has joined the gang – Matabishi, a young male found abandoned outside the park.
No-one believed Ndakasi would survive, but she has grown to be a healthy 65kg. She still behaves like a baby, though. "Whenever she sees me she climbs on my back like she would with her mother," says Bauma. "But she's a big and strong girl and I'm not capable of playing with her like I used to. When she climbs on my back, every time I'm worried that I'm going to hurt myself – in fact at the end of the day I have real backache."
The rangers communicate with the gorillas using a combination of gestures and voice commands.
"For instance there is the approaching call to tell them: 'Here I am, I'm coming, I'm going to stand next to you, there's no problem everything's fine,'" says Bauma – this sounds like a long, low grunt. "I can also forbid them something," he says. "I can tell them: 'This is not good, you mustn't do this.'" That command sounds like a series of short uhs.
In fact, communicating is not a problem at all, says Bauma. "I find them very intelligent and I can understand anything. I can hear by their tone of voice if they're scared of something, if they're worried, if there's something wrong with the food, if they feel they're in danger… There are different sounds they make and because we've lived together for so long I'm quite good at recognizing their mood."
If the gorillas misbehave, manhandling them is not an option – the orphans are now stronger than their human carers. "You cannot force them to do something because if they decide to be stubborn, you will have difficulties," says Bauma. For example if an orphan escapes from the enclosure, it can take hours to get them back inside – it's the gorillas' "favorite game" according to the park website, but it's not at all funny for the carers.
Luckily Bauma has a secret weapon: Pringles – the salty potato snacks. "When you give them something they like, they realize that you're their friend. We do not give it to them as food, but rather as a tactic to handle them," he says.
Virunga National Park is one of the most biologically diverse protected areas on the planet. It was set up in 1925 primarily to protect the mountain gorilla, and a quarter or more of the world's 800-to-900 mountain gorillas live within it. According to WWF, one of the animals can indirectly generate £2.5m ($4m) in tourist income over its lifetime – and in the 1970s the park was popular, welcoming an average of 6,500 visitors per year. But it suffered terribly from the decades of conflict that followed.
The gorilla killings in 2007 proved a turning point. A new director of the park was appointed and its fortunes revived. Tourist numbers rose back into the thousands, but in 2012 a new rebel movement called M23 moved into Virunga and the park closed to visitors. At the same time, the park was facing the threat of oil exploration from a UK company.
These turbulent times have been documented in a new film, called Virunga, directed by Orlando von Einsiedel and with Leonardo Di Caprio as executive producer. The film premiered worldwide on Netflix on Friday.
The gorilla orphanage is at the heart of the film. As the M23 insurgency draws nearer to the park's headquarters, Bauma is seen comforting a frightened young gorilla. "We are very worried about the fighting, we are hearing so many bombs, many many many bombs," he says, stroking the gorilla's hair.
Eventually the M23 militia comes so close that everyone in the area is evacuated – except the rangers, armed with rifles. "I felt obliged to stay with the gorillas here," Bauma says. "You must justify why you are on this earth – gorillas justify why I am here, they are my life. So if it is about dying, I will die for the gorillas."
The film shows local people running into the park for help – veterinary facilities are used to treat the wounded. But in the end there was no conflict with the militia. "First of all we don't have the means to fight them, so we chose another solution," says Bauma. "We tried to explain to them that we are not politicians, we are people trying to preserve nature, and nature belongs to everyone, to all the Congolese and the people in the world. Things went fairly well, while they were there they didn't do too much damage, because we chose that peaceful approach."
In October 2013 the army recaptured Rumangabo from the M23 rebels. And according to a joint statement with the WWF, UK oil company Soco has committed to end its oil exploration operations in Virunga. But for the park to be safe in the long term, Unesco has called for the Congolese government to abandon all plans for oil extraction. And the park still has its enemies. In April the park's director Emmanuel de Merode was shot and wounded in an ambush.
Bauma says it's hard to decide what to do with the orphans in the long term. "Our goal was always to eventually release them into the wild," he says. However the rangers' efforts to make the gorillas grow strong may have backfired.
"The way we fed them, it was mostly food that we buy at the market – fruit, carrots, apples – and it's not really food they can find in the wild. Also, they sleep inside the house at night so there's a real concern. Now we've realized that if we were to release them into the wild they could have a problem with the food, and they could have a problem with the weather – they could die."
It has been decided that the orphans should stay in their sanctuary for now. This means that Bauma will carry on spending three weeks in Virunga with his gorilla family and a week at home with his human family. Are they ever jealous? "My human family understand that my work with the gorillas is important," he says. "I wouldn't say that I love the gorillas more than my human family but I do try and find a balance – they are both very important to me. I have a share of love that I give to my gorilla family and a share of love that I give to my human family."
Vibeke Venema|BBC World Service

Column: Americans love Keystone pipeline
The Keystone XL oil pipeline is so popular! Ever since the Republicans won control of the Senate, it's become the Taylor Swift of political issues.

"We can act on the Keystone pipeline," the House speaker, John Boehner, said as he launched into his description of the next Congress.
The House, which believes strongly in the power of repetition, has already passed a bill authorizing construction of the final phase of the pipeline eight times.
It was also the first thing the future Senate majority leader, Mitch McConnell, mentioned in his postelection news conference.
"When you say energy these days, people think of the Keystone pipeline, but that's only part of it," he said.
You have to wonder who he's been hanging around with, since many Americans are actually capable of thinking about energy for quite a long period of time without ever landing on "pipeline from Canada to Nebraska."
McConnell then went on to describe an energy agenda in which the only specific item he mentioned was you-know-what. ("I mean, the employment figures connected with Keystone are stunning if we would just get going.")
Actually, employment figures are not that stunning. There'd be a few thousand workers necessary to build it, but if we want construction jobs, we've got a ton of roads and bridges that need repair.
"Keystone is certainly overhyped as a job creator, mostly because the vast majority of jobs are temporary," said Tim Boersma of the Brookings Institution.
It's hard to figure where all the enthusiasm comes from. The Keystone XL would carry oil from the tar sands of Canada to Nebraska, where it would hook up with an existing pipeline to refineries on the Gulf of Mexico. Environmentalists hate it because oil from the tar sands expels more carbon into the atmosphere. If the pipeline isn't built, the oil will still get to the refineries by train, but at least we wouldn't appear to be encouraging the energy industry to drill the worst stuff possible.
The only people who would seem to have an intense practical interest in which way this plays out would be Nebraskans who will have to live with the pipeline, and the people who control the tar sands land in Canada. That group happens to include the famous campaign-contributing Koch brothers.
So, question answered.
Keystone opponents were heartened Tuesday by the defeat of Rep. Lee Terry, a veteran Omaha Republican and staunch Keystone defender. Some Nebraskans are worried the pipeline would create spills that would threaten the water supply.
"When you start to mess with Nebraska water, you definitely have a fight on your hands," said Jane Kleeb of Bold Nebraska, an anti-pipeline group.
Terry was one of only three Republican members of Congress who lost Tuesday, so defeating him was quite a coup — although he was the Nebraska Republicans' weakest link. During the government shutdown, Terry made news when he dismissed proposals that members of Congress forgo their salaries for the duration of the crisis. ("I've got a nice house and a kid in college, and I'll tell you we cannot handle it.") Also, some voters disliked Terry's campaign ads, which linked his opponent to everything from terrorist beheadings to the parole of a serial killer named Nikko Jenkins. And then there was the last-minute surprise that came when Nikko Jenkins announced in court that he was endorsing Lee Terry.
But about the pipeline.
If the Keystone project came up for a vote in the new Senate, it would probably draw enough Democratic support to hit the magic number of 60. Then it would be up to President Barack Obama, who is constantly being criticized by Republicans for standing between America and a jobs-rich energy boom. This would be the same president who's opened up massive new areas for oil exploration, increased the sale of leases for drilling on federal land and cut back on the processing time for drilling permits.
Story of Obama's life. He trots down the center, irritating his base, while Republicans scream at him for failing to do something that he's actually been doing all along.
In the end it's completely up to the president. But the story is really about the Republicans. They're about to take over Congress and show us how they can govern. So the first thing they're going to do is hand a windfall to the energy interests that shoveled nearly $60 million into their campaigns? Terrific.
Let them prove they're better than that. There's a nice bipartisan energy efficiency bill that's been sitting in limbo in the Senate. It would help manufacturers reduce energy costs, promote model building codes and do a bunch of other useful things. If the Republicans would forget about posturing for their campaign contributors, drop Keystone and pass the energy efficiency bill instead, it really would be a new day.
We'd all be incredibly impressed. Honest.
GAIL COLLINS|NY Times Syndication|November 10, 2014
Slow down as manatees start their swim to warmer waters
The annual migration of Florida manatees to warmer waters begins in November, which is Manatee Awareness Month.
The Florida Fish and Wildlife Conservation Commission (FWC) encourages boaters to help protect migrating manatees by looking out and slowing down for these aquatic mammals that often rest or congregate underwater and can be difficult to see.
"During Manatee Awareness Month, the FWC encourages the public to celebrate manatees by learning more about these gentle giants, including the importance of people's actions in conserving this iconic Florida species," said Carol Knox, the FWC's Imperiled Species Management section leader.
"Boaters slowing down and watching out for manatees can help protect this species from injury. Anyone who spots a manatee that is injured, entangled in fishing line or otherwise in distress can help initiate a rescue by calling the FWC's Wildlife Alert Hotline at 888-404-3922," Knox said.
On their annual trek, manatees, including mothers and their calves, swim along Florida's many rivers, bays and coastal areas in search of the warmer, more stable temperatures found in freshwater springs, man-made canals and power plant outflows. Unlike dolphins and other marine mammals, manatees do not have true blubber to insulate them from waters below 68 degrees Fahrenheit, so they must find warmer waters during their migration to survive the winter cold.
Despite their size, with adults weighing 1,000 pounds on average, manatees can be difficult to spot. That is why it is important for boaters in Florida, including those using personal watercraft, to slow down to prevent collisions with manatees, particularly in shallow areas or posted manatee protection zones. On Nov. 15, many seasonal manatee protection zones around the state go into effect. For manatee protection zones by county, including the seasonal changes, go to MyFWC.com/Manatee, and click on "Data and Maps."
Tips on how to spot manatees:
Wear polarized sunglasses when boating.
Look for circular patterns on the water's surface – the so-called "manatee footprints" that indicate a manatee's presence below.
Be careful when boating near shallow seagrass beds, where manatees like to graze.
Watch for posted signs indicating manatee protection zones and appropriate boating speeds.
Find out about great places in winter to watch manatees by going to MyFWC.com/Manatee and clicking on "Where Can I See Manatees in Florida?"
People can support the FWC's manatee research, rescue, rehabilitation and management efforts by purchasing the "Save the Manatee" Florida license plate at BuyaPlate.com, or by donating $5 to receive an FWC manatee decal by going to MyFWC.com/Manatee and clicking on "Decals."
Learn more about manatees at MyFWC.com/Manatee, where you can find "A boater's guide to Florida manatees" and other information.

Troubled Waters in the Arctic Ocean
It's no trick, on Halloween the Obama administration released a new draft analysis of the effects of oil and gas leasing in the Chukchi Sea, part of America's Arctic Ocean, that demonstrates how risky it would be to allow drilling in this remote, irreplaceable, and climate-stressed region.
Last January, the Ninth Circuit Court declared the Chukchi Lease Sale 193 unlawful, requiring the Bureau of Ocean Energy Management (BOEM) to redo the analysis of environmental effects of drilling in the sea and reconsider whether the region should be open to drilling at all. Read Audubon Alaska's press release.
We've just started reviewing the draft analysis, but it shows the effects of leasing in the Chukchi Sea could be frightening. For example, under its new analysis, the Interior Department acknowledges that there is a 75 percent chance that one or more large oil spills would occur if the leases are developed (more than 1,000 barrels, or 42,000 gallons, of oil).
Worse, 1,000 barrels is the bare minimum size of a large spill. The average-sized large spill from a platform in the Gulf of Mexico and Pacific Ocean is 395,500 barrels, 395 times larger than the minimum "large" spill. There is no way to clean up or contain a large oil spill in harsh Arctic Ocean conditions. Arctic drilling is far too risky, proven by Shell's disastrous 2012 program that involved fires, pollution violations, fines, and ended with its drilling rig grounded near Kodiak, Alaska.
Once Audubon has examined the plan, there will be a chance for you to send in comments to BOEM. We'll keep you posted!
From the Audubon Advisory, November 2014
Former Massey Energy CEO Don Blankenship Indicted for Deaths of 29 Coal Miners
For decades, big coal companies have violated mine safety regulations with at most a slap on the wrist, while spending millions to lobby and electioneer for weakening those regulations. Now the chickens have come home to roost for one former coal company CEO as a federal grand jury in Charleston, West Virginia indicted former longtime Massey Energy CEO Don Blankenship yesterday on charges that he deliberately flouted safety standards leading to the death of 29 miners in an April 2010 explosion at its Upper Big Branch Mine (UBB), reports the Charleston Gazette.
"Blankenship knew that UBB was committing hundreds of safety-law violations every year and that he had the ability to prevent most of the violations that UBB was committing," the indictment said. "Yet he fostered and participated in an understanding that perpetuated UBB's practice of routine safety violations, in order to produce more coal, avoid the costs of following safety laws and make more money."
"Throughout the indictment period, Blankenship also conspired to defraud the United States by impeding the federal Mine Safety and Health Administration in carrying out its duties at UBB," it continued. Following a major, fatal explosion at UBB on April 5, 2010, Blankenship made, and caused to be made, materially false and misleading statements and representations, and omitted and caused to be omitted statements of material facts, regarding his and Massey's practice of willful violations of safety laws at that mine. These included materially false statements and representations made to the United States Securities and Exchange Commission and materially false statements and representations, and materially misleading omissions, made in connection with the purchase and sale of Massey stock."
The grand jury found that failure to provide adequate airflow, coal dust accumulation and an inadequate number of mine safety workers were among the factors contributing to the explosion that were routinely ignored by the company. The accident was the worst mining disaster in the U.S. since 1940 and followed a long record of health and safety violations at the mine. The U.S. Mine Safety and Health Administration (MSHA) later issued 369 citations for safety violations and assessed a $10.8 million fine. The indictment charges Massey with three felonies and one misdemeanor with a potential of 31 years in prison for the former CEO who led the company for almost two decades.
"It's an important day for many, many families in the Central Appalachian coal fields," Bruce Stanley, a Pittsburgh attorney who has fought Blankenship on behalf of miners' widows and a rival coal operator who alleged Massey drove him out of business, told the Charleston Gazette. "For the first time in my memory, the CEO of a major coal producer is being held criminally accountable for the atrocious conduct that occurred on his watch."
The indictment details threat after threat made to mine management to ignore safety in order to maximize profit.
One such charge says, "On or around April 29, 2008, Blankenship sent the known UBB Executive another handwritten message chastising him for not producing coal as quickly as Blankenship wanted at one of the mines in the UBB mining group. This message instructed the Known UBB Executive, 'Run coal. Don't bolt for the year 2525.' This message was an instruction to increase coal production by devoting less time to the installation of roof bolts, which were a form of roof support." He charged another with "'insufficient attention to cost-cutting," and told him "You have a kid to feed. Do your job."
The investigation of the explosion has already led to the convictions of four former officials at UBB which was sold in late 2010 to Alpha Natural Resources. But Blankenship, who retired following the sale, is the really big fish. He was a major power broker in West Virginia politics who among other things helped engineer the election of a friendly supreme court justice prior to a case involving the company coming before the court.
Blankenship was typically arrogant and unrepentant. His attorney issued a statement saying, "Don Blankenship has been a tireless advocate for mine safety. His outspoken criticism of powerful bureaucrats has earned this indictment. He will not yield to their effort to silence him. He will not be intimidated."
The response on the Facebook page of nonprofit community advocacy group Appalachian Voices was exultant but skeptical. Posters called him "a murderous, callous lowlife" and said "It's a multi-headed snake, but at least one just got lopped off," while also saying "The party that wants to get rid of OSHA was just given a lot of power to do just that by the same people that these companies are killing."
Robert F. Kennedy, Jr., president of Waterkeeper Alliance, recalled Blankenship's proud attitude of putting profits before people and planet:
"Don Blankenship once boasted to me that it was impossible to conduct mountaintop removal mining without violating the law. He prided himself on his cold-blooded capacity for turning America's purple mountains majesty into coal company cash. His criminal mind allowed him to view the human beings of Appalachia as disposable production units. He is a sociopath and gangster who's gift was felonious greed and a stone-cold heart that allowed him to put his yearning for money and power ahead of human lives. Those qualities had great value to his friends and investors: the Wall Street robber barons. But they were poison and destruction to the noble communities of coal country. We can't bring back the towns he destroyed, the lives he took, the mountains he flattened, the rivers he poisoned, but there is some consolation in knowing that he's getting what he deserves: three hots and a cot and long days in the company of fellow criminals of lesser appetites and lesser distinction."
Anastasia Pantsios|November 14, 2014
Calls to Action
Support America's Clean Power Plan to cut dangerous greenhouse gas pollution –

here

Clean air is a fundamental right. But we need to fight for it. Take action – here

Tell Congress: Don't Increase Fracking or Slash Food Safety Rules – here

Save Borneo's Pygmy Elephants – here

Stop an Investment Firm from Destroying Rainforests – here
Birds and Butterflies

Dirty Legacy
Exposing the lax regulation and health risks of Alberta's tar sands industry.
In northern Alberta last week, more than 100 migrating birds caught up in a dense fog decided to take shelter on the nearest lake—and instead came to the end of their journey.
When their avian ancestors flew over this region, it was covered by pristine boreal forest, a perfect habitat and breeding ground for hundreds of bird species. Now it's a polluted hellscape, crisscrossed by toxic tailings ponds—gigantic pools of chemical byproducts left over from the process of extracting and refining the world's dirtiest fuel from huge open-pit mines.
The migrating birds died, as have many thousands of others before them. The Alberta Energy Regulator reported 122 deaths last week, a total that made headlines across Canada—not because it was particularly shocking, but because it's a reminder that despite years of concern and millions of dollars in fines, the tar sands mining companies are still killing wildlife. And when Canadian Natural Resources Limited, one of the giant mining operations responsible for the bird deaths, blamed it in part on "late migration," it recalled Syncrude's claim in 2008 that the deaths of more than 1,600 birds on one of its tailings ponds was "an act of God."
I reported on Canada's tar sands tailings ponds and their dirty legacy for the December issue of Outside magazine. In a story published online today, I found that the ponds remain largely unregulated, and the resulting human health concerns go all but ignored. The government doesn't want to impede the economic development of this homegrown fuel, despite the fact that NASA's James Hansen estimates that the remaining tar sands reserves contain twice the amount of carbon pollution emitted by the entire global oil industry—in all of human history.
The climate concerns of the tar sands have been well documented in the United States, which has resulted in an outpouring of opposition that has blocked approval of the Keystone XL tar sands oil pipeline for six years. But the impacts on northern Alberta's environment, and the First Nation communities that call it home, are less well known—though just as troubling.
Around the same time I was in northern Canada reporting this story, a video crew from onEarth visited many of the same places and talked to the same people. Their reports share some of the shocking sights and concerns of the communities living in the shadow of the world's dirtiest oil fields.
One of the most consistent and powerful voices on the tar sands belongs to Dr. John O'Connor, who grew up in Ireland and is now director of health and human services at the Fort McKay First Nation. Despite his title, he's pretty much a country doctor, shuttling from one village to the next along the polluted Athabasca River.
After he began diagnosing an unusually high number of cancer cases among the First Nations communities, O'Connor starting raising the alarm, only to see the government downplay or ignore his concerns. As I explain for Outside, O'Connor was even threatened with potentially career-ending disciplinary action for speaking out—until subsequent health studies substantiated his concerns.
Still, the government has so far failed to complete the comprehensive community health study O'Connor was promised.
In May, the United Nations called on the Canadian government to launch a special inquiry into the treatment of its First Nations. The U.N. said that more than half of all native people on government reserves face health risks due to contaminated drinking water. Environmental Defence, a Canadian environmental action group, has estimated that the tar sands tailings ponds are leaking a combined three million gallons of toxic sludge into the Athabasca River—every day.
"The native people are dying," musician Neil Young, an Ontario native, declared at a press conference in Washington, D.C., organized earlier this year to bring attention to the health impacts of tar sands. "All the First Nations people up there are threatened."
The title of my Outside piece is "The High Cost of Oil." It's a price we might all pay, if the tar sands are fully developed and our climate faces the consequences. But for now, the First Nations of northern Alberta are covering the costs for the rest of us.
See the video, "Paying the Price"
See the video "Tar Sands Dirty Legacy"
Ted Genoways|3 days 4 hours ago

Secret Lives of Hummingbirds Revealed by Scientists
We've learned a lot about some of the tiniest birds in the world: they have incredibly fast wings, they steal spiderwebs to build nests, they are the only birds capable of sustained hovering that can beat machines, and they have adapted to detect sweetness. Even still, there are a lot of questions about hummingbirds that are slowly being answered, thanks to the efforts of master bird banders who tag and track them.
"We're learning a lot about hummingbirds through banding we never would have learned otherwise," said Bruce Peterjohn, chief of the bird banding laboratory for the U.S. Geological Survey's (USGS) Patuxent Wildlife Research Center in Laurel, Md., told the Associated Press.
Hummingbird bands are only issued to banders who have been specially trained on capturing and banding techniques. According to the USGS, unlike other bird bands, hummingbird bands must be cut to the appropriate sizes and formed by the bander, which requires specialized knowledge, skills and equipment that's not required for other types of bird banding. They also need state and federal permits to capture hummingbirds, who are protected under the Migratory Bird Treaty Act.
It's not hard to see why specialized training is needed – the bands typically measure 1.27-1.52 mm in diameter and 1.6 mm high, with some so tiny they can fit perfectly on a safety pin.
According to Peterjohn, even though the number has grown, there are only an estimated 225 hummingbird banders in the U.S., while 125 are considered master bird banders because of the years they have put into perfecting the technique.
Their careful work has paid off with new insights into the secret lives of these tiny little birds. Through banding, they've learned new things about their lifespans and travels. One Rufous hummingbird who was originally spotted in Florida was later found more than 3,500 miles away in southeast Alaska the following summer, while others have been discovered spending winters in areas where temperatures drop below zero degrees.
They've also found hummingbirds can live much longer than the previous two to three year lifespan that was once thought to be the norm, with some living up to 10 years.
Yet what they've learned has still only led to more questions. Peterjohn said it's still not clear if they make their migrations hundreds of miles at a time, or whether they're taking short flights with stopovers, but he added that with more being banded they may get more answers.
Still others who are studying them have provided more insights, including a new study that found their sharp beaks are for far more than just delicately sipping nectar.
For the study, published in the journal Behavior Ecology, researchers looked at long-billed hermits native to Central and South America and found their beaks double as dagger-like weapons the males use to fight with and stab their opponents in the neck when it comes time to establish territory and pick a mate.
While scientists knew males and females had beaks that were shaped differently, they thought it was because they have different feeding habits.
Alejandro Rico-Guevara, research associate in the Department of Ecology and Evolutionary Biology at the University of Connecticut and lead researcher of the study, called it the first evidence that bills are also being shaped by sexual selection through combat.
Alicia Graef|November 12, 2014

New Eagles Have Landed
Three new eagles are now n display at the Center.
Audubon Center for Birds of Prey is excited to announce that we have added three new members of our Bird Family here at the Center for Birds of Prey. Three non-releasable Bald Eagles now have permanent homes in an aviary exhibit for guests to see and learn about threats Bald Eagles face in the wild. Be sure to stop by to see these magnificent birds in person and learn about what caused their injuries. These three non-releasable eagles will help spread Audubon's conservation message and act as education ambassadors for their species.
Florida Raptor News – November 2014

We Are Thankful
Audubon Center for Birds of Prey is thankful for many things. We are lucky to have dedicated supporters, volunteers and staff committed to the conservation of Florida's raptors.
A special thanks to our volunteers, who without them our daily operations would not be possible.
We are grateful to the volunteers who help clean, feed, weed, scrub, rescue, educate, greet, and care for our patients and permanent display birds at the Center. Thank you to the many groups and partners, who contribute projects at our location. Thank you to the citizen scientists in the field, who help us monitor and keep watch on Florida's eagles.
Beyond our doors, there are many Audubon ambassadors who help spread Audubon's conservation message. This is important work. As we head into the holiday season, bring your friends and relatives for a visit to learn about Audubon and the majestic birds that reside at our Center. We look forward to seeing you.
Florida Raptor News – November 2014

Audubon EagleWatch
Notes from the field:
Bald Eagle nesting season is ramping up in Florida, and eagles all over the state are busy refurbishing last year's nests. Eggs are often laid in late November and early December, and are incubated by the adults for 30-33 days. This means that we often have a lot of newly hatched eaglets just in time for Christmas! Currently, more than 250 Audubon EagleWatch volunteers are monitoring 200+ active eagle nests during this especially sensitive time in the nesting process. Eagle nesting season runs from October 1 through May 15.
This season, Audubon's EagleWatch program is set to debut our new web portal. This new, purpose built website will make data entry easier, faster, and more accessible. This online database will later be integrated with powerful online GIS tools to help us better understand and protect Florida's Eagles. For more information on the EagleWatch program, visit http://fl.audubon.org/audubon-eaglewatch or email Matt Smith at eaglewatch@audubon.org.

New agreements will help to save migratory bird species
Cuckoos are just one bird species that will benefit from this agreement
Hundreds of species of migratory birds will benefit from two historic agreements that were reached on Sunday 9 November at the Conference of the Parties of the Convention on Migratory Species (CMS).
The Resolution Preventing Poisoning of Migratory Birds and the Landbird Action Plan will set out to save more than 400 bird species.
The Resolution Preventing Poisoning of Migratory Birds agreement outlined a set of guidelines to tackle the causes of bird poisoning and ratified a groundbreaking plan of action to protect birds against this threat. The agreement supports guidelines to prevent the risk of poisoning and encourages parties to reduce and minimize the poisoning of migratory birds. It identifies five poisons as being the most significant risk to migratory birds, and therefore recommends a ban on veterinary diclofenac, the phasing out of all lead ammunition, and action on rodenticides, insecticides and poison baits.
Commenting from the RSPB, Director of Conservation Martin Harper says: "Although the agreement is not legally binding it clearly signals governments' commitment to ending poisoning from lead ammunition, diclofenac and other key sources. This is a great day for our migratory birds and other wildlife."
The Landbird Action Plan focuses on ways to improve the conservation status of the birds that use the African-Eurasian flyway, and identified a need for landscape-scale protection.
"For more than four decades, migratory water birds have been protected, showing that effective, international cooperation for the conservation of migratory birds is possible." Commented Harper. "I'm delighted the Action Plan for land birds has now been adopted and work that considers the conservation needs of the birds' whole lifecycle, across an international flyway – from breeding grounds in the UK to wintering areas in West Africa – will be undertaken.
"Birds such as the turtle dove, cuckoo, nightjar, vultures and many more will all benefit from these two positive and historic agreements. It's a good day for conservation."

Rare warbler on the increase in USA
Numbers of the rare songbird, the Swainson's warbler, are increasing in the US, particularly on private pine plantations along the coastal plain from eastern Texas to southeastern Virginia.
The results of the study, which compiled data from 20 years of field studies, suggests that if current trends continue, forests managed as short-rotation pine plantations will support the majority of Swainson's warbler breeding populations by the end of the 21st century.
The Swainson's warbler has been a high conservation concern for decades as its 90,000 breeding individuals are sparsely distributed across 15 states in the USA.
The rarity of the Swainson's warbler was previously blamed on its finicky preference for large areas of densely vegetated breeding habitat in the southeastern U.S. and wintering range in the Caribbean basin. However research carried out in the 1990s revealed that this warbler could be found in a surprisingly wide spectrum of habitats, including young loblolly pine plantations in eastern Texas.
The researchers believe the short-rotation pine plantations have a seven-to-eight-year window when the plantations are dense enough to support populations of Swainson's warbler. Once this period ends and the plantations thin out, Graves believes that the warblers will likely relocate to nearby younger plantations that exhibit the desired foliage density.
"The Swainson's warbler is becoming a conservation success story in a habitat that was once feared to be a biological desert," said lead author Gary Graves from Smithsonian's National Museum of Natural History in the USA.
"This is a prime example of how intensive management of forest lands for industrial purposes can have a direct impact on bird populations in a positive way."
The Swainson's warbler a small olive-brown bird with pale yellowish-white underparts that measures approximately 5.5 inches long and is known for its loud, distinctive song and secretive behaviour. Despite its small size, male Swainson's warblers defend large territories that range in size from 3 to 18 hectares.
Florida Panthers

19th panther road death reported, matching record
A record set in 2012 for the number of endangered panthers killed by vehicles has been matched in southwest Florida.
Florida Fish and Wildlife Conservation Commission officials say a panther whose carcass was found Thursday in Collier County is the 19th big cat killed by a vehicle this year. That matches the statewide record for panther road deaths set two years ago.
Officials say the panther was a female between 3 and 4 years old. The carcass will be taken to the wildlife commission's lab in Gainesville for a necropsy.
Road collisions account for the vast majority of the two dozen panther deaths reported this year.
Florida panthers once roamed the entire southeastern United States, but only around 100 to 180 remain in the wild.
Invasive species

Invasive lionfish threaten Gulf of Mexico ecosystem
GALVESTON, Texas – It sounds like something from a horror film: A beautiful, feathery-looking species of fish with venomous spines and a voracious appetite sweeps into the Gulf of Mexico, gobbling up everything in its path.
Unfortunately for the native fish and invertebrates it's eating, this invasion isn't unfolding on the big screen. In recent months, news has been spreading of lionfish, a maroon-and-white striped native of the South Pacific that first showed up off the coast of southern Florida in 1985. Most likely, someone dumped a few out of a home fish tank.
With a reproduction rate that would put rabbits to shame and no predators to slow its march, the fish swept up the Eastern seaboard and down to the Bahamas and beyond, where it is now more common than in its home waters. "The invasive lionfish have been nearly a perfect predator," says Martha Klitzkie, director of operations at the nonprofit Reef Environmental Education Foundation, or REEF, headquartered in Key Largo, Fla. "Because they are such an effective predator, they're moving into new areas and, when they get settled, the population increases pretty quickly."
The lionfish population exploded in the Florida Keys and the Bahamas between 2004 and 2010. As lionfish populations boomed, the number of native prey fish dropped. According to a 2012 study by Oregon State University, native prey fish populations along nine reefs in the Bahamas fell an average of 65 percent in just two years.
Lionfish first appeared in the western Gulf of Mexico in 2010; scientists spotted them in the Flower Garden Banks National Marine Sanctuary, a protected area about 100 miles off the Texas coast, in 2011. Now scuba divers spot them on coral heads nearly every time they explore a reef.
So far, significant declines in native fish populations haven't occurred here, but the future is uncertain. "It's kind of this impossible battle," says Michelle Johnston, a research specialist at the National Oceanic and Atmospheric Administration in Galveston, who manages a coral reef monitoring project at the Flower Garden Banks. "When you think how many are out there, I don't think eradication is possible now."
Lionfish are fascinating, beautiful creatures. Two nearly identical species are found in the Gulf. They grow to about 18 inches and have numerous venomous spines. Their stripes are unique, like those of a zebra. They hover in the water, hanging near coral heads or underwater structures where reef fish flourish. Ambush predators, they wait for prey fish to draw near, then gulp them down in a flash. The fish mature in a year and can spawn every four days, pumping out 2 million eggs a year. They live about 15 years.
In the South Pacific, predators and parasites keep lionfish in check. But here, nothing recognizes them as food – those feathery spines serve as do-
not-touch warnings to other fish. The few groupers that have been spotted taste-testing lionfish have spit them back out, Johnston says. In the basement of the NOAA Fisheries Science Center on the grounds of the old Fort Crockett in Galveston, Johnston sorts through a rack of glass vials. Each one contains the contents found in the stomach of a lionfish collected in the Flower Garden Banks. She points to a fish called a bluehead wrasse in one jar. "This little guy should still be on the reef eating algae, not here in a tube," she says.
Other jars contain brown chromis, red night shrimp, cocoa damselfish and mantis shrimp, all native species found in lionfish bellies. "The amount of fish we find in their guts – it's really alarming. They're eating juvenile fish that should be growing up. They're also eating fish that the native species are supposed to be eating." Lionfish can eat anything that fits into their mouth, even fish half their own size. They eat commercially important species, such as snapper and grouper, and the fish that those species eat, too. They're eating so much, in fact, that scientists say some are suffering from a typically human problem – obesity. "We're finding them with copious amount of fat – white, blubbery fat," Johnston says.
They can adapt to almost any habitat, living anywhere from a mangrove in 1 foot of water to a reef 1,000 feet deep. They like crevices and hidy-holes but can find that on anything from a coral head to a drilling platform to a sunken ship. They can handle a wide range of salinity levels, too.
Their range seems limited only by temperature – so far they don't seem to overwinter farther north than Cape Hatteras, N.C. – and their southern expansion extends to the northern tip of South America, although they are expected to reach the middle of Argentina in another year or two. "As long as they have something to eat, they'll be there," Johnston says.
The impacts of their invasion could become widespread, scientists warn. In the Gulf, lionfish are eating herbivores like damselfish and wrasse – "the lawnmowers of the reef," Johnston calls them – that keep the reef clean. "When you take the reef fish away, there's not a lot of other things left to eat algae," she says. That creates a phase shift from a coral-dominated habitat to an algae-dominated one. "When you take fish away, coral gets smothered, the reef dies, and we lose larger fish. It's a snowball effect of negativity."
Pam LeBlanc|Austin American-Statesman (MCT)
Endangered Species
Will Polar Bears Become Extinct?
Behind the controversy, what's the real story about the future of polar bears?
It's November and that time of year when the sleepy town of Churchill, Manitoba, on the western shore of Hudson Bay in Canada, turns into polar bear central.
Hundreds of polar bears, lean but lethargic – their last full meal eaten in the late spring – pass the hours wandering around aimlessly, mock fighting, or simply lying belly-up catching the dim rays of the Arctic gloaming. They are waiting until the ice freezes over and they can go and hunt seals.
Outnumbering them are the tourists who've flown in from around the world to get a unique "up close and personal" view of one of the Arctic's most iconic species.
And last, but not least, there's the scientists. While some scientists visit the "Polar Bear Capital of the World" to study the bears, others, such as Polar Bears International's Steven Amstrup, are there because they also see a unique opportunity to inform people about the plight of polar bears.
Because polar bears, most scientists agree, are in trouble.
Human-caused global warming is causing the Arctic sea, the bears' habitat and hunting ground, to melt and decline. If the trend of sea ice decline continues as it has done, at the rate of about 13 per cent a decade, then polar bears would suffer a loss of habitat, and consequently food.
"The best estimates we've got indicate that we'll probably lose somewhere around two-thirds of the world's bears somewhere around mid-century, just based on the simple fact that we're losing sea ice," says Andrew Derocher, a professor of biological sciences at the University of Alberta and past chair of the International Union for the Conservation of Nature's (IUCN) Polar Bear Specialist Group.
The bears simply depend on sea ice to make a living, Derocher says. "No sea ice means no seals. And no seals means no polar bears."
Despite its size, Ursus maritimus, the largest member of the bear family, is ideally suited to life on ice, its double-layered coat and its furry-undersided paws insulating it from the chilly Arctic temperatures. A polar bear can stand up to 3 metres tall and weigh up to 600 kilograms – hardly the physique of a figure-skater – but it can move with grace and stealth across the ice surface and sneak up on its prey of ringed and bearded seals.The bears just run out of energy.
There are 19 subpopulations of polar bears in the world, 13 of which can be found in Canada. Some of these bears live year-round on the ice, but for populations such as the Hudson Bay bears, the ice proves an ephemeral habitat.
In this region, bears spend the winter months on the ice gorging their prey but, when the ice melts each year, they're forced onshore where they have insufficient food until the sea ice refreezes in the fall. And as the temperatures in the Artic have risen, the sea ice has begun to melt sooner and refreeze later, leaving the polar bears stranded on land for longer lean times.
"When I first started working in Hudson Bay in the early 1980s, the sea ice would have already formed along the shore quite nicely by now," Derocher says. "There were years when the bears were gone in the first week in November, but this year it is unlikely that we see any significant sea ice for at least a couple of weeks."
In the last 30 years, bears have increased the amount of time they are on land by almost 30 days – staying another day longer each year – according to Amstrup. That means the bears are coming ashore to face food shortages before they have stored enough fat to last through the season, he says.
"The bears just run out of energy," Derocher says. The longer summer fasting time impacts bear health and resilience, and influences reproduction rates, he says.
According to the United Nations' Intergovernmental Panel on Climate Change (IPCC), ice coverage is likely to fall below one million square kilometers by 2050. The current changes, and predictions such as these, led to the listing of polar bears in the US as an endangered species in 2008.
Already the numbers of bears in the western Hudson Bay have declined, Amstrup says. "This population is near the southern extreme of the polar bears' range and so it is one of the most vulnerable populations," Amstrup says. "If we don't get our act together soon we may not be able to save these bears."
Although most scientists appear to agree with Derocher's grim outlook for the polar bear, there are a few that question it. One of the most vocal of these is Mitch Taylor who spent more than two decades as a polar bear researcher and manager for the Nunavut government
"Are we just about to lose our polar bears? No we are not," Taylor says. "We are seeing 130 years of climate warming that has increased temperature of about 0.75 degrees and that has obviously affected the sea ice, but the polar bears don't seem to have been affected so far."
The crux of Taylor's argument is that the world's polar bears are thriving, at least in terms of numbers. The current scientific consensus places the worldwide polar bear population between 20,000 and 25,000 animals, more polar bears than existed prior to the 1973 International Agreement worldwide restriction on polar bear hunting.
"This is the time the Inuit call 'The one with most bears'," Taylor says.
Back in the early 1800s there was commercial harvesting of polar bears, which led to a steady decline in their numbers, he says. The numbers may have increased since the hunting restrictions but they are still greatly depleted from pre-hunting levels.
In the Hudson Bay, when Derocher first started doing research in the region there were 1200 bears. Now there are barely 800. "The current status is the numbers have dropped by about a third," Derocher says. "It certainly doesn't seem like it's on a continuous precipitous climb."
Overall, the number of bears that scientists can adequately monitor appears to be on a downward trajectory, Derocher says.
And what about the health of the bears? Research shows that the bears are becoming leaner and that fewer cubs are being born and surviving in the western Hudson Bay. "A population can't be healthy for long if its cubs aren't surviving," Amstrup says.
Not all the bear populations are suffering though, Amstrup says. Bears in the higher latitudes, such as those in the Davis Strait, are thriving. With warming, annual ice cover replaces the thick multilayer ice, making it more suitable for seals, the polar bears' main food supply. "We think that maybe many of the populations are still doing OK and we aren't seeing those effects yet," Amstrup says. "But you could liken it to the passengers on the Titanic. They were fat and happy until the Titanic slipped under the waves."
None of us in the polar bear community are standing up and saying it is a catastrophe right now, what we are talking about is the threat for the future
Current bear population numbers aren't really the problem. It is what is going to happen to bears in the future, Derocher says. He cites the international standard to consider conservation of a species, that of using the "three generation rule" looking forward in time. For polar bears, three generations is somewhere in the 36- to 45-year timeframe. In this timeframe, scientists predict rapid declines in sea ice.
Amstrup agrees. "There are none of us in the polar bear community that are standing up and saying it is a catastrophe right now, what we are talking about is the threat for the future," Amstrup says. "In the places where the ice has dramatically changed, we are seeing effects and, if we allow those changes to continue on to the higher latitudes, then it will affect all polar bears."
An additional argument against polar bear extinction lies in the theory that, as a species, polar bears have already survived warming periods. Using molecular genetics, Matthew Cronin, a genetics professor at the University of Alaska, in Fairbanks, US determined that polar bears split from brown bears, and became an independent species, about 2 million years ago.
"These results, combined with the fossil record, indicate that polar bears have been around as polar bears for at least 125,000 and maybe as long as several million years," Cronin says. "That means they've survived their loss of habitat previously so they could very well survive loss of their habitat in the future."
It is a theory that Taylor also embraces, and one that Amstrup is quick to counteract. "We don't have any evidence that polar bears have experienced anything more than about a degree and a half temperature rise during their whole evolutionary history," Amstrup says.
And, according to most of the predictive models we will be close to 2 degrees Celsius warmer for a global mean temperature within 50 years, and certainly within 100 years, Amstrup says. "Polar bears just simply haven't experienced warming like this," he says.
Taylor argues that polar bears could survive warming of 1.5 degrees Celsius although he seems unable to articulate exactly how they would do that on an ice-less tundra. "I am not one of those that think that polar bears can just adapt to a terrestrial environment and eat goose eggs and vegetation and other carrion that they might find," Taylor says, "but I do think they would survive."
But how could they survive temperatures even warmer still? Such as 2 degrees Celsius? Taylor argues polar bears wouldn't see them. "I think that the climate models have exaggerated the warming that we are going to see from fossil fuels," he says.
And consequently, although some polar bear populations would suffer, there wouldn't be dramatic declines in numbers across all the populations, Taylor says. "Declines would be slow and incremental and we'd have to do adaptive management in these populations," he says. "Then when fossil fuels stopped being burned the planet would get cooler again."
But it is not just the extent of warming, it is the speed at which warming would take place that poses a problem, Amstrup says. It took nearly 10,000 years to raise temperatures by 1 degree Celsius in the last interglacial period, he says. But the warming now is taking place over decades, leaving polar bears little time to adapt to the changing conditions.
"It makes it ridiculous for some people to say they have survived warm periods in the past so they'll survive warm periods now," Amstrup says. "It is a totally different ball game now."
In reality, any argument about polar bear extinction reveals itself as being more about climate change than the extinction of the bears themselves.
"The polar bear is the fuzzy face of climate change," Amstrup says. "So a lot of people who don't believe that global warming is occurring, or deny that it is going to be a problem, like to cherry pick different things about polar bears, because if they can make it look like polar bears will be OK then by proxy they are kind of saying 'we don't have to worry about global warming'."
It is really quite simple and I come back to it time and time again: It's just the habitat loss issue
Taylor professed that he believed that climate warming and sea ice loss are reality. But closer inspection reveals that, in 2008, he signed the Manhattan Declaration on climate change, which argued that there was no conclusive evidence that emissions from industrial activity were causing climate change. However, Taylor's feelings for the bears he worked with for more than 30 years are evident.
"I don't think anyone has ever worked on polar bears who wouldn't rather cut off their arm than say something to harm polar bears, or let his personal feelings or his career interfere with getting what he thought was the best information out there for polar bears," Taylor says.
"I think that we all want to believe that things aren't so bad," Amstrup says.
That could be why, although the science doesn't appear to back up bear extinction denialist theories, so much media space and public attention is given them.
But, if we move the distraction of climate wrestling aside: What about the bears? Will the bears be around in 50 or 100 years' time?
Other areas in the Arctic and sub-Arctic that have sea ice in winter, but don't have polar bears, tell the story, Derocher says. In such regions the ice doesn't persist for long enough each year to sustain polar bears, he says. He points to areas in the southern parts of Norway and Sweden where the fossil records show that bears existed about 11,000 years ago. But now these regions are both ice free and bear free.
"It is really quite simple and I come back to it time and time again: It's just the habitat loss issue," Derocher says. "If there's not enough ice, we won't have bears. I think it's very clear that we're going to lose the vast majority of them, not within my lifetime, but certainly within the lifetime of children of mine."
Jane Palmer

An STD Vaccine Could Save Koalas From Extinction
Thinking about factors that tend to cause animal extinction, from deforestation to climate change, the plight of the koala's might be a little more surprising. Among other problems, they're being threatened by chlamydia.
In the last 10 years, koala populations have dropped by about 80 percent, according to a report by the BBC, and in 2012, the Australian government placed them on an endangered animal list.
Koala chlamydia (a different strain from the human kind) can lead to blindness and infertility in koalas, which worsens their population declines.
Scientists in Australia are working on a solution: developing a vaccine. In a five year trial, researchers observed 30 vaccinated koalas and compared them to 30 un-vaccinated koalas. They found that that vaccinated koalas, even the ones who were already infected with chlamydia, did much better than the un-vaccinated koalas. The vaccine even seemed to lessen the symptoms for infected koalas.
The vaccine would be a much better alternative to the current mode of treatment: antibiotic treatments. Koalas are captured and held in captivity for months in overworked animal hospitals. These centers can't always keep up with all the koalas that need attention and many koalas are so sick, they have to be put down.
While the chlamydia vaccine seems very promising, there are other factors which are killing off koalas which also need to be addressed. Many get hit by cars or chased by dogs and expanding cities are pushing them out of their homes. Koalas are also plagued by an HIV-like virus which can go straight into koala sperm and eggs, making it hard to prevent infection.
But the chlamydia vaccine is a start.
"It's all very promising and it's not just that it's doing the right thing from an immune response point of view, but it's actually protecting a significant number of them out in the wild climbing around trees," Professor Peter Timms, one of the lead researchers, told Agence France Presse. "The vaccine would actually make a difference."
Manon Verchot|Kara|TreeHugger|November 8, 2014

Manage Honey Bees Now to Prepare for Next Year's Nectar Flow
Over everything the beekeeper does hangs the honey producer's main objective: maximizing bee populations in time for major nectar flows. The next major nectar flows in north Florida will be spring; but beekeepers need to start working now in order to be ready for them next spring. Proper management of your bees in late summer and autumn provides for successful colony winter survival. This in turn will ensure strong populations of bees to work the 2015 nectar flow.
The objective of management at this time of year is to ensure that a viable population of honey bees goes into winter with a good chance of surviving. Young bees are important, but a good, healthy population of "winter bees" is even more important. Winter bees, bees reared in late summer/early fall, are adapted to storing nutrients for a long period of time. Summer bees do this less well.
The queen is the origin of this vital population of winter bees. The beekeeper must, therefore, take pains to ensure she is up to the job. There is a natural slowdown of brood rearing at this time, so a failing queen may not be detected by the beekeeper. If there is any doubt about the queen's condition, one should seriously consider re-queening the colony. In fact, some beekeepers re-queen in late summer or early fall on a regular annual basis. New queens lay eggs at higher rates than older ones, and the resultant population is larger. In addition, a first year queen is much less apt to swarm the following spring.
Below is a list of Beekeeping Best Management Practices for late summer and fall:
Late summer is the time of year in North Florida when Varroa populations begin to grow. Monitor your colonies closely and treat if necessary. Treatment options include: Apiguard, Apilife VAR, Apistan, Mite Away II, Hopguard and Apivar. Follow the product labels when applying these miticides.
As a preventive measure, consider treating colonies with Terramycin or Tylan dust to help control American and European foulbroods.
September is a good time to treat for Nosema disease using Fumigillin. Always follow product labels.
October – December are peak periods for hive beetle infestations. Options for treatment are: Beetle Blasters, Checkmite, GardStar, Hood traps, West beetle traps, and more.
Tracheal mites are of little concern to the Florida beekeeper. However, colonies can be treated if there is evidence of tracheal mite infestations during the autumn season. Grease patties are a simple treatment that can be used against tracheal mites. To make the patty, mix vegetable oil and powdered sugar until doughy but not sticky to touch. Place a pancake sized patty on the top bars of frames in the brood chambers.
There is a nectar dearth in many areas this time of year. Check colony food stores and feed colonies if they are light. Some areas may be home to plants that bloom in late summer/fall and provide enough nectar for bees to make and store honey. Check the Florida Beekeeping Management Calendar to see if these plants grow in your area.
August and September are very hot months. Make sure colonies are adequately ventilated and close to sources of fresh water.
Roy Carter|UF/IFAS Extension|August 8th, 2014
More bad news for bees: The new "F" word
Have you heard of flupyradifurone? Probably not, unless you work for the federal government agency poised to approve this new pesticide for use in Canada. But take note: This new "F" word is bad news for bees.
Flupyradifurone is an insect-killing systemic pesticide similar to the controversial neonicotinoid, or neonic, family of bee-killing chemicals. When applied to seeds or soil, it's absorbed by plant roots and travels to leaves, flowers, pollen and nectar, making the plant potentially toxic to insects.
This past summer, the international Task Force on Systemic Pesticides analyzed 800 scientific studies and concluded that systemic pesticides like neonics are harming bees, butterflies, birds and worms and should be phased out globally. The European Union banned three neonics for "crops attractive to bees", but the European Environment Agency says that's just a starting point, and recommends regulators look at similar pesticides and take into account potential harmful effects on aquatic invertebrates, birds and other insects. The EEA also found "mounting scientific evidence has been systematically suppressed for many years and early warnings were ignored."
Inexplicably, Canada's Pest Management Regulation Agency has yet to respond to the Task Force findings and now wants to approve a new systemic pesticide. What's especially troubling is that, in its description, the PMRA states flupyradifurone "may pose a risk" to bees, birds, worms, spiders, small mammals and aquatic bugs, and that it doesn't readily break down in water, air or sunlight and may carry over to the following growing season. When it enters streams, rivers and wetlands, "it may persist for a long time."
Like neonics, flupyradifurone is a nerve poison, acutely toxic to bees if ingested. As in the past, we don't fully understand the cumulative effects of the increasing amounts of today's insecticides, pesticides, fungicides and other chemicals being applied to crops across the country.
Neonicotinoids are showing up more frequently and in higher concentrations than the harmful chemicals they replaced. A study last year found 90 per cent of Saskatchewan prairie potholes contained residual neonics in the spring, before farmers planted their fields. Research from the U.S. Midwest found neonics in all 79 samples taken from nine rivers. Similar results have been found in wetlands, streams and rivers in the southwest U.S., Georgia and California.
It's not even clear whether the widespread use of neonic seed treatments increases agricultural yields. A recent report from the U.S. Environmental Protection Agency regarding soy crop treatments concluded, "these seed treatments provide little or no overall benefits to soybean production in most situations. Published data indicate that in most cases there is no difference in soybean yield when soybean seed was treated with neonicotinoids versus not receiving any insect control treatment."
The European Environment Agency also found a 2004 ban on neonicotinoid chemicals by France for sunflower and maize crops hasn't negatively affected productivity. In fact, yields were higher in 2007 than they'd been in a decade.
You'd think we'd learn from past experience with persistent and bioaccumulative pesticides like DDT and organophosphates, and the more recent research on neonicotinoids. DDT was widely used until Rachel Carson's book Silent Spring drew attention to its negative impacts on ecosystems, wildlife and humans. Many, but not all, organophosphate pesticides have also been pulled from widespread use because we learned their neurotoxic effects posed serious risks to humans and wildlife.
Rather than approving new pesticides that may harm pollinators, birds and other animals, including humans, we need better ways to protect crops. A recent report, "Alternatives to neonicotinoid insecticides for pest control", published in the journal Environmental Science and Pollution Research, suggests further research and methods including "diversifying crop rotations, altering the timing of planting, tillage and irrigation, using less sensitive crops in infested areas, applying biological control agents," and other lower-risk alternatives.
We need to stop contaminating the environment with neonics and related systemic pesticides. Approving flupyradifurone would take us in the wrong direction. Canada's Pest Management Regulation Agency is accepting comments on flupyradifurone approval until November 3. You can submit through the PMRA or David Suzuki Foundation websites.
Putting bees and ecosystem functioning at risk endangers us all. It's time to find a better way.

~Conservation efforts reduce human impact on sea turtle nesting~
Researchers are again seeing a high number of sea turtle nests on Florida's beaches this year. The number of nests in Florida has increased over the past several years as a result of increased conservation efforts and decreased detrimental storms throughout the state.
More than 1,800 biologists, interns and trained volunteers patrol Florida's 199 nesting beaches to identify, mark and monitor nests. Researchers at Florida's three National Estuarine Research Reserves (NERRs), located in Naples, Apalachicola and Ponte Vedra Beach, gather evidence to track sea turtle populations and document the success of the nests.
This year, 960 total nests have been reported in Florida's three NERRs. Researchers at Guana Tolomato Mantanzas National Estuarine Research Reserve have reported 134 nests, including 10 rare green turtle nests. The nest count in Rookery Bay National Estuarine Research Reserve has increased from 475 in 2013 to 560 nests this year. At the Apalachicola National Estuarine Research Reserve, 266 nests have been identified.
"We are very pleased to see the sea turtle population increased this year within our managed areas," Kevin Claridge, director of DEP's Florida Coastal Office. "There are many variables that can affect population numbers, but a key component to species management is good data, which in this case would not have been possible without so many excellent partnerships and volunteer hours."
In addition to more total nests, Rookery Bay Reserve also had more hatched nests this year, totaling 360 this season, compared to just 287 last year. The increase in hatched nests reflects the improvement of statewide nesting productivity. Additionally, Cape Romano, within Rookery Bay Reserve, is reporting the highest number of sea turtle nests since 2006. An estimated 6,000 hatchlings from those nests have made it to the Gulf – more than double last year's reported 2,500 and soaring above the count of 678 in 2012.
Sea turtles spend the vast majority of their lives in the open ocean, only coming inland to nest. Florida is a vital area for sea turtle nesting, with nesting areas running along both the Gulf and Atlantic coasts. The nesting season spans from early May until the end of October.
During sea turtle nesting season, those visiting beaches are asked to keep lights off at night, avoid any interaction with nesting turtles and avoid all marked sea-turtle nests. When beachgoers leave lights on at night, sea turtle hatchlings may become disoriented and head toward those lights, instead of the moonlight over the ocean.
Simple actions beachgoers can take to ensure they are not hindering hatchlings from successfully making it to the water are listed below.
• Remove all belongings from the beach, flatten sand castles and fill in holes.
• Properly dispose of litter in designated receptacles on the beach.
• Stay off dunes and use the designated walkovers for crossing.
• Shield any artificial lighting that may shine toward the beach.
For more information on Florida's National Estuarine Research Reserves, click here.
Latashawalters|Oct. 30, 2014

Salamanders Around the World Could Be in Trouble
If you love salamanders, you may be disturbed to know that a recently-discovered fungus, Batrachochytrium salamandrivorans, is getting ready to devastate global salamander populations. It's actually the second species in this genus to be discovered (the first tore through a number of amphibian species, causing extinction of some 40 percent in some regions of the world), with both posing significant risks to the long-term survival of salamanders. In addition to being a tragedy for those who adore these cute little amphibians, it's also bad news for biodiversity and the delicate ecological chains that keep us all thriving.
This fungus causes a skin disease called chytridiomycosis, which can ultimately cause nerve damage and hemorrhage. Some salamanders and other amphibians can become carriers without showing any sign of infection, which is one reason why the fungus has spread from its native China. Thanks to an era of globalization, amphibians and other small animals routinely hitch their way on cargo loads, where it's easy for them to enter the natural environment. The fungus has already been identified in Europe, where it's caused drastic species decline for some rare salamanders, and there are fears that it may reach North America, with its huge and very diverse salamander population. If it does, it could be horrific.
Sadly, the fungus doesn't just reach new ground by accident. It's also carried along with exotic pets — another reason to put a stop to the trade in exotic animals. Infected frogs, salamanders and other amphibians, both bred and captured, are being carried around the world legally as well as illegally. Along the way, they leave a trail of devastation, though sellers and exporters claim that they treat animals before shipment and sale. The EU is planning on enacting a control law to address concerns about exotic pets, while Congress is considering an expansion of the Fish and Wildlife's authority to oversee incoming animals and fight wildlife diseases more effectively, but that's only one piece of the puzzle.
While no signs of the disease have been detected in the U.S. yet, it could be only a matter of time, and some worry that it might already be here, carried by Asian newts. Popular pets for those who keep amphibians, the newts could be silent carriers of the fungus, spreading it when they escape to the wild or when their enclosures are cleaned. Improper disposal of bedding and deceased specimens could also inadvertently introduce the fungus to the outside world, where it would be difficult to control once it gained a foothold.
According to the Center for Biological Diversity:
Scientists have developed a DNA-based test for detecting Bs, and infected animals held in captivity can be effectively treated with antifungal baths. But once the disease enters wild populations, it is nearly impossible to stop its spread to new populations. Environmental groups are calling for the U.S. Fish and Wildlife Service to suspend all imports of salamanders into the United States unless they are certified to be free of the fungus.
In addition to acting to regulate the legal trade in exotic animals, Fish and Wildlife officials also need to be thinking about the black market and illicit trade, an issue that has long plagued this and other U.S. agencies committed to protecting endangered species and the environment. While those conducting legal exports may be willing to abide by new regulations, such concerns aren't as important to those who want to move animals quickly through the pet trade, trading in such high volumes that a few diseased individuals aren't a matter for concern. If the infection does enter the United States, it seems likely that it will arrive on the back of an innocent salamander smuggled into the country to satisfy the demand for exotic pets — and it's terrifying to think that a single individual could be responsible for the deaths of millions.
s.e. smith|November 10, 2014

31 Species Just Received Protection From the UN
Over the weekend, the eleventh meeting of the Conference of the Parties to the Convention on the Conservation of Migratory Species of Wild Animals (CMS COP11) concluded in Quito, Ecuador, and conservationists from around the world extended protection to dozens of migratory species including birds, fish and mammals after a week of "intense negotiations."
"The Conference in Quito has generated an unprecedented level of attention for the Convention," said Bradnee Chambers, the Convention's Executive Secretary, "Like never before in the 35-year history of CMS, migratory animals have become the global flagships for many of the pressing issues of our time. From plastic pollution in our oceans, to the effects of climate change, to poaching and over exploitation, the threats migratory animals face will eventually affect us all."
In all, 31 new species were extended various levels of protection under the treaty, which works a little bit like CITES – an Appendix I listing bans hunting or killing endangered species by nations that participate in the agreement, while Appendix II will bring countries together to create stronger conservation plans.
Big winners this year were 21 species of shark and ray species. With an estimated 100 million sharks being killed every year mostly for their fins, conservationists fear there's no time to lose and tougher protections need to be put in place now to keep them from disappearing.
Now countries will begin working on conservation plans to protect six species of sharks and 15 species of rays including three species of thresher sharks, two hammerhead species and the silky shark, in addition to reef manta rays, nine species of devil rays and five sawfish species, who are among the most threatened species on earth.
Most notable on the list of migratory marine mammals were protections extended to polar bears under Appendix II, which conservationists are applauding as another important step for the survival of an estimated 20,000 to 25,000 left in the wild.
"What gives us hope is that this listing means that 120 countries are now recognizing the threats that polar bears face from the shrinking of their ice habitat to pollution and hunting. This is an important first step, but it must not be the last if we wish to save the polar bear," said Dr. Masha Vorontsova, Director of IFAW Russia & CIS, and polar bear expert.
The elusive Cuvier's beaked whale, who is the world's deepest diving whale found in oceans around the world, was also added to Appendix I, which will hopefully offer greater protection from threats including ship strikes and ocean noise. In an effort to keep our oceans healthy, resolutions were also passed concerning plastic and other debris, cetacean culture and boat-based wildlife watching.
Even better for marine mammals, according to Whale and Dolphin Conservation, is a resolution brought by Monaco that will encourage nations to end the capture of whales and dolphins from the wild for commercial use/public display in aquariums and theme parks, in addition to urging them to stop imports and international transit of live whales and dolphins for commercial purposes.
According to a statement, three Species Action Plans were approved for the Argali Sheep in Central Asia, the Pacific Loggerhead Turtle and the Saker Falcon. The Saker Falcon ranges from Eastern Europe to Western China and is already listed as Endangered on the IUCN Red List and on Appendix II of CITES, due in large part to trapping for the falconry trade, a loss of habitat and poisoning.
For bird species, the Semi-palmated Sandpiper, the Great Knot, the European Roller and the Great Bustard were listed on Appendix I, while the Canada Warbler has been confirmed for Appendix II. The semi-palmated sandpiper is a tiny shorebird who is classified as Near Threatened on the IUCN Red List and continue to face threats from hunting, habitat loss and pollution in areas they use when migrating.
A regional initiative covering large migratory mammals in Central Asia, including the Bactrian Camel, Snow Leopard and the Saiga Antelope, was also launched together with an accompanying publication called "Central Asian Mammals Initiative: Saving the Last Migrations." The red-fronted gazelle will benefit from full protection, while international cooperation was recommended for the White-eared Kob.
The Saiga antelope once created a spectacle in mass numbers, but their population has dwindled as a result of unsustainable hunting and poaching for their horns. According to the Fish and Wildlife Service, their numbers in the wild have dropped from over 1,000,000 in the early 1990s to fewer than 50,000 today.
For the first time in the history of the convention, members also looked at the threat posed by renewable energy technologies to bats, birds and cetaceans and guidelines were adopted on how things like wind turbines, solar panels, dams and other forms of renewable energy developments can be used in wildlife-friendly ways.
"The unprecedented representation of the world's nations at this CMS Conference reflects the growing awareness that the responsibility for protecting wildlife is a shared one, and that the threats to wildlife can be tackled most effectively through global cooperation, " said Achim Steiner, UN Under-Secretary-General and Executive Director of UNEP.
Alicia Graef|November 11, 2014

Florida Celebrates High Sea Turtle Nest Count This Season
TALLAHASSEE – Researchers are again seeing a high number of sea turtle nests on Florida's beaches this year. The number of nests in Florida has increased over the past several years as a result of increased conservation efforts and decreased detrimental storms throughout the state.
More than 1,800 biologists, interns and trained volunteers patrol Florida's 199 nesting beaches to identify, mark and monitor nests. Researchers at Florida's three National Estuarine Research Reserves (NERRs), located in Naples, Apalachicola and Ponte Vedra Beach, gather evidence to track sea turtle populations and document the success of the nests.
This year, 960 total nests have been reported in Florida's three NERRs. Researchers at Guana Tolomato Mantanzas National Estuarine Research Reserve have reported 134 nests, including 10 rare green turtle nests. The nest count in Rookery Bay National Estuarine Research Reserve has increased from 475 in 2013 to 560 nests this year. At the Apalachicola National Estuarine Research Reserve, 266 nests have been identified.
"We are very pleased to see the sea turtle population increased this year within our managed areas," Kevin Claridge, director of DEP's Florida Coastal Office. "There are many variables that can affect population numbers, but a key component to species management is good data, which in this case would not have been possible without so many excellent partnerships and volunteer hours."
In addition to more total nests, Rookery Bay Reserve also had more hatched nests this year, totaling 360 this season, compared to just 287 last year. The increase in hatched nests reflects the improvement of statewide nesting productivity. Additionally, Cape Romano, within Rookery Bay Reserve, is reporting the highest number of sea turtle nests since 2006. An estimated 6,000 hatchlings from those nests have made it to the Gulf – more than double last year's reported 2,500 and soaring above the count of 678 in 2012.
Sea turtles spend the vast majority of their lives in the open ocean, only coming inland to nest. Florida is a vital area for sea turtle nesting, with nesting areas running along both the Gulf and Atlantic coasts. The nesting season spans from early May until the end of October.
During sea turtle nesting season, those visiting beaches are asked to keep lights off at night, avoid any interaction with nesting turtles and avoid all marked sea-turtle nests. When beachgoers leave lights on at night, sea turtle hatchlings may become disoriented and head toward those lights, instead of the moonlight over the ocean.
Simple actions beachgoers can take to ensure they are not hindering hatchlings from successfully making it to the water are listed below.
• Remove all belongings from the beach, flatten sand castles and fill in holes.
• Properly dispose of litter in designated receptacles on the beach.
• Stay off dunes and use the designated walkovers for crossing.
• Shield any artificial lighting that may shine toward the beach.
Press Releases|30 October 2014
Lawsuit Fights 38 Years of Delay for Southwestern Wolves
For nearly 40 years, the Southwest's population of endangered Mexican gray wolves has been without a federal recovery plan, which acts as a blueprint for rebuilding it to sustainable levels. In the absence of that plan, there are just 83 wolves (and five breeding pairs) in the wild, and they remain at serious risk of extinction.
On Wednesday the Center for Biological Diversity and allies — including a retired federal wolf biologist — sued the U.S. Fish and Wildlife Service for its failure to finalize a recovery plan for these wolves, some of the most endangered mammals in North America. Also on Wednesday the Center released a report, called Deadly Delay, outlining years of foot-dragging and appeasement of states and others with no interest in allowing more Mexican wolves on the landscape.
"It's shameful that the very people charged with recovering our wildlife have turned their backs on these beautiful creatures, leaving them to battle inbreeding and a host of other threats pushing them to the brink of extinction," said the Center's Michael Robinson.
Read more in the Los Angeles Times and check out our report in our press release
Scottish wildcat benefits from six new protection sites
Six sites in Scotland have been identified by Scottish Natural Heritage as key areas for Scottish wildcats following research into the endangered cat species.
The sites; Angus Glens, northern Strathspey, Morvern, Strathavon, Strathbogie (around Huntly) and Strathpeffer, have been designated as potential wildcat strongholds worth preserving after evidence of cats showing strong wildcat features were found.
"The survey findings support that there are wild-living cats displaying many of the typical wildcat features in these areas," said Dr Rob Ogden, Royal Zoological Society of Scotland's Head of Science. "Although some of the best examples caught on camera were not tested for their DNA, some of the cats tested had a high proportion of wildcat genetic markers. Hence a pragmatic view is that our wildcats remain distinctive and are worthy of protection.
The main threat to the Scottish wildcat is hybridizing with domestic cats and therefore the next stage is to reduce the risk of further hybridisation in these six important areas by:

• Co-coordinating an ambitious trap, neuter and release (TNR) program to neuter all feral and hybrids.

• Encouraging cat owners to neuter and vaccinate cats; micro-chipping will also help to make pet cats easily identifiable.
SNH and its partners in The Scottish Wildcat Conservation Action Plan will also be working with gamekeepers, farmers and foresters to reduce the risks to wildcats from predator control; and monitoring populations to see the benefits of this work.
Jenny Bryce, SNH's wildlife ecologist, said: "These priority areas give us real opportunity to halt the decline of the Scottish wildcat and preserve its distinctive identity.
The Action Plan partners take a pragmatic view – there are good examples of wildcats out there, displaying many of the characteristics of this species. And this is very much the focus of the new Wildcat Action project.
"We have been encouraged by the number and the quality of wildcats that have been observed, given the relatively short duration of the surveys. We think this is indicative of populations persisting more widely.
"But the threats are ever-present and we need to act now to preserve animals that are distinctive as Scottish wildcats. And with the help of people in these communities we aim to do just that."

Scientists find Sea Turtles suffer from the bends like humans
Loggerhead Sea Turtles have been found to suffer from the bends
It has been discovered sea turtles, like humans, can suffer from decompression sickness (DCS), also known as the bends.
The research, carried out by a team of international scientists, shows for the first time that DCS occurs in the loggerhead sea turtle. DCS was previously thought to only occur in humans and some whale and dolphin species.
Sea turtles are often caught accidentally in commercial fishing nets and those that appear to be active are usually released. This study suggests that these turtles, while appearing initially active, possibly have DCS and may die following release.
"This is the first time that the bends has been confirmed in a marine reptile," said Dr Paul Jepson, co-author and marine vet at the Zoological Society of London.
"It also shows that endangered sea turtles accidentally caught in fishing nets are at risk of dying, even if they initially appear to be still alive when brought up to the sea surface.
"Ideally we want to avoid sea turtles being caught in commercial fishing activities but, if they are, I hope that this research will make fisheries more vigilant about unintentionally catching sea turtles and the risks of DCS from rapid ascent."
The scientists studied 29 sea turtles that were accidentally caught in commercial fishing nets off the coast of Spain and diagnosed with DCS. Two were treated with human recompression protocols carried out at Oceanographic, Valencia, and responded well. They were subsequently released back into the Mediterranean Sea.
This potentially means that numbers of sea turtles dyeing as a direct result of commercial fishing could be higher than previously thought.
Marine turtle populations are declining in the Mediterranean Sea, and six out of seven sea turtle species are endangered worldwide.
DCS occurs when dissolved gases form bubbles inside the body on depressurization and most commonly refers to problems from underwater diving. In humans, DCS can produce many symptoms from joint pain to paralysis and death.

1 million raised to save Snow Leopards
Snow Leopard Enterprise works with local communities to protect the big cats in the wild.
Snow Leopard Enterprises has reached a milestone sum in the amount of money it has raised toward saving the endangered Snow Leopard. A total of $1 million has been raised in the past 10 years by local herders who create handicrafts to sell for the cause, and thanks to the support of its many partners and donors. The money directly benefits the endangered animals as well as poor local communities.
"Snow Leopard Enterprises is not an aid program
me, but a conservation and economic development initiative," explains Brad Rutherford, Executive Director of the Snow Leopard Trust, "It changes lives and empowers local communities to become stewards of the ecosystems they live in."
Over the years, Snow Leopard Enterprises has grown from just a handful of communities to including over 1000 families across three countries; Mongolia, Kyrgyzstan, and Pakistan.
In these areas, people who rely on their livestock for their livelihood often live on less than $2 a day. When their lose their livestock to a predator, such as the Snow Leopard, their action is to retaliate against the cat. Snow Leopard Enterprises is working to help break the circle of poverty and conflict between humans and wildlife, providing local herder women with training and equipment to make rugs, felted toy cats, and other crafts made from the wool of their animals.
The income these women make from this in turn helps to improve their lives, and in order to participate in the program the participating communities sign agreements to protect the Snow Leopards living in their areas. If no cats are hurt during the course of a year, the communities receive an additional bonus.
David Shepherd Wildlife Foundation (DSWF) have had a long standing partnership with the organisation. "We are delighted to have been part of this amazing initiative right from the start," says CEO of DSWF, Sally Case. "What once was a small handicrafts program with just a few women participating has just reached a major milestone and today helps protect more than 17 per cent of Mongolia's snow leopard habitat. We're incredibly proud to be part of that success which is bringing communities together to protect their local landscapes and wildlife."
Continuing its success, Snow Leopard Enterprises will be expanding with its launch of an India program in 2015. Rutherford comments, "We hope our customer base will expand with us, so we can reach even more cats and communities in the future."

We Just Lost 2 More Mexican Gray Wolves, But Wolf Advocates Aren't Giving Up
Mexican gray wolves have suffered yet another blow with a recent announcement from wildlife officials that they're investigating the deaths of two more who were shot and killed in New Mexico last month, but their advocates aren't giving up the fight to see them return to their rightful place in the wild.
This week conservation organizations and a former Mexican Wolf Recovery Coordinator came together to sue the U.S. Fish and Wildlife Service (FWS) for failing to come up with a solid recovery plan since efforts began save them almost 40 years ago.
Mexican gray wolves were once abundant in vast portions of the Southwest and Mexico, but were eradicated by the 1900s. In 1976 they were listed as an endangered species and bi-national recovery efforts began. In the late 1970s five wolves were captured and used to start a captive breeding program, but despite starting a temporary recovery plan in 1982, there are still only an estimated 83 left in the wild as of the last official count, which is still far short of the 100 there were supposed to be by 2006 and drastically short of the number needed to ensure their survival.
Their advocates fear that despite some of the efforts that have been undertaken to save them, they still face a serious risk of extinction in the wild. The few in the wild now remain vulnerable to a host problems ranging from a lack of genetic diversity, diseases and natural disasters to being killed by humans; at least 50 illegal killings have been documented since reintroduction efforts began in 1998. They're also suffering as a result of having a restricted range that doesn't allow them to naturally expand to new areas where they could thrive, which have been identified in New Mexico, Arizona, southern Utah, southern Colorado and Texas.
Currently, any wolves who leave the recovery area to establish a new territory are captured and put back. Not only does this stop them from establishing new territories and moving between different populations, but captures can be traumatic and end in death.
"For three decades now, Fish and Wildlife officials have been dragging their feet on completing a recovery plan simply to appease state leaders and special interest groups opposed to sharing the landscape with wolves," said Michael Robinson, a wolf advocate with the Center for Biological Diversity. "It's shameful that the very people charged with recovering our wildlife have turned their backs on these beautiful creatures, leaving them to battle inbreeding and a host of other threats pushing them to the brink of extinction."
In a new report, the Center runs through the government's repeated efforts to come up with a plan and how it has shut down every single one before they were complete. In the most recent attempt in 2012, scientists recommended adding areas to their range and ensuring a population of at least 750 wolves, but that plan was never finished.
Through their lawsuit, wolf advocates are seeking to have the court compel the FWS to complete its recovery plan, arguing that the agency's lack of progress is in violation of the Endangered Species Act, which legally requires a recovery plan for imperiled species.
This July, the FWS proposed changes to rules governing Mexican gray wolf management, with a few beneficial changes that were widely supported by the public, but their advocates fear the benefits won't be enough to help without a long-term recovery plan in place to ensure their survival.
"Only by developing and implementing a comprehensive and legally compliant recovery plan reflecting the best available scientific information can Fish and Wildlife Service secure the future of the Mexican wolf, and establish management sufficient to restore this irreplaceable part of our wild natural heritage to the American landscape," said Virginia Busch, Executive Director of the Endangered Wolf Center in Missouri.
Hopefully the court will rule for wolves in this case to ensure action is taken on their behalf before it's too late.
Alicia Graef|November 14, 2014
Wild & Weird
Wild & Weird: 17 Lions Defeated by Porcupine — Watch Video
A lion attack often goes like this: Several lionesses encircle a chosen target in the night, their body language purposefully casual; one lioness closes in slowly, and then comes a sudden leap with bared teeth and claws and a powerful blow that disables the prey. This mode of attack might be the same for an elephant, a zebra or even a giraffe, and it's one of the reasons lions are called the kings (and queens) of the jungle.
You'd think 17 hungry lions circling a porcupine would mean the end of the poor critter. But as a new video by a gamekeeper in South Africa shows, you might be wrong.
Watch this video of a tenacious porcupine fending off an entire pride of lions, and read more at The Independent.
Everglades

Vast reservoir expected to prevent Everglades pollution
A gigantic above-ground reservoir — the largest in Florida at 24 square miles — is rising above sugar cane fields in southwest Palm Beach County to help cleanse polluted water before it rushes into the Everglades.
More than 100 construction workers each day are blasting rock and moving earth to build 12-foot walls and gates around a shallow basin bigger than the cities of Sunrise or Boynton Beach.
A lot is riding on the $60 million project — the health of the Everglades, the survival of endangered species and the settlement of a legal battle over the state's failure to meet federal water standards.
But will it work?
On a recent tour through the vast expanse, soon to be filled with 4 feet of water, state engineers said they were confident the reservoir and related projects will solve a pollution problem that now sends fertilizer-laden water into the Everglades after heavy rainfalls. Big doses of phosphorus pour into a delicate ecosystem, creating toxic mercury harmful to fish, birds, reptiles and mammals, including the endangered Florida panther.
"By the time the Everglades sees that water, it will be nice and clean, with the phosphorus taken out of it," said Alan Shirkey, who oversees the project for the South Florida Water Management District.
Skeptics who joined a lawsuit to enforce water standards are not so sure. They fear that Obama administration officials — under pressure to relax environmental restrictions during the 2012 election campaign — were too quick to accept the state's plan to settle the suit.
"This idea is a completely new one that has not been road-tested," said David Guest, an attorney in Tallahassee for Earthjustice.
Gov. Rick Scott sold federal officials on the idea — officially known as a "flow basin" — as the centerpiece of an $880 million plan to remove pollutants that wash off farmland and urban developments. The agreement in June 2012 spared the state from a federal proposal that would have cost nearly twice as much.
The basin taking shape on farmland acquired by the state on U.S. Highway 27 will cover more than 15,000 acres and store up to 20 billion gallons of water. That's enough to fill 45,000 football fields a foot deep.
Pump stations already draw polluted water from the New River and Miami canals into "stormwater treatment areas" — shallow pools lined with underwater plants that filter out phosphorus before the water seeps into conservation areas and flows south into the Glades.
But to prevent heavy rains from overwhelming the system, water managers sometimes must divert dirty water around the treatment areas and send it south, polluting wetlands, jeopardizing wildlife and violating federal water-quality standards.
The new flow basin is designed to solve that problem by temporarily storing all the water from the canals, drawing it in through supply canals and gated structures. Cattails along the bottom will filter out some phosphorus. But the main purpose is to hold water, especially during wet seasons, and release it slowly into the treatment areas.
The construction is marked by explosions that send clouds of dirt and rock into the air as crews blast out sections of limestone to carve out spaces for water to flow in or out. Giant dump trucks haul this material to the perimeter to help form 12-foot levee walls.
Solar-powered gates will help control the flow. Supply canals will be built at a higher elevation so that water runs downhill into the basin when the gates are opened. And gravity will pull the water through the basin to be released into the treatment areas.
Anthony Rosato, the project manager, said contractors are on track to complete the flow basin by July 2016.
A spokeswoman said the U.S. Environmental Protection Agency is satisfied the plan will meet water-quality standards but that it's too early to comment on the results.
Those who work on the site seem confident.
"I'm a critter lover. And if you go out there, you'll see the wildlife, the hogs, the deer, the coons. The birds are unbelievable," said Lori Fox of Clewiston, a pump station operator.
She fishes south of the treatment areas, where the water is clean and the bass have a golden color, rather than to the north, where the fish are as dark as the water they swim in.
"To me, you are what you eat. You are what your environment is," she said "I had no idea of the concept of what they were doing out here. But when you see it, you know it works."
William E. Gibson|Washington Bureau|Sun Sentinel|March 29, 2014

Last week, the Spring Lake Improvement District (SLID) broke ground on a new project that will clean up water before it flows to Lake Okeechobee and the Everglades. This innovative project will store and treat stormwater from their property before it enters Arbuckle Creek, on its way to Lake Istokpoga, and then on to Lake Okeechobee and the Everglades.
The ground-breaking was initiated by (left to right) Highlands County Commissioner Don Elwell, Gene Schriner, project engineer, Brian Acker of SLID, Marty Mielke, Senator Grimsley's office, Representative Cary Pigman, and Highlands County Commissioner Greg Harris.
Currently, polluted stormwater from Lake Wales Ridge, Sebring Regional Airport and U.S. 98 flows the residential areas around Spring Lake. The new project will capture this water and treat it in stormwater ponds before it flows on to Arbuckle Creek and areas throughout the Everglades. In addition to these water quality benefits, Spring Lake Improvement District plans to manage the area for wildlife viewing and enjoyment for its residents.
The 70-acre system is funded through a $416,000 legislative appropriation to the SLID with $625,000 of matching funds from a DEP grant. Sen. Denise Grimsley and Rep. Cary Pigman helped obtain legislative funding, with support from Audubon. This project is part of an admirable $4 million effort on the part of this small District to improve water management.
The Spring Lake Improvement District is an independent special district that provides services to Spring Lake, a community on the northern shore of Lake Istokpoga in Highlands County. The Spring Lake community was designed 50 years ago and has experienced stormwater runoff problems in recent years.
Audubon scientist Paul Gray has been following this project in its development and notes, "This project has the type of vision that helps meet stormwater goals for this community, by adding an amenity for its residents and protecting Arbuckle Creek and Lake Istokpoga, which are the natural beauty that attracted the development in the first place."
Beautiful Arbuckle Creek will be a beneficiary of the Spring Lake project.
For more information on this project, please click here.
audubonoffloridanews.org|November 5, 2014
Water Quality Issues
EPA and Army Corps to Clarify Muddy Definitions of Wetlands and Water
The U.S. Army Corps of Engineers and the Environmental Protection Agency have proposed a new rule clarifying Clean Water Act protections for many streams, wetlands, and other waters critical to Florida's and the nation's water resources, wildlife and economy. Because of confusion created by two Supreme Court cases in 2001 and 2006 over what waters are protected or not, many have been at increased risk of pollution and destruction for more than a decade. The sad result is wetland losses have been increasing nationwide for the first time since the 1980′s. Just as sad is a torrent of misinformed objections to this very reasonable, science-based rule from development interests who want to keep this confused status quo.
Audubon Florida summarizes this important habitat and resource issue in a new "Clean Water Act Rule" Fact Sheet – click here to read it. To read a two-page EPA summary of the proposed rule's clarifications of what water resources are protected by the Clean Water Act, click here.
Clean drinking water, flood protection, downstream fisheries, wildlife habitat and everyone's local economy depend on clear standards and rules leading to healthier water and wetlands. Please send a letter of support for this proposed rule to EPA before the end of the public comment period on November 14, 2014. If the rule is not approved, wetland losses and degradation of water will continue to accelerate in Florida and across the United States.
Audubon of Florida News Blog -
Great Lakes & Inland Waters
EPA, MDEQ and UP Officials Celebrate Removal of Lake Superior Area of Concern from Binational List of Toxic Hotspots
Ishpeming, Michigan (Nov. 13, 2014) – U.S. Environmental Protection Agency Region 5 Administrator/Great Lakes National Program Manager Susan Hedman today joined Ishpeming Mayor Mike Tall, state officials and local residents at Deer Lake in Ishpeming, Michigan, to mark the removal of this toxic hotspot from a binational list of "Areas of Concern" targeted for cleanup in the 1987 U.S.-Canada Great Lakes Water Quality Agreement.
After decades during which only one U.S. Area of Concern was delisted, federal agencies have accelerated cleanup actions during the past five years by using Great Lakes Restoration Initiative funding. Deer Lake is one of three Areas of Concern that have been delisted since the Great Lakes Restoration Initiative was launched in 2010. The United States and Canada designated 43 Areas of Concern under the 1987 Great Lakes Water Quality Agreement, in an effort to target sites contaminated primarily by industrial activity that occurred before modern environmental laws were enacted.
The Deer Lake Area of Concern on the southern shore of Lake Superior was contaminated by mercury that leached into water flowing through an abandoned iron mine and by other sources of pollution. High levels of mercury contamination in fish and reproductive problems in bald eagles were documented in the Area of Concern. EPA Great Lakes Restoration Initiative grants ($8 million) were used to complete the final work required for delisting: projects that diverted water from the underground mine to the surface and to restore a trout steam known as Partridge Creek.
"The Great Lakes Restoration Initiative accelerated cleanup work needed to protect Lake Superior and to delist the Deer Lake Area of Concern," Hedman said. "Our work in the Deer Lake Area of Concern has reduced threats to public health and will enhance recreational opportunities and the UP economy."
"The Partridge Creek Project stands out as an excellent example of the terrific results that may be achieved when business, citizens, and government work together to accomplish important environmental goals," said Mayor Tall. "The local community and the global community are the beneficiaries of this great project. The City of Ishpeming is grateful to the Great Lakes Restoration Initiative, the EPA, DEQ, and the many individuals who all labored for many years to remove the beneficial use impairments at Deer Lake."
"As a lifelong resident of Northern Michigan, I am so pleased to see Deer Lake removed as an Area of Concern," said U.S. Rep. Dan Benishek. "I grew up here, and I want our Great Lakes and waters to stay clean for our children and grandchildren. That's why I've been a big supporter of the GLRI, which really made today's event possible. I look forward to continuing to work to remove other areas in Northern Michigan off the list as well."
"The restoration of Deer Lake is not only a good news story for all the communities involved, but also a testament to what can be accomplished through the Great Lakes Restoration Initiative," said U.S. Senator Carl Levin. "I am proud of our progress so far and look forward to the restoration of other contaminated areas in the Great Lakes."
"Today's celebration marks a major achievement that reflects the decades of hard work by the Deer Lake Public Advisory Council, City of Ishpeming, and local stakeholders, and the importance of federal funding from the Great Lakes Restoration Initiative," said U.S. Senator Debbie Stabenow. "Deer Lake is one of the first areas in Michigan to get a clean bill of health thanks to this federal partnership, which invests in the health of our Great Lakes and waterways. Today's event shows once again the urgent need to invest in partnerships that clean up, restore, and protect our Great Lakes for generations to come."
"This announcement is the capstone on years of work to clean up our Great Lakes shorelines," said Michigan Department of Environmental Quality Director Dan Wyant. "We appreciate the support from federal partners through the Great Lakes Restoration Initiative to make this happen, and we appreciate the continued support and hard work of local groups to restore Michigan's natural resources in our Areas of Concern. We look forward to more good news from this program in the years ahead."
"This is a phenomenal achievement for Deer Lake, the Ishpeming Area, and especially, Lake Superior," said Diane Feller, Chair of the Deer Lake Public Advisory Council. "If someone told me thirty years ago that fish from Deer Lake would be safe to eat in my lifetime, I wouldn't have believed it. PAC Members, Cliffs, State Agencies and EPA have all been instrumental in getting this result. Thanks to the EPA for spearheading the final push to delisting."
Last summer, the Michigan Department of Environmental Quality formally asked EPA to start the process to delist the Deer Lake Area of Concern. EPA reviewed environmental monitoring data submitted with MDEQ's request and determined that this Area of Concern was eligible to be delisted. Notice of intent to delist the Area of Concern was provided to the government of Canada, tribal nations, the International Joint Commission and the general public. MDEQ will continue to monitor ecological conditions in the delisted Deer Lake Area of Concern, with support from EPA.
In 2013, the Presque Isle Bay Area of Concern (Lake Erie, Pennsylvania) was delisted, the first since GLRI was launched in 2010 and only the second U.S. Area of Concern delisted since the 1987 Great Lakes Water Quality Agreement. This fall, the White Lake Area of Concern (on Lake Michigan, in Muskegon County, Michigan) Areas of Concern was also delisted. Great Lakes Restoration Initiative funding has been used to complete all necessary remediation and restoration actions at three additional Areas of Concern: Waukegan Harbor (Lake Michigan, Illinois), Sheboygan Harbor (Lake Michigan, Wisconsin), and Ashtabula River (Lake Erie, Ohio). Environmental monitoring is ongoing at those Areas of Concern to assess their eligibility for delisting. Great Lakes Restoration Initiative funding is also being used to accelerate cleanup work in all remaining Areas of Concern on the U.S. side of the border.
For more information (including high-resolution photos) on the Deer Lake Area of Concern:
http://www2.epa.gov/deer-lake-aoc.
For more information on the Great Lakes Restoration Initiative: www.glri.us.
Offshore & Ocean

Groundbreaking Maps Detail Acidity of the Earth's Oceans
A team of scientists at Columbia University's Lamont-Doherty Earth Observatory and the University of Colorado at Boulder have published a groundbreaking set of maps that offer a comprehensive picture of the acidity of the Earth's oceans as they absorb climate change-causing carbon emissions, causing changes to marine ecosystems.
In northern winter, the Bering Sea, dividing Alaska and Siberia, becomes the most acidic region on earth (in purple) as shown in this February 2005 acidity map in pH scale. Temperate oceans are less acidic. The equatorial Pacific is left blank due to its high variability around El Niño and La Niña events. Map credit: Taro Takahashi
"We have established a global standard for future changes to be measured," said Lamont-Doherty geophysicist Taro Takahashi, one of the team that developed the maps, which were published in Marine Chemistry. The maps take a month-by-month look at the increases and declines in ocean acidity in different seasons and locations, as well as saturation levels of calcium carbonate minerals used by shell-building organisms. They utilize four decades of measurements by Lamont-Doherty researchers and others.
Among other things, the maps show that the northern Indian Ocean is 10 percent more acidic than the Atlantic and Pacific Oceans, and that ocean water as far north as Iceland and as far south as Antarctica are acidifying by about 5 percent per decade, corresponding to the increase in carbon emissions.
The saturation state of the mineral aragonite, essential to shell-builders, tends to fall as waters become more acidic. The South Pacific Ocean is heavily oversaturated with respect to aragonite (in red) while the polar oceans (in blue) are less saturated, as shown in this February 2005 map. The pink lines represent approximate polar sea ice edges. Map credit: Taro Takahashi
While the chemistry will be over the heads of the average non-chemist, the maps are fascinating for how they make visual the impact we're having on our oceans and what that might mean for cultures and economies that depend on them.
Anastasia Pantsios |November 11, 2014

Lawsuit Filed to Protect Struggling Walruses from Arctic Oil Drilling
Threats to walruses in the Arctic are in the spotlight again, as six environmental and conservation groups have filed a lawsuit against the U.S. Fish and Wildlife Service (FWS) challenging a rule that would allow oil companies to begin drilling in key walrus feeding areas in the Arctic's Chukchi Sea by next year. Shell has already announced its intention to do so.
Earthjustice filed the lawsuit on behalf of Alaska Wilderness League, Center for Biological Diversity, Greenpeace, Resisting Environmental Destruction on Indigenous Lands, Sierra Club and Natural Resources Defense Council. According to the plaintiffs, oil operations could force walruses out of their feeding areas, trigger stampedes, harm them with loud seismic blasts and put them at risk from the impacts of catastrophic oil spills which would be difficult to clean up in Arctic conditions.
"The Fish and Wildlife Service needs to do a much better job of protecting walrus mothers and calves struggling to survive in the dramatically changing Chukchi Sea," said Earthjustice Attorney Erik Grafe. "Today's challenge seeks to protect walruses from suffering potential serious harm and harassment at the hands of companies like Shell Oil, which crashed and burned during its Arctic Ocean drilling efforts in 2012. Walruses are already under tremendous stress from climate change—their sea ice home is literally melting away. Without adequate analysis, the challenged rules would add to walruses' woes by allowing drilling and risking oil spills in the areas most important for food and resting. What's more, drilling would accelerate the climate change already causing so much trouble for walruses."
Grafe is referring to the stress already on walruses in the region as the ice from which they hunt and on which they raise their young has been melting due to climate change. The ice edge has receded north into water to deep for the walruses to fish in. This has forced the animals onshore where they have gathered in huge masses on beaches on both flanks of the sea in Alaska and Russia. About 35,000 walruses came ashore in Alaska a month ago, with another 10,000 finding solid ground in Russia, as September sea ice extent shrunk to its sixth-lowest extent since satellite measurements began.
The lawsuit has much wider implications than just protecting the habitats of some big, beautiful animals.
"Walruses are the Arctic's canary in a coal mine," said Cindy Shogan, executive director for Alaska Wilderness League. "We can't ignore the signs and impacts of climate change in the Arctic. The Interior Department must better protect walruses and the fragile Arctic Ocean with its disappearing shoreline from harm by big oil companies like Shell. Adding drilling into this already dangerous mix is reckless and irresponsible."
"The danger to walrus is one more in a long list of serious risks posed by drilling in the Arctic Ocean," said Dan Ritzman, Alaska program director for the Sierra Club's Our Wild America campaign. "We should not sacrifice the Arctic's amazing wildlife, the subsistence culture that depends on it, or our climate to dirty drilling. The effects on walrus and other wildlife will only worsen if we don't begin keeping dirty fuels in the ground."
Anastasia Pantsios|November 10, 2014
In Hawaii's Colorful Reefs, a Harrowing Death Knell
It's no secret that the world's corals are in trouble. And right now in the waters surrounding Hawaii, some of the rarest corals on Earth are getting hammered. In recent weeks warming ocean temperatures have set off widespread bleaching. Some corals will survive, but others — especially those barely hanging on — will be a step closer to extinction.
The Center for Biological Diversity has been working for years to save corals from bleaching and ocean acidification. As the Center's Miyoko Sakashita points out in a new op-ed, we're happy to see new federal protection for 20 species of corals, but there's much more work to be done.
"It's easy to turn a blind eye to what's happening, especially because it's taking place out of our daily vision in places where few of us will ever see in person," Miyo writes. "But our negligence of the plight of corals — willful or not — will come at a steep price, exacted in the loss of the magical undersea worlds that we allowed to disappear."
Read Miyo's piece in The Huffington Post and learn more about our work to save corals.
New coral species discovered off the coast of California
The new species of white coral found off the coast of California in an area known as The Football. Most likely it is closely related to gorgonian corals. © NOAA.
Scientists on a mission led by National Oceanic and Atmospheric Administration (NOAA) have made new discovers in waters off California's coast, including a new species of deep sea coral and a nursery area used by both catsharks and skates.
The research was a result of the first intensive exploration of the areas north of Bodega Head, which took place in September 2014 aboard NOAA's R/V Fulmar. The team of scientists focused on two main sites: the head waters of Bodega Canyon, and an area known as 'the Football' west of Salmon Creek and north of the canyon, so-named for its oval shape.
While investigating in these areas, the researchers discovered a new species of deep sea coral, and a nursery area for both catsharks and skates located in the underwater canyons close to the Gulf of Farallones and Cordell Bank national marine sanctuaries off Sonoma coast.
The team of scientists undertook multiple dives during which they made the discovery of hundreds of skate egg cases on the sea floor, and in bundles on rocks surrounding a catshark nursery area.
Commenting on this finding, deep sea biologist at NOAA's National Centers for Coastal Ocean Science Peter Etnoyer said: "This is a highly unusual nursery because rarely, if ever, are shark nurseries in the same area as skate nurseries."
The significant discovery of the new coral species was made by the second team to embark on the mission, led by California Academy of Sciences' Gary Williams. His team found corals at around 600 feet deep and confirmed them to be a new species of deep sea coral. "Deep-sea corals and sponges provide valuable refuge for fish and other marine life," said Maria Brown, Farallones sanctuary superintendent. "Data on these life forms helps determine the extent and ecological importance of deep sea communities and the threats they face. Effective management of these ecosystems requires science-based information on their condition."
The mission was also significant for being the first time that video surveys were recorded in the area. Previously this region had only been documented through sonar imaging.
"The video surveys from this research mission verified the extent of rocky habitat estimated from sonar data collected several years ago, and the quality of rocky habitat in some areas exceeded expectations." says US Geological Survey geophysicist Guy Cochrane.
The scientists used small submersibles in their investigations along with other innovate technologies, documenting the marine life that has adapted to survive in offshore waters reaching depths of 1000 feet by filming and photographing it. Prior to this research, scientists knew little about these areas except they were thought to contain nutrient-rich and biologically diverse marine life.
"Surveys of the seafloor in these waters reveal an abundance and diversity of life in new habitats," commented Danielle Lipski of the Cordell Bank National Marine Sanctuary. "This work helps inform our knowledge and understanding of the deep sea ecosystems north of Cordell Bank and Gulf of the Farallones national marine sanctuaries, areas that are extremely important to the ocean environment."

Pew Praises Adoption of Protections for Antarctic Krill
China and Russia block action on marine reserves in Southern Ocean
Hobart, Australia—The Pew Charitable Trusts commended the Commission for the Conservation of Antarctic Marine Living Resources (CCAMLR) for acting to expand protections for krill, a critical species in the Southern Ocean's food web, but noted the commission's continued failure to designate what could have been the world's largest marine reserve in Antarctica's Southern Ocean.
Because of objections from China and Russia, the commission could not reach consensus for the fourth time in three years on proposals to designate permanent marine reserves within the Ross Sea and waters off East Antarctica.
Made up of 24 countries and the European Union, CCAMLR did extend protections for Antarctic krill: a time extension of the current krill fishing limits that can occur close to the coasts where nesting penguins live. Krill, shrimp-like crustaceans, are the base of the Southern Ocean food web and a crucial food source for seals, fish, whales, and penguins.
For the fourth time in three years, CCAMLR members could not reach consensus on proposals to protect areas in the Ross Sea and off East Antarctica. China and Russia blocked efforts by the commission to agree on designations that would have restricted industrial fishing in some of the most pristine marine environments on Earth. Together, the two designations would have protected 3.2 million square kilometers (1.2 million square miles).
Andrea Kavanagh, who directs Pew's efforts to protect penguins and the Southern Ocean, issued the following statement:
"We are pleased that CCAMLR took positive steps to keep some krill fishing away from nesting habitats of penguins, but disappointed that politics trumped the advice from the Scientific Committee to increase observer coverage on all fishing vessels.
Since 1959, Antarctica has been recognized as a special place for peace and science. It is regrettable that CCAMLR, faced with objections from China and Russia, cannot live up to that promise. Another year of inaction means another year that these near-pristine waters and their remarkable biodiversity are open to the threat of industrial fishing. The proposed designations would have ensured the long-term protection of many species, including penguins, seals and whales."
Forestry

New laws may turn Brazil's forests into mines
Areas of land the size of European countries stand to have protections revoked for development
With the world's largest system of protected areas and a 70 percent drop in the deforestation rate of the Amazon over the past decade, Brazil has made huge strides in safeguarding what's left of its wilderness. However, this progress now hangs in the balance, with new laws threatening to turn many of the country's protected areas into mines and dams.
A report released today in Science details the impacts of the legislation, which is currently under debate by the Brazilian Congress. One proposal is calling for 10 percent of the country's most stringently protected areas (PAs) to be developed for mining, which would affect an area the size of Switzerland encompassing national parks, biological reserves, and wildlife refuges. Brazil's indigenous-held land would be even more impacted, with 281,000 square kilometers —an area bigger than the UK—at risk of mining development. Proposed hydroelectric dams stand to disturb downstream PAs, limiting the movement of aquatic species and flooding out terrestrial ones.
The proposals include plans for mitigating and reducing environmental damage from development. However, the authors of the report caution these plans do not go far enough to address the scope of impact.
"Our concern is that even if the proposed mitigation actions were put in place they are oversimplified because they fail to take account of the indirect effects of mega-projects," said coauthor Dr. Luiz Aragão. "These projects can involve thousands of workers and lead to rapid local population growth. This, combined with new roads and access routes, is a recipe for the emergence of new deforestation frontiers."
Brazil boasts more than 12 percent of the world's PAs, with 17.6 percent of its land granted federal, state, or municipal protection. However, since 2008, Brazil had already reduced safeguards for 44,100 square kilometers of PAs to facilitate development, calling into question the efficacy of such "protection."
Brazil has had great success in reducing deforestation in the past decade, effectively sparing 86,000 square kilometers of rainforest from the chainsaw and thereby preserving wildlife habitat and preventing the release of 3.2 billion tons of carbon dioxide emissions, according to a study published in Science earlier this year. However, while forest loss has been stymied in the country, it definitely has not been stopped. The state of Pará, for example, lost nearly 8.1 hectares—more than 7 percent—of its forests from 2001 through 2012, according to data from Global Forest Watch. This, despite an abundance of protected areas occupying almost half the state's land area.
While most of Pará's forest loss occurred outside its PAs, deforestation happened within them in several places. For instance, Global Forest Watch shows the Triunfo do Xingu Environmental Protection Area in the middle of the state experienced more than 361,000 hectares of deforestation from 2001 through 2012.
In addition to threatening its own biodiversity and resources, the authors of the report worry Brazil's PA reductions may have global repercussions.
"Beyond the conservation and stewardship of its own biodiversity and environmental resources, so vital to the wellbeing of its citizens, Brazil plays a vital role in motivating and supporting the adoption of more sustainable development trajectories around the world," said coauthor Toby Gardner. "Yet this standing is now in jeopardy."
The population of Brazil nearly quadrupled in 60 years, from 54 million in 1950 to 195 million in 2010. Balancing the needs of a growing human populace with those of the environment can be a tricky issue, one the authors of the report say Brazil's government should address more thoughtfully.
"The purpose of this analysis is not to say that Brazil´s development should not benefit from its abundant natural resources," said Dr. Joice Ferreira, lead author of the report, "but that we should not squander our hard-won record of success and leadership in favor of fast-tracked and poorly planned development projects that leave a long legacy of environmental damage.
"It is possible to manage our development in a more sustainable way."
Morgan Erickson-Davis|mongabay.com|November 07, 2014
New Citrus Trees Resist Greening
The varietals only show superior tolerance in soils on the East Coast
LAKELAND | The U.S. Department of Agriculture has released five new citrus varieties that appear to tolerate the fatal bacterial disease citrus greening better than existing varieties.
All five new releases are rootstocks, or citrus varieties bred primarily for specific soil conditions. The canopy of a commercial citrus tree comes from other varieties of oranges, grapefruit or tangerines grafted onto the rootstock just above ground level.
However, all five new rootstocks show superior tolerance to greening only on flatwood soils in the Indian River and Gulf Coast growing regions along the Florida coasts, according to USDA documents. Results of field tests showed no advantages over existing rootstocks grown in the sandier soils along the Central Florida Ridge, which includes Polk County.
Kim Bowman, a research geneticist at the USDA Horticultural Research Laboratory in Fort Pierce, developed all five rootstocks.
The new releases join four other rootstocks, all among the 10 most widely planted in Florida, Bowman developed earlier, said David Hall, the Fort Pierce lab's interim director. Bowman could not be reached on Wednesday.
"We're really excited about this release," Hall said. "It's really exciting to have rootstocks that show increased resistance to greening."
Citrus is a fatal bacterial disease that threatens the future of Florida's commercial citrus industry. Infected trees produce fewer, smaller fruit and have difficulty holding onto the fruit before it can be harvested.
In the five citrus seasons before greening was discovered in 2005, Florida growers produced an average of 225 million boxes of oranges. In the 2013-14 season, the orange harvest fell to 104.6 million boxes and is expected to fall below 100 million when the USDA releases its initial 2014-15 crop forecast on Friday.
The USDA decided to release the new rootstocks earlier than usual because of pleas from Florida citrus growers for new measures against greening, Hall said.
According to the USDA documents, the field trials for the five new rootstocks were limited to about 20 Hamlin orange trees, each at experimental groves near the Fort Pierce lab, which has flatwood soils, and in Orange County along the Ridge. Hamlin is Florida's most widely planted early orange variety, harvested from October to March.
The new rootstocks could perform differently when they are more widely planted in commercial groves across Florida, Hall said.
In the field tests, all five rootstocks showed superior tolerance to the effects of greening, the documents said. Tolerance means the citrus tree can still be infected with the disease but shows a greater ability to cope with the infection.
The new rootstocks particularly outperformed Swingle, the most widely planted rootstock in Florida, the documents show.
From 2008 to 2012, infected trees on the new rootstocks produced two to three times more oranges when compared with infected trees on Swingle. Fruit size generally was larger and with more juice than Swingle trees, although the differences were not statistically significant in some cases.
Researchers also sampled the trees for bacterial levels, which could also account for the improved performance, but found no significant differences between the new rootstocks and Swingle. That supports the inference the rootstocks are naturally resistant to greening.
Mike Sparks, chief executive at Lakeland-based Florida Citrus Mutual, the state's largest growers' group, expressed confidence that the release of the new rootstocks represents an advance in the fight against greening.
"We are very optimistic the new rootstocks will really help growers," Sparks said in an email to The Ledger. "It's another tool for them in the battle against (greening). With several incentive programs out there designed to get growers to re-plant, these releases couldn't have come at a better time."
Kevin Bouffard|THE LEDGER\October 8, 2014 .

Destruction of Carbon-Rich Mangroves Costs up to $42 Billion in Economic Damages Annually
Globally Coordinated Action and Policy Interventions Required to Stem Loss of One of the Planet's Most Threatened Ecosystems
ATHENS – Mangroves are being destroyed at a rate 3 – 5 times greater than the average rates of forest loss, costing billions in economic damages and denying millions of people the ecosystem services they need to survive, according to a new report launched today by the United Nations Environment Program (UNEP).
The Importance of Mangroves: A Call to Action launched today at the 16th Global Meeting of the Regional Seas Conventions and Action Plans, describes how emissions resulting from mangrove losses make up nearly one-fifth of global emissions from deforestation, resulting in economic damages of some US$6 – 42 billion annually. Mangroves are also threatened by climate change, which could result in the loss of a further 10 – 15 per cent of mangroves by 2100.
Found in 123 countries and covering 152,000 square kilometers, over 100 million people around the world live within 10 kilometers of large mangrove forests, benefiting from a variety of goods and services such as fisheries and forest products, clean water and protection against erosion and extreme weather events.
UN Under-Secretary-General and UNEP Executive Director Achim Steiner said, "Mangroves provide ecosystem services worth around US$33 – 57,000 per hectare per year. Add to that their superior ability to store carbon that would otherwise be released into the atmosphere and it becomes clear that their continued destruction makes neither ecological nor economic sense."
"Yet, the escalating destruction and degradation of mangroves – driven by land conversion for aquaculture and agriculture, coastal development, and pollution – is occurring at an alarming rate, with over a quarter of the earth's original mangrove cover now lost. This has potentially devastating effects on biodiversity, food security and the livelihoods of some of the most marginalized coastal communities in developing countries where more than 90 per cent of the world's mangroves are found."
"By quantifying in economic terms the value of the ecosystem services provided by mangroves as well as the critical role they play in global climate regulation, the report aims to encourage policymakers to use the tools and guidelines outlined to better ensure the conservation and sustainable management of mangroves," he added.
The report argues that in spite of the mounting evidence in support of the multitude of benefits derived from mangroves, they remain one of the most threatened ecosystems on the planet. The report describes financial mechanisms and incentives to stimulate mangrove conservation, such as REDD+, private sector investments, and the creation of Nationally Appropriate Mitigation Actions for developing countries to reduce greenhouse gas emissions while increasing national capacity.
Mangrove degradation and loss is predicted to continue into the future if a business-as-usual scenario prevails. The Importance of Mangroves: A Call to Action offers readers and especially policymakers many management and protection measures and tools that are available for use at national, regional and global scales to help ensure a sustainable future for mangroves.
Policymakers, it says, should consider several of these, including integrating mangrove-specific goals and targets into the post-2015 UN Sustainable Development Goals agenda, as well as better coordination of global action on mangroves through the development of a Global Mangrove Commission, and the streamlining and coordination of Multilateral Environmental Agreements.
Protecting these long-term reservoirs of carbon, and preventing their emissions from being released back into the atmosphere is, the report says, a sensible and cost-effective measure that can be taken to help mitigate climate change.
Key Findings
Ecosystem Services

· By 2050, South-East Asia will potentially have lost 35 per cent of the mangrove cover it had in 2000, with associated negative ecological and socio-economic impacts.

· Ecosystem service losses in South-East Asia from the destruction of mangroves has been estimated at more than US$2 billion a year over the period 2000 – 2050, with Indonesia predicted to suffer the highest losses at US$ 1.7 billion per year.

Climate Change Regulation and Mitigation

· Research is increasingly pointing to the role of mangroves as significant carbon storage systems, sequestering vast amounts of carbon – about 1,000 tons per hectare – over thousands of years, making them some of the most carbon-rich ecosystems on the planet.

· One study carried out in the Potengi Estuary in Brazil on 1,488 hectares of mangroves found that the forest trees and sediments were retaining concentrations of heavy metals that would otherwise cost US$13 million to treat in a zeolite plant.

Livelihoods

· A large number of commercially important fish species such as snapper, mullet, wrasse, parrotfish, sharks and rays utilize mangroves during all or part of their lives, with the mangrove providing critical food, shelter and refuge functions.

· It has been estimated that 30 per cent of the fish caught in South-East Asia are supported in some way by mangrove forests; a figure approaching 100 per cent for highly mangrove-dependent species including some species of prawn.

· It was estimated that the annual average landing of mangrove-associated fish and blue crab in the Gulf is 10,500 tons, with an estimated total value of US$19 million to local fisheries.

Extreme Weather Events

· The complex network of mangrove roots can help reduce wave energy, limit erosion and shield coastal communities from the destructive forces of tropical storms, cyclones and tsunamis.

· The mangrove-lined "hurricane holes" in the Caribbean have been a well-known safe haven for vessels for centuries, and of the 20-odd established hurricane holes recommended for boaters needing to ride out storms in the Antilles, 16 gain such a reputation because of the presence of mangroves.

· In Vietnam, extensive planting of mangrove has cost of US$1.1 million but has helped reduce maintenance cost of the sea-dyke by US$7.3 million per year.

Biodiversity Hotspots

· Mangroves form the foundation of a highly productive and biologically rich ecosystem that is home to a spectacular range of species of birds, mammals, invertebrates and fish which help to support people through fisheries, tourism and cultural heritage.

· The combination of clearance and degradation has meant that globally about 16 per cent of mangrove tree species and some 40 per cent of the animal species dependent on these ecosystems are now considered vulnerable and/or at risk of extinction. The mangroves of Australia are home to over 200 species of birds, and at least 600 different fish species are known to occur in mangroves across the Indo-Pacific region.
Recommendations
Policymaker guidelines for the improvement, management and protection of mangroves include the development of protocols to Regional Seas Conventions that promote protection and sustainable use of mangroves, and the implementation and enforcement of national laws and policies relevant to mangrove protection and management. Others include:

· Create a Global Mangrove Fund to support "climate resilience" actions that conserve and restore mangroves, and protect the carbon stored within them;

· Encourage mangrove conservation and restoration through carbon credit markets such as REDD+, the "Bio-Rights" mechanism and corporate and private sector investments;

· Promote economic incentives such as Payments for Ecosystem Services as a source of local income from mangrove protection, sustainable use and restoration activities and ensure beneficiaries of mangrove services can find opportunities to invest in mangrove management and restoration planning;

· Explore opportunities for investment into Net Positive Impact biodiversity offsets by the corporate and business sectors as a way to finance the protection and sustainable use of mangroves;

· Ensure that mangroves are addressed in wider Marine Spatial Planning and policy frameworks.

Access full report here


'Guns kill trees too': overhunting raises extinction threat for trees

Landmark study finds that hunting and trapping also hurts tropical trees


A new paper confirms what ecologists have long feared: hunting birds and mammals drastically raises the risk of extinction for tropical trees. Following the long-lifespan of a single canopy tree, Miliusa horsfieldii, researchers discovered that overhunting of animals could increase the chances of extinction for the species fourteen times over a century, from 0.5 percent to seven percent.

"Our study is the first to quantify the decades-long effects of animal seed dispersal across the entire tree life cycle, from seeds to seedlings to adult trees," said co-author Jeremy Lichstein with the University of Florida.

But how could hunting birds and mammals impact trees? The vast majority of trees in rainforests are not dispersed by wind, like those in temperate areas, but by animals, which eat the fruit and spread the seeds far-and-wide when they defecate. These "seed dispersers," as they are known, include a wide-variety of species from birds to bats to bigger mammals like monkeys, civet cats, bears, and even rhinos and elephants. In fact, some tree species in the tropics depend on just a few animal species for dispersal. Given this, scientists have long suspected that overhunting of mammals and birds would lead to a decline in some tree populations.

"Past studies have mostly shown short-term effects of hunting on communities of small trees and seedlings," lead author Trevor Caughlin, also with the University of Florida, told mongabay.com. "Many of these studies reveal a shift in species composition in hunted areas from tree species that are dispersed by animals to tree species that are wind-dispersed. What's been missing is a way to predict the long-term consequences of these changes for tropical forests."

While some research had even predicted little impact on tree populations over the long-term, Caughlin's paper, published today in the Proceedings of the Royal Society B, finds the opposite. In order to determine this, Caughlin and his colleagues looked at 15 years of data from populations of Miliusa horsfieldii in Huai Kha Khaeng Wildlife Sanctuary, a protected area in Thailand which is still home to many seed dispersing animals. The team focused on something called "negative density dependence," or NDD, which basically means that seeds spread further from the parent tree—by a mammal or bird—fare better than those that fall and grow up near the parent tree.

Working in the park for three years—and armed with 15 years of data—Caughlin found that when Miliusa horsfieldii were crowded-in by others of their own kind, they faced increased challenges, and not just at the beginning of life. This crowding has "long term effects that go far beyond the seed stage to affect survival of seedlings, saplings and adults," explained Caughlin, including reducing seedling and tree growth. Ultimately, tree survival suffered.

"Studying all life stages in a tree is important due to the long, complex life cycle of a tree," noted Caughlin. "A single tree can live for hundreds of years and produce hundreds of thousands of seeds, most of which will die long before reaching adulthood. Yet, trees only move a single time during their entire life cycle: during seed dispersal. Understanding the importance of seed dispersal for tree population requires measuring the importance of the spatial pattern established by seed dispersal for all life stages."

Once the team had established how crowding impacted the species, they modeled how this would decrease long-term survival in an environment where seed dispersers had been hunted out. This isn't a theoretical scenario: many forests in the tropics have become known as "empty forests" where even though trees are standing, nearly all medium and large-bodied birds and mammals have been wiped out by relentless hunting and trapping. No-where is the problem more severe than in Southeast Asia where the study took place. The computer model found that extinction became 14 times more likely for Miliusa horsfieldii when its seed dispersers were killed off.

While the study focused on a single canopy tree, Caughlin said he expected results to be similar for other animal-dispersed tree species in the region.

"Many studies have shown that effects of crowding (NDD) are pervasive across tree species, and the majority of tropical trees are dispersed by animals," he told mongabay.com. Though he also added that more research is needed on the interplay between seed-dispersers and seed predators—those species that destroy seeds when they eat them.

"Tropical plant-animal interactions are complex and we are just beginning to understand how these interactions translate into long-term changes for tree populations. For example, overhunting of seed dispersing animals and overhunting of seed predators and herbivores (like deer and peccaries) often occur simultaneously. In these cases, the loss of seed predators may compensate for the loss of dispersal and buffer the tree population from extinction. Nevertheless, it is increasingly clear that loss of animal seed dispersal will change the composition and structure of tropical forests."

Tropical biologist, Richard Corlett, who is a well-known expert on hunting and seed dispersal in the Southeast Asia, said the study "fills in a major gap" on the implications of overhunting.
"We knew hunting was bad, but we were not sure why it was bad, and therefore could not predict the long-term impacts. Now we know it is really, really bad and will get worse. The message that 'guns kill trees too' should help put overhunting at the top of the conservation agenda, where it deserves to be," added Corlett, who was not involved in the study but is currently the director of the Center for Integrative Conservation at the Xishuangbanna Tropical Botanical Gardens in Yunnan, China.

Caughlin said the message for policy-makers was simple.

"Unless steps are taken to reduce hunting pressure on animal seed dispersers, the integrity of tropical forests is at risk," he noted, adding that "the threat of overhunting to tropical forests is particularly worrisome, because overhunting could degrade even forests that are protected from logging, fire and other disturbances. And if animal-dispersed trees decline, we risk losing valuable ecosystem services, including carbon storage, biodiversity, and wild populations of important commercial tree species."

Jeremy Hance|mongabay.com|November 12, 2014

Save Our Southern Forests

We at Coal River Mountain Watch know the devastation of our forests as one of the many impacts of mountaintop removal. Our friends at Dogwood Alliance are fighting another huge and growing threat to Southern forests.

That threat is the expanding biomass industry that is currently targeting Southern forests at a rate that is impossible for these forests to sustain. Our beautiful forests are being clear-cut, processed into pellets, and then shipped to Europe to be burned for electricity. We know that our forests aren't fuel, and that's why we're taking part in a National Day of Action to oppose the growing biomass industry. Today, November 13th, as the wood products industry meets in Chesapeake, VA, to celebrate the destruction and export of our incredible forests, people from across the U.S. are coming together for a National Day of Action to send an SOS to Save Our Southern forests. With 20 existing wood pellet facilities, and 33 proposed, now is the time to increase pressure on corporate executives and EU policymakers. Today, we're sending more than 10,000 messages to EU policymakers.

Help us reach our goal of 10,000 messages! Share the SOS National Day of Action with your social media networks using the hashtag #SOSForests.

Speak up! Hobet Mountaintop Removal Public Hearing Nov. 20

Mark your calendars. The coal industry has for generations relied on the silence, apathy, and despair that they've instilled in the citizens of Appalachia. Here's your opportunity to stand up and speak out against the many hazards imposed by mountaintop removal.

The WV Dept. of Environmental Protection is holding an informal conference/public hearing on the expansion of the 20-square-mile Hobet Mine in Boone County and Lincoln County, WV. The hearing will be November 20, 2014 at 6 p.m. at the Morrisvale Community Center, 6545 Horse Creek Rd., Boone County, Morrisvale, WV.

If you're unable to attend,Please follow our Facebook page here for specific points to make and how to comment. Stay tuned…

Send an SOS now to EU policymakers asking them to Save Our Southern forests.

Vernon Haltom|Executive director|Coal River Mountain Watch

Global Warming and Climate Change
Huge News on Climate
China and the United States of America, the world's biggest greenhouse gas polluters, announced a historic agreement to curb carbon emissions. President Obama and President Xi Jinping have been quietly negotiating for nine months — a gestation that means a rebirth of hope. Working together, the world can slow the climate chaos we have unleashed. Bravo to both leaders, and thank you.
The emissions reductions from both countries are ambitious — and can be more so. Amazingly, China announced that 20% of its energy will come from renewable sources in fifteen years. Given the viral way in which new technologies spread — when they aren't hampered by antiquated utility regulations like ours — this target will be quickly surpassed in China.
The announcement will spur political backlash here. So far, not a single Republican leader has offered an alternative plan for ending carbon and methane emissions. I am hopeful that this will change. We must not let willful ignorance and cynicism win the day. Republicans have long said, correctly, that the United States cannot act alone in curbing climate pollution. Now is their chance to show leadership here at home. There are enormous business opportunities ahead; America should seize them.
Consumers, both here and around the world, will demand new energy technologies to harness the power of the sun and wind — and who knows what else. America can, and should, maintain the creative design and engineering edge that has made us a leader for so many years. The 600 billion dollars — annually! — of subsidies for the wealthy fossil fuel industry should end.
Mothers the world over thank you, President Obama and President Xi Jinping. You are making the world safer for our families.
Dominique Browning|Co-Founder and Senior Director|Moms Clean Air Force

US and China strike deal on carbon cuts in push for global climate change pact
Barack Obama aims for reduction of a quarter or more by 2025, while Xi Jinping sets goal for emissions to fall after 2030
The United States and China have unveiled a secretly negotiated deal to reduce their greenhouse gas output, with China agreeing to cap emissions for the first time and the US committing to deep reductions by 2025.
The pledges in an agreement struck between President Barack Obama and his Chinese counterpart, Xi Jingping, provide an important boost to international efforts to reach a global deal on reducing emissions beyond 2020 at a United Nations meeting in Paris next year.
China, the biggest emitter of greenhouse gases in the world, has agreed to cap its output by 2030 or earlier if possible. Previously China had only ever pledged to reduce the rapid rate of growth in its emissions. Now it has also promised to increase its use of energy from zero-emission sources to 20% by 2030.
The United States has pledged to cut its emissions to 26-28% below 2005 levels by 2025.
The European Union has already endorsed a binding 40% greenhouse gas emissions reduction target by 2030.
Speaking at a joint press conference at the Great Hall of the People, Obama said: "As the world's largest economies and greatest emitters of greenhouse gases we have special responsibility to lead the global effort against climate change. I am proud we can announce a historic agreement. I commend President Xi, his team and the Chinese government for their making to slow, peak and then reverse China's carbon emissions."
Advertisement
He said the US emissions reductions goal was "ambitious but achievable" and would double the pace at which it is reducing carbon emissions.
"This is a major milestone in US-China relations and shows what is possible when we work together on an urgent global challenge."
He added that they hoped "to encourage all major economies to be ambitious and all developed and developing countries to work across divides" so that an agreement could be reached at the climate change talks in Paris in December next year.
Xi Jinping said: "We agreed to make sure international climate change negotiations will reach agreement as scheduled at the Paris conference in 2015 and agreed to deepen practical co-operation on clean energy, environmental protection and other areas."
China's target to expand energy from zero-emission sources to around 20% by 2030 was "notable", a White House statement said. "It will require China to deploy an additional 800-1,000 gigawatts of nuclear, wind, solar and other zero-emission generation capacity by 2030 – more than all the coal-fired power plants that exist in China today and close to total current electricity generation capacity in the United States."
The UN's climate chief, Christiana Figueres, said: "These two crucial countries have today announced important pathways towards a better and more secure future for humankind."
Herman Van Rompuy, the president of the European Council, and Jean-Claude Juncker, the European Commission president, urged other countries to show their hand on emissions cuts: "We welcome the announcement today by the presidents of the United States and China on their respective post-2020 actions on climate change.
"The announcements to date cover around half of the global emissions. We urge others, especially the G20 members, to announce their targets in the first half of 2015 and transparently. Only then we can assess together if our collective efforts will allow us to fulfil the goal of keeping global temperature increases well below 2C."
The new US goal will double the pace of carbon pollution reduction, though the Republican-controlled Congress is likely to oppose Obama's climate change efforts.
The US Senate's new Republican leader, Mitch McConnell, was quick to criticize the Beijing pact. "This unrealistic plan, that the president would dump on his successor, would ensure higher utility rates and far fewer jobs," he said.
Administration officials argue the new target is achievable under existing laws.
Jeremy Hance|mongabay.com|November 12, 2014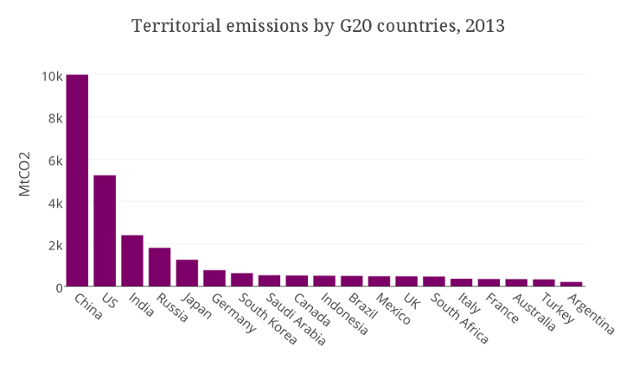 Emissions of G20 countries. Photograph: Nick Evershed/Guardian Australia
Frances Beinecke, president of US-based environmental group the Natural Resources Defence Council, said: "These landmark commitments to curtail carbon pollution are a necessary, critical step forward in the global fight against climate change. We look forward to working with both governments to strengthen their efforts because we are confident that both can achieve even greater reductions."
Senior US administration officials said the commitments, the result of months of dialogue between the world's top two carbon emitters, would encourage other nations to make pledges and deliver "a shot of momentum" into negotiations for a new global agreement set to go into force in 2020.
Tao Wang, climate scholar at the Tsinghua-Carnegie Center for Global Policy in Beijing, said: "It is a very good sign for both countries and injects strong momentum [into negotiations] but the targets are not ambitious enough and there is room for both countries to negotiate an improvement.
"That figure isn't high because China aims to reach about 15% by 2020, so it is only a five percentage point increase in 10 years, and given the huge growth in renewables it should be higher."
Andrew Steer, president of the World Resources Institute, which promotes sustainable resource management, said the announcements would "inject a jolt of momentum in the lead up to a global climate agreement in Paris".
"It's a new day to have the leaders of the US and China stand shoulder to shoulder and make significant commitments to curb their country's emissions," he said.
Li Shuo, of Greenpeace East Asia, said the announcement showed that the world's "two biggest emitters have come to the realization that they are bound together and have to take actions together".
At the Warsaw climate talks in 2013 nations were encouraged to draw up post-2020 climate plans by the first quarter of 2015, ahead of the final negotiations for a post-2020 global pact late in the year.
The White House statement said: "Together the US and China account for over one-third of global greenhouse gas emissions. Today's joint announcement, the culmination of months of bilateral dialogue, highlights the critical role the two countries must play in addressing climate change.
"The actions they announced are part of the longer range effort to achieve the deep decarbonization of the global economy over time. These actions will also inject momentum into the global climate negotiations on the road to reaching a successful new climate agreement next year in Paris."
Lenore Taylor|political editor,Guardian Australia|Tania Branigan|Beijing agencies|12 November 2014

Senate's Biggest Climate Change Denier to Head Environmental Committee?
With Republicans set to become the majority in the Senate this January, that means there will be a lot of shuffling of top positions. The most frightening impending change is the likely appointment of Senator Jim Inhofe to head of the Environment and Public Works Committee. We've created a petition to urge the Republican party to pick someone – perhaps literally anyone – else for the job.
At the moment, Inhofe is declining to discuss future leadership roles he will take in the Senate, but back in March, Inhofe said he intended to take over the environmental committee if and when the Republicans regained control of the Senate. His goal is not to bolster existing environmental policies, but to dismantle them.
As we've discussed at Care2 previously, the reasons that Inhofe is the worst man for the job are plentiful:
He chooses to protect corporations' bank accounts over the environment
He has a 5% rating with the League of Conservation Voters
He wants to reallocate money spent on the environment to the military
He is the biggest climate change denier in Congress, calling global warming a "hoax"
Essentially, the plan is to give one of the world's most influential environmental roles to a man who is hell-bent on annihilating the EPA. I realize that I'd be expecting too much to hope conservatives would appoint a pro-environment senator to the job, but I'd settle for someone who is indifferent to the health of the planet over someone like Inhofe. How can we trust our future with someone who just two years ago wrote that "climate change conspiracy theories" pose the biggest threat to humanity?
RL Miller, an attorney and anti-climate change advocate, doesn't anticipate Inhofe being as outspoken as usual. "I expect we are going to see less headline-grabbing efforts on the EPA and more of simply throttling their budget," Miller told the Guardian. "If he touches climate denial at all, he is going to be ridiculed in public and in the media. If he is smart, he is going to be very quiet publicly, and it will be death by a thousand cuts in the kind of budget battles that people like Jon Stewart don't pay attention to."
Inhofe may strategically choose to keep his mouth shut, but that doesn't mean his opinions have gotten any less detrimental. Only a decade ago, Inhofe stated that "increases in global temperatures may have a beneficial effect on how we live our lives." He also believes that humans cannot alter the climate because that's something God controls.
Republicans need to realize that by choosing Inhofe for this role, they're not just being apathetic toward the environment, they're waging war against it. We don't have time to waste on a leader who wants to take us backwards on these critical issues.
Tell the Republican Party they need to choose someone who cares at least a little bit about the environment for this position and to leave Inhofe off the committee by signing our petition.
Kevin Mathews|November 11, 2014

Disappearing Islands: How Sea Level Rise Impacts Communities
Scientists predict that Kiribati—a remote Island Republic in the Central Pacific—could be lost to rising sea levels in the next 50 years. A recent study by researchers at the University of California Irvine and NASA finds that six massive glaciers in the Amundsen Sea sector "have passed the point of no return," clearly showing how melting glaciers greatly impact low-lying islands like Kiribati.
Tinau (My Mother), by filmmaker Victoria Burns, provides an intimate family portrait of a Kiribatese mother that left her disappearing homeland of Kiribati and is now settled in the UK.
Tinau was one of two films to win a special prize in the Action4Climate video competition for its ability to present a local story that also has a profound global impact.
In an interview with filmmaker Victoria Burns, she shared her reasons for making this film. "My mother's home island of Kiribati is predicted by some scientists to be one of the first countries to disappear due to rising sea levels," said Burns. "Generally speaking most people aren't familiar with Kiribati because of the country's remoteness. Due to its relative seclusion, it would be so easy for people to think who cares? With the issue so close to my heart, I felt it my responsibility to share my mother and family's story to raise awareness on the situation."
When asked about future plans, Victoria replied, "I hope in the future to make a longer form documentary on climate change shot out on location in Kiribati and the Pacific. My film Tinau is just the beginning of the story and I believe there is still so much more to say. The potential impacts of climate change are widespread and varied throughout the world, Kiribati's fate just one strand of many."
Victoria shared the impact the Action4Climate video competition has had on her career, "I've personally found the Connect4Climate campaign and the Action4climate competition as the biggest impact with my engagement with the climate change movement. As a result of the competition I tuned into a community of peers, watched an array of stories from across the world and been inspired to become a better filmmaker and advocate in the climate change movement!"
The Action4Climate video competition received more than 230 entries from 70 countries from students inspired to share their climate change stories. To watch other Action4Climate videos, click here.
Stefanie Spear|November 13, 2014

IPCC report is clear: We must clean up our act
Germany, the world's fourth-largest economy, now gets a third of its energy from renewable sources, and has reduced carbon emissions 23 per cent from 1990 levels and created 370,000 jobs. (Credit: David via Flickr)
It's become a cliché to say that out of crisis comes opportunity. But there's no denying that when faced with crises, we have choices. The opportunity depends on what we decide to do.
What choices will we make when confronted with the fact that 2014 will likely be the hottest year on record? According to the U.S. National Oceanic and Atmospheric Administration, global land and sea temperatures up to September's end tie this year with 1998 as the warmest since record keeping began in 1880. "If 2014 maintains this temperature departure from average for the remainder of the year, it will be the warmest year on record," a NOAA statement says.
The world's warmest 10 years have all been since 1998, and last year carbon dioxide levels rose by the highest amount in 30 years.
The Intergovernmental Panel on Climate Change's Fifth Assessment Synthesis Report, released November 2, summarizes three reports released over the past year on the physical science; impacts, adaptation and vulnerability; and mitigation. It offers a stark choice: Unless we quickly curtail our fossil fuel dependence, we face "further warming and long-lasting changes in all components of the climate system, increasing the likelihood of severe, pervasive and irreversible impacts for people and ecosystems."
As a broadcaster, I've interviewed hundreds of scientists over the years, but I've never heard so many speak so forcefully and urgently as climatologists today. It's a measure of the seriousness of the crisis.
What choices will we make? Will politicians close their eyes while fossil fuel industry executives shovel money at them and enlist propagandists to spread misinformation and lies? Will we listen to those who, in the face of overwhelming scientific evidence, continue to say the global warming they once claimed never existed stopped 18 years ago, or that human activity doesn't contribute to climate change?
Or will we heed scientists from around the world who offer evidence that we still have time to do something about this very real crisis — and that confronting the challenge presents more opportunities than pitfalls?
Believing our only choice is between a strong economy and a healthy environment is absurd. Yet that's the false option many political leaders and fossil fuel industry proponents present. Never mind the insanity of thinking we can survive and be healthy if we destroy the natural systems on which we depend; research shows taking measured steps to address global warming would have few negative economic effects and would offer numerous benefits. Failing to act would be disastrous for the economy and environment.
Energy conservation and clean fuels offer the greatest opportunities. Conserving energy makes precious, non-renewable resources last longer, reduces pollution and greenhouse gas emissions, saves consumers money and offers many economic benefits. More than 100,000 Canadians are directly employed in improving energy efficiency, with total wages estimated at $8.27 billion for 2014.
The fast-growing clean-energy and clean-technology sectors offer similar benefits. Improved performance and cost reductions make large-scale deployment for many clean-energy technologies increasingly feasible. By focusing on fossil fuels, Canada is clearly missing out. Worldwide spending on clean energy last year was $207 billion. Canada spent $6.5 billion — a start, but we could do much better.
Germany, the world's fourth-largest economy, now gets a third of its energy from renewable sources, and has reduced carbon emissions 23 per cent from 1990 levels and created 370,000 jobs.
In contrast, Canada subsidizes the fossil fuel industry to the tune of $1.3 billion a year, despite a 2009 G20 agreement to phase out subsidies. The federal Environment and Sustainable Development Commissioner's recent audit found Canada has no detailed plan to shrink carbon pollution and meet its international commitment, and has failed to release or enforce oil and gas sector emission regulations for our fastest-growing source of emissions, the oil sands, promised since 2006. Expanding oil sands and liquefied natural gas development will only make matters worse.
People around the world want leadership from elected representatives on climate change and pollution. Business leaders are getting on board. Will we take advantage of the numerous benefits of energy conservation and clean energy or remain stuck in the old way of just blindly burning our way through? The choice is clear.
By David Suzuki with contributions from David Suzuki Foundation Senior Editor Ian Hanington
Extreme Weather
Coast-to-coast cold temps gripping much of the US
Some states to see 40 degrees below average for a week
"We're locked into a below normal weather pattern for at least the next week or so, perhaps even up to the 10-day time frame," said AccuWeather meteorologist Tom Kines.
From a blizzard in Oregon to arctic cold in Denver to lake-effect snow in the Great Lakes and a hard freeze along the Gulf Coast, two-thirds of the U.S. is enduring a freakish cold snap.
In addition, sleet and light snow fell before dawn over portions of western and central Tennessee. In Memphis, a thin sheet of white covered the windshields of parked cars and left some highways and over­passes icy. Officially, the city picked up 0.1 inch of snow, the earliest the city has received snow, the National Weather Service reported.
"Temperatures associated with the cold air mass will be 20 to near 40 degrees below average from east of the Rockies to the Mississippi Valley," the weather service said.
MINUS-14 IN DENVER
Residents in the Northwest should prepare for significant travel problems and disruptions through Friday along the Interstate 84 corridor in Oregon, Washington and Idaho because of a storm that AccuWeather meteorologist Alex Sosnowski calls "highly unusual" for this time of year.
A blizzard warning is in effect for the Columbia River Gorge region between Oregon and Washington, where up to a foot of snow and 55 mph wind is forecast.
In Denver, Thursday morning's low of minus-14 degrees smashed the record for the date, set at minus-3 degrees in 1916. That comes a day after the mile-high city's high temperature Wednesday reached just 6 degrees, a whopping 47 degrees below the average high of 53 degrees for this time of year.
Looking to escape the cold? You might consider a trip to Barrow, Alaska. Temperatures in that tiny town on the edge of the Arctic Ocean reached a balmy 31 degrees Wednesday, 24 degrees above normal. But visitors should note Barrow only has about three hours of daylight right now, and total darkness descends for two months starting Nov. 20.
BLAME JET STREAM
The wild contrast in temperatures is actually related: The unusually curvy jet stream is pulling warm air into Alaska and arctic chill down into the 48 contiguous states.
Elsewhere, morning lows plunged well below zero Thursday across Montana, Wyoming, northeastern and central Colorado and the western parts of Kansas, Nebraska and South Dakota, WeatherBug reported.
In the Deep South and along the Gulf Coast, freeze watches and warnings are in place all the way from Houston to Tallahassee, Florida. Temperatures were expected to possibly bottom out Thursday night in the 20s, which may kill crops and other sensitive plants.
Meanwhile, lake-effect snow will continue to bury areas around all five of the Great Lakes. In northern Michigan, the additional snowfall will just pile on top of the 2 to 3 feet the region received earlier in the week. Snow will also fly in Ohio, Pennsylvania and New York state.
Doyle Rice|USA TODAY |Contributing: The Associated Press
Genetically Modified Organisms

37 Million Bees Found Dead in Canada After Large GMO Crop Planting
The makers of neonicotinoids, the bee-killing insecticide that was banned all over Europe, won't be able to refute this latest phenomenon. Millions of bees were found dead after GMO corn was planted in Ontario, Canada. This isn't new news, but it should be known news.
The keeper of these bees, Dave Schuit, who produces honey, reported that he lost over 600 hives – around 37 million bees.
"Once the corn started to get planted our bees died by the millions," Schuit said.
With increasing bee deaths and consumer petitions targeted to places like Home Depot and Lowe's who sell neonics, the US Department of Agriculture has failed to ban neonicotinoids, manufactured primarily by Bayer CropScience Inc., as well as other biotech companies.
Two of Bayer's best sellers are suspect this time around: Imidacloprid and Clothianidin. They are both known to seep into pollen and nectar, damaging beneficial insects such as bees.
The more widely they are used, the more bees seem to die.
Schuit's report of dead bees is corroborated by other farmers, too. Nathan Carey is another local farmer who noticed a disappearance of bees on his farm this past Spring. There were so few that he could not count on them as he normally did to help pollinate his crops. He correlates their absence to the use of these toxic insecticides.
While many scientists are still unconvinced that "colony collapse disorder" (CCD) is caused by neonicotinoids, there has been a consecutive die-off of bees in the U.S. for seven years now – directly correlated to higher insecticide spraying.
Even US scientists have found 121 different pesticides in samples of bees, wax and pollen, lending credence to the notion that pesticides are in fact a problem.
Jeffery Pettis, of the ARS's bee research laboratory, says:

"We believe that some subtle interactions between nutrition, pesticide exposure and other stressors are converging to kill colonies."
A recently released study published in the Journal Proceedings of the National Academy of Sciences described that neonicotinoid pesticides kill honeybees by damaging their immune system, making them unable to fight diseases and bacteria.
The study abstract concluded:
"The occurrence at sublethal doses of this insecticide-induced viral proliferation suggests that the studied neonicotinoids might have a negative effect at the field level. Our experiments uncover a further level of regulation of the immune response in insects and set the stage for studies on neural modulation of immunity in animals. Furthermore, this study has implications for the conservation of bees, as it will contribute to the definition of more appropriate guidelines for testing chronic or sublethal effects of pesticides used in agriculture."
A third of everything we eat is pollinated by bees and other beneficial insects. This accounts for over 30 billion in the global economy. If bees die, our food supplies die, too. Here is a list of foods we would lose without the bees.
Bayer denies that their insecticides are causing CCD. Will they be responsible for feeding the world when 30% of our food supply is gone with the bees?
Christina Sarich|November 9, 2014
Poorly Tested Gene Silencing Technology to Enter Food Supply with Simplot Potato
A New Form of Genetic Engineering will soon be sold to unsuspecting consumers
November 7, 2014 (Washington, DC)–Center for Food Safety (CFS) is today warning consumers about a new genetically engineered (GE) potato that may soon enter the food supply. Because GE foods are not required to be labeled, the new GE potato will be sold to consumers without their knowledge. The GE potato was one of two new crops approved today by the U.S. Department of Agriculture (USDA) that uses a new, little understood form of genetic engineering called RNA interference (RNAi). The other is a new low-lignin alfalfa from Monsanto. Despite the unprecedented nature of these approvals, USDA has inexplicably failed to undertake the legally required rigorous and overarching analysis of the GE crops' impacts or reasonably foreseeable consequences.
"We simply don't know enough about RNA interference technology to determine whether GE crops developed with it are safe for people and the environment. If this is an attempt to give crop biotechnology a more benign face, all it has really done is expose the inadequacies of the U.S. regulation of GE crops. These approvals are riddled with holes and are extremely worrisome," said Doug Gurian-Sherman, Ph.D., CFS director of sustainable agriculture and senior scientist.
Analysis of RNAi by a panel of independent scientists requested by the Environmental Protection Agency concluded that there were many significant uncertainties about potential risks from this technology, and that current risk assessment procedures were not adequate. Despite such cautions USDA is rushing the technology forward.
Unlike earlier genetic engineering techniques that splice in segments of DNA, the new technique used in the Simplot potato and Monsanto's low-lignin alfalfa is based on the manipulation of the plant's RNA-based control mechanisms. RNA interference (RNAi) induces the plant to silence or dial back expression of the plant's own genes, such as those responsible for natural processes like browning or lignin production.. However, RNA manipulations may end up turning down, or off, genes other than those that were targeted because many genes contain similar, or even identical, stretches of DNA. Current testing requirements do not reliably detect such effects on other important crop genes.
Developed by the J.R. Simplot Company, the potato would be the only GE potato variety on the U.S. commercial market. The Simplot potato has been genetically engineered with RNAi technology to reduce browning by silencing the expression of one of five polyphenol oxidase genes, which is normally highly expressed in potato tubers. This is attractive to the potato processing industry because bruised potatoes are culled for cosmetic reasons. However, bruised potatoes have not been associated with health risks.
These potatoes are also silenced for genes affecting sugar production and the amino acid asparagine, which during frying and baking lead to the production of acrylamide, a probable carcinogen. However, it is unclear whether the observed reductions will lead to positive health outcomes, given that acrylamide is found in many other foods. In addition, fried potato products have other serious negative health effects.
"In light of the obesity crisis, there has been an important national push to discourage children and adults from eating large quantities of fried foods like french fries or chips. In creating the false illusion that fried potatoes are now healthy, the Simplot potato sends the absolute opposite message," said Elizabeth Kucinich, policy director at CFS. "Claims of health benefits by USDA and Simplot are short sighted, misleading, and in the light of the science, could actually be potentially dangerous."
The asparagine gene has also been shown in recent research to be important in plant defenses against pathogens. The Simplot potato was not adequately tested for a possible weakening of its ability to defend itself against disease. If this occurs in the field, it could lead to increased fungicide use, greater farmer expense, and possibly reduced productivity. The latter effect was seen in several tests of these potatoes.
"We need answers to these questions before these potatoes are commercialized," said Gurian-Sherman.
Monsanto and Forage Genetics International (FGI) have genetically engineered alfalfa for reduced levels of lignin through the suppression of a key enzyme in the lignin biosynthetic pathway. It represents the first non-regulated GE crop with reduced lignin levels. Lignin and its building blocks perform many functions in plants, including structural stability and plant defense. Lowering lignin levels could make the alfalfa more prone to attack by insects or diseases, and potentially increase pesticide use. Moreover, there are still many unknowns about how plants make lignin, making it premature to manipulate this important pathway. Additionally, alfalfa is a perennial crop and can cross-pollinate at great distances, allowing it to interbreed with other types of alfalfa. Any adverse impacts of the new variety will therefore be spread rapidly through much or all of the alfalfa seed supply
Regulatory Failures:
USDA assessed the risk from these crops under the inadequate plant pest provisions of the Plant Protection Act (PPA) of 2000. USDA has ignored the noxious weed provision of the PPA, which would allow a more thorough risk assessment. By failing to develop reasonable regulations under the PPA 14 years after its passage, USDA continues to fail in its mandate to protect the public and the environment.
Read CFS's full comments to USDA here.
Center for Food Safety|November 7th, 2014

GMO salmon's future in question after producer fined over violations
Panama fined a US biotechnology company's local facility that "repeatedly violated" the nation's permitting and regulatory laws as it worked to develop the world's first genetically-modified salmon. The 2012 infractions were first made public on Tuesday.
AquaBounty Technologies, a company licensed by the US government to foster what could be the world's first genetically-modified (GM) meat, is carrying out GM-salmon research in Panama. Neither Panama nor the US has given clearance to sell GM salmon, but, if regulators approve its application, AquaBounty may become the first to sell GM meat in the US.
"AquaBounty is really out front on this – the current case will set an important precedent," Dana Perls, a food and technology campaigner at Friends of the Earth, told Inter Press Service (IPS) news agency.
"From what we know, there are about 35 other genetically modified species in the development pipelines in other companies. So depending on what happens in this case, we'll likely either see a flow of other permits or this will demonstrate that there isn't room on the market for GM meat or seafood."
The company's breeding facility in Panama, however, has come under scrutiny from local regulators, IPS reported, casting doubt on GMO meat's future in the US.
A 2012 investigation of AquaBounty's Panama facilities found that the company, in working to develop GM salmon, did not attain required permits for water use and pollution of the surrounding environment, which is important based on the possible ramifications of GM species invading natural ecosystems.
The company "repeatedly violated" Panamanian regulations, authorities said, and problematic practices continued into 2013. The violations yielded the maximum fine allowed against AquaBounty.
The decision to fine AquaBounty was made in July 2014 and was first announced to the public on Tuesday, IPS reported.
AquaBounty insisted that the violations were mainly administrative and that all problems have been corrected by now.
"It is important to emphasize that none of the issues in the Resolution questioned the containment, health of the fish, or the environmental safety of the facility," the company said in a statement to IPS.
"When AquaBounty was informed of issues at our Panama facility, we immediately contacted Anam, the Panamanian agency for the environment. We initiated a program to remedy the deficiencies and the issues were formally resolved in August of 2014."
AquaBounty added that its Panama facility "continues to operate with no sanctions or restrictions."
It is yet unclear how these infractions will affect AquaBounty's application with the US Food and Drug Administration (FDA). A spokesperson for the agency noted that the violations occurred in 2012, and that the FDA would "consider all relevant information as part of the decision-making process."
Without offering an estimated conclusion date, the spokesperson said the FDA is in the process of reviewing AquaBounty's application.
The regulatory infractions stoked frustration and concern among groups dissatisfied with the FDA's regulatory structures.
"This decision is also even further proof that FDA is dangerously out of touch with the facts on the ground, advancing AquaBounty's application based on its promises, not reality," George Kimbrell, a senior attorney with the Center for Food Safety, told IPS.
The FDA's review of GM salmon is based solely on AquaBounty's development in Panama, according to Perls.
"The FDA is going forward with its review based on the premise that this facility will be in compliance with regulations, yet now we're seeing it's not," she said.
"It is increasingly clear that there is inadequate regulation: the FDA is trying to shoehorn this new genetically engineered animal into a completely ill-fitting regulatory process."
Many environmentalists are concerned about the introduction of GM species into the wild, where the genetically-engineered crop could dominate the natural population or usher in new diseases. Anti-GMO and consumer advocates are worried that regulators are moving too fast, echoing the GMO-labeling debate in the US.
There is currently no GMO-labeling requirement in the US, though major biotech and food manufacturing groups are working feverishly to stem the tide of state-based labeling laws, such as the one passed but still pending in Vermont.
A poll conducted by the New York Times last year found that 93 percent of respondents want GMO ingredients to be properly labeled. Seventy-five percent of respondents also said they would not eat genetically-engineered fish.
Meanwhile, around 60 major US retailers, according to Friends of the Earth, have said they will not carry genetically-engineered salmon if and when approved. That list includes Safeway, the second-largest US grocer, which said in February that "should [genetically-engineered] salmon come to market, we are not considering nor do we have any plans to carry GE salmon."

In Guatemala, indigenous communities prevail against Monsanto
Late in the afternoon of September 4, after nearly 10 days of protests by a coalition of labor, indigenous rights groups and farmers, the indigenous peoples and campesinos of Guatemala won are rare victory. Under the pressure of massive mobilizations, the Guatemala legislature repealed Decree 19-2014, commonly referred to as the "Monsanto Law," which would have given the transnational chemical and seed producer a foot hold into the country's seed market.
"The law would have affected all indigenous people of Guatemala," said Edgar René Cojtín Acetún of the indigenous municipality of the department of Sololá. "The law would have privatized the seed to benefit only the multinational corporations. If we didn't do anything now, then our children and grandchildren would suffer the consequences."
Originally passed on June 26, the Monsanto Law was written to protect the intellectual property rights of multinational companies in their investments within Guatemala. The law also allowed Monsanto an entrance into the Guatemalan seed market and set in place stiff penalties for any farmer that was caught selling seed to another farmer without the proper permits. The response was a massive mobilization of a coalition of labor, indigenous groups and campesinos.
For 10 days, the streets in front of the legislature of the capital Guatemala City were clogged with thousands of protesters demanding the repeal of the law. Demonstrators also gathered in the rural departments of Guatemala to protest the law and the congressmen who had voted in favor of the law.
The changes to the seed market would have heavily hit the campesinos of the department of Sololá, which is a major production area for seed corn for the rest of the country. On September 2, 25,000 to 30,000 people from the around the communities of the department of Sololá shut down the Inter-American Highway in protest of the Monsanto Law. Protesters set up blockades along the highway in three places and shut down all traffic for nearly nine hours.
"The communities are organized against any law that privatizes their seed," said Griselda Pocop of the Association of Women Moving Sololá. "They are also demanding the respect of the traditions and of their livelihoods."
Sololá is one of the agriculture centers of Guatemala, with a majority of the population relying on the growing of maize, beans, coffee and other crops. The department also has one of the highest indigenous populations in the country, with 96 percent of the population identifying as Kaqchikel, T'zutujil, or Kiche Maya. Maize is sacred to the Maya; their cultures and societies revolve around it. According to the Kiche Maya creation story, the Popol Vuh, the gods made humans by grinding the different colors of maize.
As is written in the Popol Vuh, "There was a consensus (among the gods), and it was decided what would come of the red, yellow, black, and white maize; it is from these that they made our bones, our blood, and our flesh."
The protection of seed is thus of the utmost importance for the indigenous peoples of Guatemala and across Mesoamerica. "We cannot live without our corn," said Acetún of the indigenous municipality. "It makes up all of our lives. We consume it for our food, we sell it, it is us."
Rafael, a campesino from the Kaqchikel Maya community of Pixabaj, Sololá, explained, "The people here are Maize … We are not French. We are not anything else. We are Maize; we are Maya."
As the protests mounted, women took the lead in organizing for the defense of maize. In Sololá, women created a seed bank to archive and protect the various varieties of heirloom corn for future generations. "The women of Sololá have taken the lead in organizing to save and protect our heirloom seeds," said Pocop. "It is our responsibility to preserve our traditional seed, and to pass along the traditional ways of doing things."
Decree 19-2014 was written to comply with the requirements of the Central American Free Trade Agreement. Like the North American Fair Trade Agreement, known as NAFTA, the agreement opens up the economies of Central American countries and the Dominican Republic to cheap imports from the United States.
From the moment the trade agreement was proposed, the indigenous and farmer communities protested the law. They argued that since NAFTA had ravaged rural Mexico, CAFTA would have the same affect in the Central American countries. Despite the protests, CAFTA was ratified by Guatemala in 2006.
These trade agreements have opened up the Guatemala corn market to the importation of corn from the United States and tied the internal market to the global pricing. The results have been devastating. In the years since the agreement was signed, the price of corn has steadily increased. For years, one quetzal (roughly 12 cents) could purchase eight large tortillas. But today, for the same price, one can only purchase four smaller tortillas.
Many farmers have not been able to benefit from the increased prices of corn, because they have had to compete with cheaper imports from El Salvador, Mexico and the United States. "The trade agreement opened up Guatemala to the importation of corn and the prices went up," said Pocop. "But the imported corn is still cheaper than that produced here."
On the heels of this trade agreement, Decree 19-2014 would have opened up the Guatemala seed market to allow Monsanto's modified and proprietary seeds into the country. Guatemala is not alone in the region in having to combat the privatization of seed by multinationals; campesinos in El Salvador too have had to defend their livelihoods from the privatizing effects of the trade agreement.
A week prior to the protest against the Monsanto law the Guatemalan Constitutional Court declared that articles 46 and 50 of the legislation, the two that most violated the rights of farmers, were unconstitutional.
Then, in a landslide vote of 117 in favor, 3 against, and 38 abstaining, the Guatemala legislature repealed Decree 19-2014. Soon after learning about the repeal, communities rejoiced. In Sololá alone, more than 5,000 people celebrated the elimination of the law.
Yet, just because the law has been repealed does not mean that the indigenous communities and campesinos of Guatemala are in the clear. According to Congressman Amlicar Pop, one of the few indigenous members of the legislature, legal loopholes exist in the bill that allow similar legislation to resurface under a different name.
"For the moment, there are legal loopholes that need to be resolved," Pop told to the Guatemalan newspaper La Hora.
Meanwhile, the U.S. State Department declined to comment on any steps that might be taken to bring Guatemala in line with requirements of the Central American Free Trade Agreement.
Jeff Abbott|November 4, 2014

Largest international study into safety of GM food launched by Russian NGO
Thousands of rats will be fed Monsanto maize diets in a $23m, three-year 'Factor GMO' study into long-term health effects of GM food and associated pesticides
A Russian group working with scientists is set to launch what they call the world's largest and most comprehensive long-term health study on a GM food.
The $25m three-year experiment will involve scientists testing thousands of rats which will be fed differing diets of a Monsanto GM maize and the world's most widely-used herbicide which it it is engineered to be grown with.
The organizers of the Factor GMO [genetically modified organism] study, announced in London on Tuesday and due to start fully next year, say it will investigate the long-term health effects of a diet of a GM maize developed by US seed and chemical company Monsanto.
"It will answer the question: is this GM food, and associated pesticide, safe for human health?" said Elena Sharoykina, a campaigner and co-founder of the Russian national association for genetic safety (Nags), the co-coordinator of the experiment.
According to the Nags, the experiment will try to establish whether the GM maize and its associated herbicide cause cancers, reduce fertility or cause birth defects. The scientists also want to know whether the mixture of chemicals present in Roundup (Monsanto's trade name for its glyphosate herbicide) are more or less toxic than its active ingredient glyphosate.
Farmers, governments, scientists and consumers around the world have been involved in an intense debate since GM foods were introduced in 1994. But while there have been many thousands of studies conducted, mostly by GM companies, which show that there is no health risk, government regulators have not required evidence of long-term safety and deep mistrust has built between different "sides".
"We would clearly support well-conducted, hypothesis-driven science. If the science is conducted according to OECD guidelines and shows that there are hazards with a particular event, then the public will understand that," said Prof Huw Jones, senior research scientist at Rothamsted Research, which specializes in agricultural research and is the only research institute in the UK currently carrying out a GM crop trial.
Oxana Sinitsyna, deputy science director at the Sysin research institute of human ecology and environmental health which is part of the Russian ministry of health, one of the three scientists on the Factor GMO study's review board, said: "The scale and format of this research project will allow us to create a really objective and comprehensive data set on the mechanics of the impacts of a GM diet on the health of living organisms over the long term.
"From a scientific point of view the 'Factor GMO' project is highly ambitious, which makes it very interesting, for both the public and for the scientists involved."
Bruce Blumberg, another board member, who is a biology professor at the University of California, Irvine, said: "The cultivation of herbicide resistant crops is widespread in the US, and the use of the herbicides to which these crops are resistant has increased many-fold in the decades since they were introduced. There is a notable lack of published, peer-reviewed data on their safety, as well as data on the safety of the increased use of herbicides with which they are grown."
The planned study will have no input from the biotech industry or the anti-GM movement, said Sharoykina."Comprehensive scientific safety studies on GMOs and their related pesticides are long overdue. All previous studies caused controversy for various reasons: choice of animal, insufficient statistics, duration of tests, research parameters, and researchers' connections to the anti-GMO movement or the biotech industry.
"This study is intended to remedy the situation. The project organizers have considered all of the points of disagreement and distrust surrounding this subject." She added that Nags would not have any involvement in the scientific process.
Most of the $25m has been raised, say the organizers, but the names of sponsors and funders will not be revealed until the experiment starts fully next year.
Fiorella Belpoggi, a cancer specialist with the Ramazzini institute in Italy and a board member of the study said: "This is not at all an anti-GM study. We are being neutral. We don't know if it's good or bad. Maybe in the future I will be a cheerleader with Monsanto. But I want science to find out".
The experiment, which will be conducted in western Europe and Russia, was cautiously welcomed by both GM sceptics and proponents of the technology. However, Monsanto did not respond to invitations for an interview.
Karl Haro von Mogel, a public research geneticist in Madison, said on the Biofortified website: "If they conduct the study and publish it in the peer-reviewed literature, it can make a contribution to the existing literature. They frame the need for this study by saying that 'there has never been a scientific study that is comprehensive enough to give them a clear answer regarding the safety for human health of any one GM food – until now'. The study has not been done yet, so this is putting the cart before the horse."
Doug Parr, chief scientist at Greenpeace UK, said: "There is still scientific uncertainty regarding what effects GM crops could have on the environment and the health of consumers, especially in the long term. If this is a well-designed, transparent and accountable study, then hopefully it can help to fill some of the major gaps in our knowledge of the impacts of GM glyphosate resistant maize and glyphosate on health."
Peter Melchett, policy director with the Soil Association, said: "I welcome this. It has been a scientific fraud that no scientific study like this has been done in the past."
Monsanto was contacted for a response but did not reply. In the past it has claimed that trillions of meals have been eaten by consumers without ill effects.
The announcement of the experiment came as British anti-GM campaigners delivered a letter to Downing street signed by US environment groups representing over 50m people, as well as celebrities including Susan Sarandon, Daryl Hannah and Robert Kennedy. The letter warns Britain that the intensive growing of GM crops has caused major environmental problems in the US.
"GM crops have never delivered on their promises to increase yields and profits or to decrease pesticide use. In fact, they have done the opposite with the cost of growing GM crops now greater than conventional crops in the US and pesticide use 24% higher amongst GM farmers than non-GM farmers planting the same crops", says the letter which was delivered by former Labor environment minister Michael Meacher and Tory MP Zac Goldsmith.
Separately on Tuesday, MEPs voted to allow national bans on GM food crops for environmental reasons.

John Vidal|11 November 2014
Energy

Can the world be powered With 100 percent renewable energy by 2050?
New research says yes!
Renewable Energy Life Cycle: Cleaner and Cheaper
Results of a study published in Proceedings of the National Academy of Sciences (PNAS) presents a life cycle assessment (LCA) on an array of electricity generation sources, from fossil fuels to solar power. The conclusions indicate that renewable energy is cheaper, less environmentally damaging, and has more potential for growth in the next few decades than any conventional electricity generation source. Renewable energy can even power our entire grid by 2050 if we use our resources wisely.
The study is being hailed as the first ever global-scale LCA of a mix of renewable energy sources. Until now, studies have focused on one energy source at a time in LCAs, if they have been done at all.
A life cycle assessment is a method of study used to estimate the environmental impact caused by all stages of the life of a product, or in this case, energy source, from production to end-use. Finally, we have a better idea of how exactly renewable energy integration will affect our environment, electric grid, and energy bills. Surprisingly, we've never studied several renewable resources at once to find an answer. This data gives us solid evidence that renewable energy is fully capable of powering our grid and reducing pollution. The authors conclude, "Our analysis indicates that the large-scale implementation of wind, PV [photovoltaic], and CSP [concentrated solar power] has the potential to reduce pollution-related environmental impacts of electricity production, such as GHG [greenhouse gas] emissions…"
Green energy does come with some environmental impacts, which is why this LCA is so valuable. For the first time, we have information that presents the combined environmental costs of materials, land, manufacturing, and related emissions in one analysis. The raw materials required to manufacture renewable energy generation is not insignificant, but the authors find that materials, emissions, and pollution of renewable energy pale in comparison to the alternative,

The pollution caused by higher material requirements of [renewable] technologies is small compared with the direct emissions of fossil fuel-fired power plants.
In terms of materials required, the study estimates that, "only two years of current global copper and one year of iron production will suffice to build a low-carbon energy system capable of supplying the world's electricity needs in 2050."

Demand Response for Renewable Energy
Renewable resources are intermittent in their ability to generate energy; that is always the main argument heard from opponents of wind and solar. The sun does not always shine and wind does not always blow. So, what will happen when a shortage of available power occurs?
Maybe the same thing that happens today: utilities and system operators can trigger a demand response event.
If renewable energy can supply 100% of the world's power by 2050, as the PNAS study claims, then demand response (DR) will be the best carbon-free asset we will have to keep power stable.
Demand response events are typically triggered during extreme heat waves because energy use spikes (mostly for air conditioning) and stresses the electric grid. But, what if we had DR events on cloudy days instead? Weather radars can predict the extreme overcast conditions that cause solar panels to generate less power. Wind power output could be similarly predicted since air pressure and changes in cold and warm front weather patterns are already monitored. Currently, demand response events can be forecast for days when extreme weather conditions are predicted. I don't see why the same can't be done for solar and wind power. Triggers for DR events would simply change in accordance with sustainable electricity generation patterns. This process wouldn't be much more disruptive to the power grid than it is today, especially when you consider the fact that cloudy days are usually pretty windy.
Demand response will get a technology upgrade too; by 2050, we'll have better storage technology than we do now. Batteries can store any excess power generated by renewable energy systems. Such technology is already being developed; it won't be long before it's up and running. This means even more grid stability. Batteries can replace generators for DR participants. Instead of firing up a diesel generator as backup power, facilities could switch over to batteries that store excess energy from on-site solar panels or windmills.

Climate Change is Killer
According to the International Energy Agency (IEA), without efforts to stop pollution, CO2 emissions from the energy sector will roughly double by 2050. Considering that the earth is already showing effects of climate change, that statistic is chilling. In a 2010 report, the IEA published a graph estimating the CO2 emissions poured into the atmosphere by 2050 if we do nothing (baseline scenario), versus the lesser amount if we act to stop carbon pollution (BLUE Map):
Graph depicting the CO2 emissions of the IEA's estimated BLUE Map and Baseline Scenarios Image credit: IEA Energy Technology Perspectives 2010
The baseline scenario will emit almost 60 gigatons of carbon dioxide into the atmosphere by 2050. There's no doubt that will wreak havoc on Earth's climate and all aspects of human livelihood.
Reducing greenhouse gas emissions is vitally important, as we all already know. The Intergovernmental Panel on Climate Change (IPCC) tells us in its Climate Change 2014: Synthesis Report that,

It is virtually certain that there will be more frequent hot and fewer cold temperature extremes over most land areas on daily and seasonal timescales, as global mean surface temperature increases. It is very likely that heat waves will occur with a higher frequency and longer duration. Occasional cold winter extremes will continue to occur.
Virtually certain environmental disasters should be enough to motivate us all to make some changes in how we think about energy. It's time to shake up the electric grid and stop pouring carbon into the atmosphere before we reach the point of no return.
Jessica Kennedy|November 6, 2014

EPA Takes First Step Toward Regulating Fracking Chemicals
Water samples are logged and stored at a treatment plant that separates oil, sediment and water mixed during the hydraulic fracturing process, near Shreveport, Louisiana. The EPA today announced the start of a process that could result in companies being forced to report to the government, and possibly the public, the chemicals they add to sand and water to break apart shale rock and release oil and gas trapped deep underground.
Water samples are logged and stored at a treatment plant that separates oil, sediment and water mixed during the hydraulic fracturing process, near Shreveport, Louisiana. The EPA today announced the start of a process that could result in companies being forced to report to the government, and possibly the public, the chemicals they add to sand and water to break apart shale rock and release oil and gas trapped deep underground.
The Obama administration began a process that may result in the first federal regulation of chemicals used in fracking, a drilling technique that has transformed energy production while eluding oversight sought by environmentalists.
After three years of delay, the U.S. Environmental Protection Agency said today it's considering rules requiring oilfield service companies such as Halliburton (HAL) Co. to send it details on the health and safety of the chemicals used. The agency said it may decide to stop short of rules, and use incentives or voluntary steps.
"It's unfortunate that this process has taken so long, as it addresses a critical need to ensure the safety of chemicals used in fracking," Richard Denison, the lead scientist of the Environmental Defense Fund, said in a blog post. "This is only the first baby step toward initiating the rulemaking process EPA said it would undertake."
Environmental groups have been pressing the agency to collect information on the fluids injected with water and sand to break apart underground rocks, saying they may be a danger to human health or the environment. The oil and natural gas industries have tried to fend off any federal oversight of the practice, saying states can best oversee it. Oilfield service providers also say their recipes are trade secrets.

The EPA earlier said it would consider gathering the information under a provision of the toxic substances act. The action today is the next step, and it came without a specific guarantee of a regulation that the environmental groups sought.
"Today's announcement represents an important step in increasing the public's access to information on chemicals used in hydraulic fracturing," James Jones, the EPA's assistant administrator, said in a statement. The plan will "complement but not duplicate existing reporting requirements," he said.
Industry, which has fought to preempt federal oversight of oil and gas drilling, reacted cautiously to EPA's announcement.
"Our members are committed to the continued safe and responsible development of America's abundant natural gas resource and to being good neighbors in communities in which we operate," Dan Whitten, a spokesman for the America's Natural Gas Alliance, said in an e-mail. "We look forward to engaging with EPA to see that any new regulatory or voluntary program employ a common sense, workable and effective approach."

Fracking has led to a natural-gas boom in Pennsylvania, Ohio and Texas, sparking opposition among some residents who say the technology may contaminate drinking water and add to air and soil pollution. Many drilling companies are disclosing chemical information on the industry website FracFocus.org. Some states require drillers to submit data to the site.
Critics say the website allows too many exemptions that keep ingredients secret and doesn't permit easy aggregation of information. And drilling companies may not know the full list of chemicals used in their fracking fluids, they say. The EPA has the authority to make more broad demands, and, if necessary, keep the information private.
"The presumption should be on behalf of disclosure," Deborah Goldberg, a lawyer at Earthjustice which, along with EDF, petitioned the EPA in 2011 to require the chemical disclosure. "One of the best incentives for safer chemicals is forcing disclosure of toxic chemicals."

Already, one supplier to the drilling industry is acting.
Baker Hughes Inc. (BHI), the world's third-largest oilfield services provider, in April said it will disclose all the chemicals used in fracking fluids after negotiating with suppliers and customers.
Halliburton reports its fracking fluids to FracFocus, said Susie McMichael, a spokeswoman for the company.
"Halliburton has been working and continues to work with the EPA and other regulatory agencies in answering questions and providing them with information as requested," she said in an e-mail.
Schlumberger Ltd. (SLB), the world's largest oilfield services provider, declined to comment.
The EPA, in its notice of proposed rulemaking today, is giving companies, environmentalists and interested members of the public 90 days to respond, and will subsequently decide on its next step.
Mark Drajem|May 9, 2014

Second Canadian Company Completing Tar-Sands Pipeline into the U.S.
State Department agrees to 800,000 barrels per day
For six years, TransCanada has negotiated federal and state laws, and contended with the opposition of environmental organizations and landowners, to build the Keystone XL: a 36-inch-diameter, 1,700-mile pipeline that, if completed, would transport 830,000 barrels per day (bpd) of Canadian tar-sands oil from Alberta, Canada, to the Gulf Coast.
The U.S. State Department has not issued the required presidential permit, which would declare the importing of tar-sands oil in the "national interest." And the Nebraska Supreme Court just heard oral arguments on a landowners' lawsuit that could cost TransCanada another year if it has to reapply for its permit in the state.
The stalled process has led one equities analyst to observe that, "Keystone XL doesn't look like it will ever get fully up and running."
Yet TransCanada's fight, and the Keystone XL pipeline, might be moot—along with the campaign that brought together a broad coalition of environmental groups working to block the project and contain the import of tar-sands oil.
According to State Department documents, annual corporate reports, and interviews with company officials and attorneys, Enbridge Inc. and its U.S. subsidiary have circumvented the pipeline permitting process. By the middle of next year, the Calgary-based company will be transporting 800,000 bpd of tar-sands oil from western Canada into the U.S.

Enbridge intends to … increase the flow of oil on the Line 67 south of border segment, whether or not a new Presidential Permit is issued by the State Department.
—Letter to the State Department from Enbridge attorney David Coburn
Barring litigation, or action by the State Department, Enbridge will achieve what has eluded TransCanada. And it will have done so with scant attention from the media and without the public debate generated by campaigns against the Keystone XL.
Enbridge will be transporting the same tar sands described by former NASA climate scientist James Hansen as one of the "dirtiest most carbon-intensive fuels on the planet." Mining and burning Alberta's tar-sands oil alone, University of Saint Thomas (Minnesota) engineering professor John Abraham warned in Scientific American, will result in a global temperature increase that's equivalent to "half of what we've already seen."
"It's a complicated story," an environmental lawyer said of Enbridge's pipeline, "so it's not getting much media coverage." Also lacking media attention is Enbridge's role in the largest inland oil spill in U.S. history, the result of a ruptured pipe in 2010.

How They Did It
In November 2012, Enbridge's U.S. subsidiary applied for a presidential permit that would allow the company to import tar-sands oil, requesting authorization for "full capacity" operation (800,000 bpd) of its "Alberta Clipper Pipeline."
The Alberta Clipper begins in Alberta, crosses the Canadian border, and continues for 327 miles, ending at a tank battery in Superior, Wisconsin. From there, the oil would flow to Cushing, Oklahoma, then to the Gulf Coast for refining and export.
After 18 months, Enbridge lost patience with the State Department.
In a June 16, 2014, letter to the State Department's Office of Environmental Quality and Transboundary Issues, a lawyer representing Enbridge announced that the company was changing course. (The Alberta Clipper Pipeline is also known as the "Line 67 Project.")
"As we explained, the unforeseen Line 67 Project permitting delay at the Department of over a year has led Enbridge to recently assess options for achieving this additional capacity … Enbridge intends to construct the interconnections and Pump Upgrades, and to operate those facilities to increase the flow of oil on the Line 67 south of border segment, whether or not a new Presidential Permit is issued by the Department" (emphasis added).
Enbridge wasn't asking.
It was informing the State Department of its plans to press ahead.

With or Without Permission
The State Department has authority over construction within three miles of international borders. Enbridge has already built one stretch of the Alberta Clipper Pipeline in Canada. It has built another stretch in the U.S. What it lacks is permission to connect them.
Yet Enbridge has another permitted line, though not for tar sands, that crosses the border. In a bewildering paragraph in the permit application, Enbridge attorneys describe a series of "interconnector" pipelines leading to the existing trans-border pipeline. By diverting tar-sands oil to the pipeline that already crosses the border, Enbridge circumvents the State Department permitting process.
The trans-border pipe was built in 1967, long before the exploitation of tar-sands oil was commercially viable. Terri Larson of Enbridge Energy Partners, in Houston, said in an email that the older pipe has recently been replaced with 17 miles of new 34-inch pipe. And that the "maintenance was allowable under the existing presidential permit."
"The State Department has been fully briefed on the interconnection and provided Enbridge with a letter on July 24, 2014, concluding that, 'Enbridge's intended changes to the pipeline outside of the border segment do not require authorization from the U.S. Department of State,'" Larson said.

What they are doing violates the National Environmental Policy Act and also violates the existing presidential permits.
—Sierra Club staff attorney Doug Hayes
An attorney from Enbridge's law firm, Steptoe and Johnson, also responded by email to the legality of using an existing pipe to move tar-sands oil across the border.
"The answer to your question on whether Enbridge can expand daily capacity to 800,000 bpd … using an already permitted line to move the oil across the border, without a new presidential permit is yes," David Coburn said.
Enbridge Vice President Leigh Kelln told investors on a September 13, 2014, conference call: "We're expanding the capacity of our Alberta Clipper system from 450,000 barrels a day to 800,000 barrels a day. This capacity is expected to be permitted and available by the middle of next year."
As far as Enbridge is concerned, a "Keystone XL Clone" is a done deal.

It's Illegal
Environmentalists, unsurprisingly, disagree.
"The State Department is charged with determining if the importing of Canadian tar-sands oil is in the national interest," Sierra Club Staff Attorney Doug Hayes said in a telephone interview.
"Enbridge applied for a permit a year ago [sic], then in June informed the State Department that the process was taking too long. So they came up with their scheme to avoid, to try to avoid, the State Department permitting process and expand the pipeline immediately. And the State Department basically looked the other way and said, 'That's fine with us.'
"But what they are doing is illegal. First of all, it is illegal because it violates the National Environmental Policy Act. It also violates the existing presidential permits for the Alberta Clipper and the adjacent Line 3 Pipeline.
"They are borrowing a 1967 permit and saying that, 'For the Alberta Clipper, we are going to divert the flow over to this pipeline [to cross the Canada-U.S. border]," Hayes continued.
In March, the Sierra Club filed a Freedom of Information Act request with the State Department, asking for permit-application information and State Department correspondence with Enbridge.
The request was denied.
"This is all happening behind closed doors," Hayes said, "It is a deliberate effort to keep the public out of the process."

The Kalamazoo River Spill
Minnesota is one of four states that Enbridge's Alberta Clipper will cross. Environmentalists, and some Minnesota legislators, have opposed the pipeline, and a second proposed Sandpiper Pipeline, for which Enbridge is attempting to secure a state permit.
"I have serious concerns about the safety of Enbridge's pipelines after the Kalamazoo River spill," Minnesota state Representative Frank Hornstein (D) said in a phone interview.
Part of the Kalamazoo River 100 miles east of Detroit was the site of the largest inland oil spill in U.S. history. A $1 billion-plus cleanup is still not complete four years later.
The details are spelled out in the "accident summary" in a National Transportation and Safety Board report (NTSB):
On the evening of Sunday July 25, 2010, at approximately 5:58 p.m., a 4-foot- long pipe segment in Line 6 B, located approximately 0.6 miles downstream of the Marshall, Michigan, pump station ruptured. The Line 6 B is owned and operated by Enbridge Energy Inc. …
The accident resulted in an Enbridge reported release of 20,082 barrels (843,444 gallons) of crude oil. … The rupture location is a high consequence area within a mostly rural, wet, and low-lying region. The released oil pooled in a marshy area before flowing 700 feet south into Talmadge Creek, which ultimately carried it into the Kalamazoo River.
NTSB investigators found that technicians working at Enbridge's control center in Alberta did not respond to the spill and activate remote-control valves until nearly 17 hours after the pipe ruptured.
According to related testimony at a September 15, 2010, House Committee on Transportation and Infrastructure hearing, 13 alarms in the control center had been ignored or misinterpreted. Enbridge technicians in Alberta were informed of the spill by a utility worker from another company who called from Marshall, Michigan.
The late Jim Oberstar, a Minnesota Democrat who chaired the House Transportation and Infrastructure Committee's September 2010 hearing, stated that Enbridge had requested a two-and-a-half-year extension from the Department of Transportation to repair 329 defects, of which the company had been aware for two years.
Oberstar also said that inspections Enbridge conducted in 2005, 2007 and 2009 had detected a defect in the pipe that ruptured at Marshall. No repair was made because in the company's judgment, the problem did not reach the repair criteria defined by the Pipeline and Hazardous Material Safety Administration (PHMSA).
None of this information, Oberstar said, had been provided to members of the House Subcommittee on Railroads, Pipelines and Hazmat, when at an earlier hearing they questioned an Enbridge executive about pipeline integrity and spill-detection. That hearing, as it turned out, was held exactly 10 days before the Kalamazoo spill.

State-Level Challenge
In a telephone interview, Hornstein, who represents a Minneapolis district in the Minnesota Legislature, said that considering what is known about the Kalamazoo spill one would expect Enbridge to agree to reasonable environmental safeguards.
That, however, was not the case.
Hornstein was one of four legislative committee chairs who signed a letter to Minnesota's Environmental Quality Board, protesting Enbridge's failure to agree to safety requirements in proposed legislation.
Among the requirements:
Provide monitoring equipment within three hours of a discharge or to develop an annual plan to deliver monitoring equipment to a discharge site;
Provide containment booms from land across sewer outfalls, creeks, ditches and other places where oil and other hazardous substances may drain in order to contain leaked material before it reaches those resources;
To have capability to deliver containment booms, boats, oil recovery equipment and trained staff within eight hours of a confirmed discharge to recover 10% of a worst case discharge;
Deliver equipment to protect sensitive environmental areas and drinking water intakes, within 60 hours of a major spill.
Hornstein said that representatives of Enbridge met with members of the Minnesota House of Representatives to discuss the proposed safety requirements.
"Then they went to work in the Senate and had the word 'pipeline' stripped from the [transportation safety] bill. If the railroads can agree with these safety measures, why can't Enbridge?"
The Alberta Clipper passes through Minnesota. A second Enbridge pipeline, the Sandpiper, has been put on hold by the Minnesota Public Utilities Commission, after environmentalists and legislators, including Hornstein, protested.
"Enbridge ignored our requests to consider a southern route for the pipeline, which would have avoided wetlands and lakes and Native American's rice beds where a spill would be a disaster," Hornstein said.

Tar-Sands Spigot Opens
In September, three of the five members of the commission directed Enbridge to consider six alternate routes for its Sandpiper Pipeline.
Enbridge's Alberta Clipper Pipeline is unlikely to encounter any such administrative delays. At least not at the federal level.
A State Department spokesperson said that, "In the case of Line 3, the department determined that Enbridge's proposed replacement of the border segment was consistent with the authorization in the existing presidential permit."
He added that the State Department issued a Federal Register notice on August 18, 2014, which includes new information provided by Enbridge regarding the company's intention to use its existing line to move oil across the border and ramp up pumping beyond the border. And that in both cases, he stressed that he was not speaking for state and local entities, which could exercise their own authority.
While Terri Larson in Enbridge's Houston office described using an existing pipeline to move oil across the border a "short term" solution "that does not address the longer term need," David Coburn, the D.C. attorney handling the permit, says the company can import 800,000 barrels of tar sands oil per day "with no additional permit."
Whether that is a contradiction or a distinction without a difference, in six to eight months the Canadian tar-sands spigot opens to full capacity.
Lou Dubose|November 11, 2014
Court Rejects Shell's Lawsuit Against Center — Thank You
A huge victory against Big Oil: The 9th Circuit Court of Appeals just struck down a lawsuit filed by Shell against the Center for Biological Diversity and 12 other environmental groups that have been fighting for years to keep oil drillers out of the Arctic. The decision this week should end a lawsuit filed in 2012 by the oil giant after we stopped Shell multiple times from drilling in fragile ecosystems, putting polar bears, walruses, seals and whales directly in harm's way.
Shell's lawsuit was a blatant attempt to intimidate all of us fighting for the Arctic and the species that rely on it. We're happy to have this ruling in our favor, and we'll be redoubling our efforts to keep the Great North safe from those wanting to exploit it for profit.
Thanks so much to all of you who donated for our legal defense in this case. We share this victory with you.
Read more in Alaska Dispatch News
Suit Targets Secretive Decision to Ramp Up Tar Sands Transport
The Center for Biological Diversity went to court Wednesday, along with our conservation and tribal allies, to fight the U.S. State Department's secretive approval of a plan to allow Canadian oil giant Enbridge to nearly double the amount of tar sands oil in the Alberta Clipper pipeline.
The approval this summer happened without public notice and without legally required reviews meant to protect air, water, wildlife and public health.
The scheme would put the Alberta Clipper pipeline — which runs from Alberta, Canada, through Minnesota to Superior, WI — on par with the controversial Keystone XL pipeline, significantly ramping up the amount of dirty tar sands moving into the United States. If the Obama administration is serious about tackling the climate crisis, it can't be approving these kinds of disastrous projects, which only make things much, much worse.
Read more in the Star Tribune.
Groups Sue U.S. State Dept. to Stop Alberta Clipper Tar Sands Pipeline
Yesterday the Washington Spectator ran an investigative piece tearing the veil of secrecy from the Alberta Clipper pipeline project, a plan by Canadian mining company Enbridge to build a pipeline nearly equal in length and capacity to the Keystone XL to transport tar sands crude oil to the Gulf of Mexico for refining and exporting. With the U.S. State Department's cooperation, Enbridge found a loophole to circumvent the legal approval process needed to cross the international Canadian/U.S. border. And, by keeping a low profile, it managed to avoid the public outcry that has stalled Keystone XL for six years.
The lawsuit against the secretive process used to Enbridge to get approval for its tar sands pipeline will likely bring it exactly the type of attention it doesn't want.
That period of operating off the public radar may be coming to an end. Today a coalition of eight environmental, conservation and indigenous groups announced that they have filed a lawsuit against the U.S. State Department and Secretary of State John Kerry in a Minneapolis federal court. The suit charges that approval was granted despite lack of public notice or the legally required review of environmental and public health impacts. The groups filing the lawsuit include White Earth Nation, Sierra Club, Center for Biological Diversity, Honor the Earth, National Wildlife Federation, Minnesota Conservation Federation, Indigenous Environmental Network and MN350, being represented by the Vermont Law School Environmental and Natural Resources Law Clinic. Their intention is intended to force the State Department to reverse its approval and ensure that a full environmental review takes place.
"This lawsuit challenges the State Department's illegal approval of Enbridge's tar sands expansion plans," said Sierra Club staff attorney Doug Hayes. "Rather than stick to its ongoing review process that the National Environmental Policy Act requires, the State Department green-lighted the expansion before the process is complete."
The publicity from the Washington Spectator piece and lawsuit will most likely awaken a host of activists and organizations who have worked tirelessly to oppose Keystone XL and its plan to extract, refine and ship the carbon-intensive tar sands oil, a prime driver of climate change. And publicity is most likely precisely what Enbridge doesn't want.
"The only thing worse than dirty oil is dirty oil backed by dirty tricks,"said Kieran Suckling, executive director of the Center for Biological Diversity. "This is the fossil fuel equivalent of money laundering. The Obama administration should be ashamed of itself for letting Enbridge illegally pump more dirty tar sands oil into the United States."
The approval allows Enbridge to upgrade its cross-border connecting pipeline between two already existing pipeline by calling it "maintenance," even though it lets them change the product that flows through the pipeline from light to heavy tar sands oil and double its capacity to 800,000 barrels a day—nearly equivalent to the amount that would be carried by Keystone XL. The company said it intends to have the pipeline ready to ship tar sands oil to the U.S. by the middle of next year.
"To establish the U.S. as a real international leader in tackling the climate crisis, the State Department must stop turning a blind eye to Big Oil schemes to bypass U.S. laws and nearly double the amount of corrosive, carbon-intensive tar sands crude it brings into our country," said Sierra Club deputy national program director Michael Bosse. "Enbridge has been allowed to play by their own rules for too long at the expense of our water, air and climate, and the Sierra Club is taking legal action to stop this abuse."
Among other things the pipeline would pass through three Native American Reservations.
"Honor the Earth represents Anishinaabeg people and the earth," said Winona LaDuke, program director for Honor the Earth and a member of the White Earth Nation.
"We believe that nations should abide by their agreements, treaties, and laws. The Anishinaabeg continue to harvest and live the life the Creator gave us, within the north country and within the treaty areas, protected and recognized under federal law, including the 1837, 1854, 1855 and 1867 treaties. We know that new oil pipelines will not bode well for the fish, the wild rice and the medicines of this Akiing, this land. We also know that the U.S., through the State Department, should uphold its own laws and regulations, and not issue permits under the pressure of oil interests, over the interests of our country, people and land. Federal law requires environmental impact assessments, and the U.S. must uphold its own laws. New pipelines by the Enbridge Company and this illegal switching of lines do not serve our state or our country. We ask the U.S. State Department to uphold the law."
Anastasia Pantsios|November 12, 2014

Fossil Fuels Reap $550 Billion in Subsidies, Hindering Renewables Investment
LONDON — Fossil fuels are reaping $550 billion a year in subsidies and holding back investment in cleaner forms of energy, the International Energy Agency said.
Oil, coal and gas received more than four times the $120 billion paid out in subsidy for renewables including wind, solar and biofuels, the Paris-based institution said today in its annual World Energy Outlook.
The findings highlight the policy shift needed to limit global warming, which the IEA said is on track to increase the world's temperature by 3.6 degrees Celsius by the end of this century. That level would increase the risks of damaging storms, droughts and rising sea levels.
"In Saudi Arabia, the additional upfront cost of a car twice as fuel efficient as the current average would at present take 16 years to recover through lower spending on fuel," the IEA said. "This payback period would shrink to three years if gasoline were not subsidized."
Renewable use in electricity generation is on the rise and will account for almost half the global increase in generation by 2040, according to the report. It said about 7,200 gigawatts of generating capacity needs to be built in that period to keep pace with rising demand and replace aging power stations.
The share of renewables in power generation will rise to 37 percent in countries that are members of the Organization for Economic Cooperation and Development, according to the IEA.
It said that globally, wind power will take more than a third of the growth in clean power; hydropower accounts for about 30 percent, and solar 18 percent. Wind may produce 20 percent of European electricity by 2040, and solar power could take 37 percent of summer peak demand in Japan, it said.
The IEA singled out the Middle East as a region where fossil fuel subsidies are hampering renewables. It said 2 million barrels per day of oil are burned to generate power that could otherwise come from renewables, which would be competitive with unsubsidized oil.
"Reforming energy subsidies is not easy, and there is no single formula for success," the report said.
Alex Morales|Bloomberg |November 12, 2014|Copyright 2014 Bloomberg

Obama Stands Firm on Keystone XL, Veto Likely if Passed by Congress
As Republicans have made clear their desire to rush approval of the Keystone XL pipeline and the Senate prepares to vote next week under pressure from pipeline-favoring Louisiana Democrat Mary Landrieu, President Obama is strongly suggested this morning the legislation won't get past his desk.
Traveling to Myanmar following an economic conference in Beijing where he joined with Chinese President Xi Jinping to announce a historic agreement on climate change earlier this week, Obama made one of his strongest statements yet about Keystone XL.
"Understand what this project is: it is providing the ability of Canada to pump their oil, send it through our land, down to the Gulf, where it will be sold everywhere else," he said. "It doesn't have an impact on U.S. gas prices. If my Republican friends really want to focus on what's good for the American people in terms of job creation and lower energy costs, we should be engaging in a conversation about what are we doing to produce even more homegrown energy? I'm happy to have that conversation."
The President's press secretary Josh Earnest backed up the President's statement at his own press availability in Myanmar, outright suggesting the President was likely to veto any attempt to push through Keystone XL at this time.
Asked by a reporter if the President would sign the Keystone XL approval should it pass Congress, Earnest said, "The President, as you'll recall in a speech that he delivered last summer, indicated that one of the factors in that review should be the degree to which a project like this would substantially contribute to the causes of climate change. So this is a project that is still under review by the State Department to determine whether or not it's in the national interest. One of the things that is impeding the progress of that review is some ongoing litigation in Nebraska about the route of the pipeline. So it's important in the view of this administration that this review be conducted consistent with past practice and in a way that reflects the national interests that are at stake. It is the view of the administration that that process should continue and that that's the proper venue for determining whether the project should move forward. There has been other legislative proposals that have been floated to try to influence the outcome of this decision about the construction of the pipeline.The administration, as you know, has taken a dim view of these kinds of legislative proposals in the past. I think it's fair to say that our dim view of these kinds of proposals has not changed."
When pressed for a definite answer on a potential veto, Earnest said, "It's not a yes or a no because I haven't reviewed the specific proposal. But there have been previous proposals that I expect would be consistent with proposals that have been discussed overnight. And in evaluating those earlier proposals, we have indicated that the President's senior advisors at the White House would recommend that he veto legislation like that. And that does continue to be our position. If that changes, I'll obviously let all of you know. I know there's a lot of interest in this."
Praising the President's words, climate advocacy group 350.org posted a statement encouraging him to stay the course.
"The strategy by some oil-soaked Senators to try and approve the Keystone XL pipeline is already backfiring," it said. "The last time Congress tried to force the President's hand on KXL, he sent the project back the drawing board because of concerns over the route in Nebraska. The Keystone XL pipeline is all risk and a no reward. We've been pushing President Obama for years to make the right call on Keystone XL and it looks like he might be gearing up to do it. We'll continue to make the case that the real homegrown energy that America needs is 100% clean power, not dirty pipeline projects and other dangerous fossil fuels."
Anastasia Pantsios|November 14, 2014

Shell lawsuit against environmental groups ruled unconstitutional
After its drilling rig ran aground on New Year's Eve in 2012, Shell halted exploration plans for the following year.
After its drilling rig ran aground on New Year's Eve in 2012, Shell halted exploration plans for the following year. (Petty Officer 1st Class Sara Francis / U.S. Coast Guard)
Shell's legal strategy to defend Arctic drilling is 'novel' but unconstitutional, federal appeals court rules
Two years ago, in a preemptive move, Shell sued a host of environmental and advocacy groups to prevent them from suing Shell over its plans to drill for oil in the Arctic.
On Wednesday, a federal appeals court called Shell's legal strategy "novel" and ruled it unconstitutional.
A three-judge panel of the U.S. 9th Circuit Court of Appeals said Shell could not sue environmental and Alaska Native advocacy groups on the chance that those organizations might challenge offshore drilling permits granted to the oil giant by the U.S. government.
"Shell may not file suit solely to determine who would prevail in a hypothetical suit between the environmental groups" and the federal Bureau of Safety and Environmental Enforcement, one of several agencies overseeing offshore drilling, the panel wrote in its 12-page ruling.
Shell has spent more than $6 billion purchasing oil leases and pursuing exploration in Alaska's environmentally sensitive Beaufort and Chukchi seas.
As part of the offshore drilling efforts, Shell was required to submit plans to the bureau detailing what the company would do in the event of an oil spill. The bureau approved Shell's oil spill response plans in late 2011 and early 2012.
Arguing that 13 environmental and advocacy groups were certain to challenge those approvals, Shell filed three separate suits against them in federal court in Anchorage in 2012. Using the Declaratory Judgment Act, Shell wanted the court to rule that the government's approvals of its spill response plans were legal.
Today David beat Goliath- Cindy Shogan, executive director of the Alaska Wilderness League
On Wednesday, the three-judge panel ruled against the oil company in one of those three suits. A second suit was dismissed earlier. The third suit also was dismissed earlier, but that dismissal is under appeal.
"We believe this was a legitimate use of the Declaratory Judgment Act," said Curtis Smith, a spokesman for Shell. "However, we respect the court's ruling."
Michael LeVine, Pacific senior counsel for Oceana, one of the groups sued by Shell, called the decision "good news for the oceans and for those of us who believe in the rule of law and our ability to speak out for what we believe in."
Shell's waste of time, energy and money on these lawsuits further reinforces the problem with its Arctic Ocean exploration program," he said.
The Natural Resources Defense Council was another of the organizations sued by Shell. Chuck Clusen, the group's director of national parks and Alaska projects, said in a statement that the oil company was "attempting to quash dissent and circumvent due process" but failed.
"As multiple accidents have already shown, Shell's drilling plans in the Arctic are severely flawed," Clusen said. "Shell is not equipped to handle offshore drilling in some of the world's most treacherous waters, and we'll continue to do all we can to stop them from endangering the precious wildlife and local fishing economies that they're putting at risk."
Said Cindy Shogan, executive director of the Alaska Wilderness League, another defendant in the case: "Today David beat Goliath."
Soon after its drilling rig ran aground on New Year's Eve in 2012, Shell halted exploration plans for the following year. It withdrew drilling plans for 2014 after a federal court ruled that the government violated the law when it held Chukchi lease sale 193 in 2008. The company bought all of its leases in that sale.
Shell has submitted an expanded, multi-year drilling plan that it hopes to kick off in 2015. But the government cannot approve that plan until it completes the 193 lease sale process, which is expected in April.
Maria L. La Ganga |Environmental, Pollution, Environmental Issues
Land Conservation

Floridians spoke clearly, with three-quarters of all voters approving of the constitutional amendment to dedicate money for conservation and recreation.
The 2014 midterm election exposed some sharp divisions among Floridians. Gov. Rick Scott won re-election by drawing fewer than half of the votes cast, only 1.1 percentage point ahead of challenger Charlie Crist. Gwen Graham knocked U.S. Rep. Steve Southerland out of office by just a little more than 2,000 votes. Even in the one-sided CFO and agriculture commissioner races, Jeff Atwater and Adam Putnam each got less than 60 percent of the vote.
Then there was Amendment 1.
Floridians spoke clearly, with three-quarters (74.95 percent) of all voters approving of the constitutional amendment to dedicate money for conservation and recreation. We might be divided on medical marijuana and Obamacare and any number of other issues, but Floridians realize the importance of land and water to our health, to our tourism industry and to the quality of life we enjoy in the Sunshine State.
Protecting Florida's natural resources has been a bipartisan concern since 1963, when the Legislature created the Land Acquisition Trust Fund to support the purchase of parks. Over the years, the state's land-purchasing efforts changed in name, funding sources and approval processes. Yet, as the pressures to develop lands increased, so did the state's efforts to protect them — through Preservation 2000 and then Florida Forever.
But with the start of the recession in 2008, that effort ground to a halt. And even as the economy rebounded, the spending on conservation did not. Florida now has more than 6 million acres of protected land, but it also is losing about 165,000 acres of land to development every year, according to the state Department of Environmental Protection.
Floridians were not happy, and Amendment 1 — a citizen initiative — was born.
Amendment 1 directs that the state dedicate 33 percent of net revenues from doc stamps on property purchases over the next 20 years to the Land Acquisition Trust Fund, to acquire and improve forests, wetlands and other sensitive habitats. The money can be used only for these purposes and may not be "commingled with the General Revenue Fund." Translation: No more raids.
The language that will now be part of the Florida Constitution says these acquisitions will include "lands that protect water resources and drinking water sources, including lands protecting the water quality and quantity of rivers, lakes, streams, springsheds, and lands providing recharge for groundwater and aquifer systems."
It's a powerful mandate.
What Amendment 1 does not do is change behavior.
Nearly 20 million people live in Florida, and short of kicking them all out and building a fence around the state, we and our neighbors will continue to have an impact on the environment.
Every time we flush a toilet or scatter fertilizer on the front lawn, we add to the pollution that is strangling our springs and rivers and even poisoning our drinking water. In his exhibition "Springs Eternal," photographer John Moran has documented the ill health of Florida's springs, from out-of-the-way spots to tourist destinations such as Ichetucknee Springs.
Mr. Moran calls for a new "environmental patriotism." That can be simple, for example refraining from fertilizing or watering your lawn. It can be expensive, when forgoing septic tanks for central sewer systems. It can be politically dangerous, when it's time to put pressure on big agriculture to clean up its act.
But we can change. Mr. Moran points to the way recycling has become an everyday activity or the way littering, once common, now is frowned upon. And we have success stories, such as cleaning up Tampa Bay and Lake Apopka.
At stake is not just the beauty we Floridians love but the tourism industry that attracted 90 million visitors and $65 billion last year. If sunshine alone were enough, Mr. Moran points out, then the Sahara Desert would be a prime tourist destination. In a 1972 speech, Gov. Reubin Askew said, "Ecological destruction in Florida is nothing less than economic suicide."
It's wonderful that three-quarters of those who voted last week don't want our state to commit ecological or economic suicide. It's a significant step. But keeping our waters clean will require a lot more than just checking "Yes" on a ballot.
- Tallahassee Democrat|Gannett newspaper.
Recycling

A Sea Full of Trash: Tackling the Plastic Problem
Beyond the landfills and trash heaps moldering in almost every town and city across the globe, manmade garbage has found its way into the natural landscape on a mind-boggling scale. It seems as though there are virtually no places left on Earth free of our rubbish. Junk can be found everywhere – from the bellies of animals and the tissues of our own bodies to the world's vast oceans.
The gigantic mess currently swirling around our oceans is ever-growing. There are so many manufactured items floating around the briny deep that marine currents have formed sprawling expanses of crud in the water. One of the most disheartening of these disasters is known as the Great Pacific Garbage Patch; a field of debris formed by wind and wave action and discovered by Captain Charles Moore in 1997. While there are no literal islands of trash, the vortexes are gargantuan concentrations of waste located in two major areas, with one midway between Hawaii and California and another off the coast of Japan. The overall amount of debris is still unknown, but scientists estimate the entire Patch encompasses nine million square miles of watery real estate, and is just one of five major garbage clusters occupying the world's oceans. A majority of this pollution is made up of plastic, leaving scientists scrambling to invent methods to remove the non-biodegradable hazards.
The Plastic Paradox
During the 20th century, synthetic plastics became the material of choice for industries from consumer packaging to fashion. Practically indestructible and with the ability to mold into virtually any shape, plastic polymers could withstand the elements and remain intact longer than their organic counterparts. With plastic, perishable food could be transported and preserved longer, electronics insulated and made more efficient, and medical supplies kept sterile and disposable. Unfortunately, the physical tenacity that makes plastics so desirable as grocery store packaging or dishware also creates a gigantic problem for the environment. Most plastics produced today are formed from petrochemicals, which means it takes an enormous amount of time for each straw, water bottle, and single-use fork to break down and disappear. To make matters worse, extracting oil as a basis for these textiles adds fuel to the global warming fire by sustaining a demand for fossil fuels and toxic contamination.
So how do we halt the spread of plastic into the sea and remove what is already there? The first step toward keeping trash from entering the ocean is to reduce the amount created on land and repurpose what we chuck into trash bins.
Unfortunately, there are very few large-scale projects able to tackle the magnitude of our plastic predicament. To begin with, plastic manufacturing companies have little incentive to switch from oil-based polymers to more sustainable, biodegradable options, or to use recycled material. This is in part because it is still cheaper to produce items out of raw, fossil-based feedstock. The major forces driving the conversion to corn, potato, or soy bioplastics come primarily from consumer demand and regional campaigns in cities like Los Angeles and Concord, Massachusetts, where there are efforts to ban plastic bags and water bottles.
Even if synthetic plastics were outlawed altogether by every nation on Earth, the challenge of removing what is still suspended in the ocean would remain a major dilemma. Scientists are just beginning to quantify the amount of plastic hanging out in the water column, how sunlight breaks down large pieces into smaller fragments called "microplastics," and in what way these bits affect the food chain. The plastic can block sunlight from reaching algae and, in turn, negatively affect organisms that feed on this most basic and important level. Humans rely on that food chain for survival, so plastics (and the hazardous chemicals they contain) can eventually damage our dinners and poison our ecosystems.
To put oceanic plastic into perspective, consider this: In a 2014 study expedition conducted by the Algalita Marine Research Foundation, a sample from a one-hour trawl 260 miles from the center of the Great Pacific Garbage Patch pulled up thousands of times more plastic by weight than plankton, meaning that more synthetic materials were present in one scoop of seawater than the animals that are supposed to live there. Deep-sea explorers such as those working with the Monterey Bay Aquarium Institute in California were amazed to find crud thousands of meters down with a full third of the messy makeup consisting of plastic. Not just eyesores, the materials concentrate dangerous chemicals and act as sponges for toxins such as DDT, PCBs, and PBDEs.
A Solution for Synthetics
As researchers struggle to understand the scope of the situation, local governments, non-profits, and universities are working on a host of creative solutions. Since the physical problem is situated far from the jurisdiction of any one nation, the responsibility to find a fix seems to have fallen on committed organizations and stewards of the environment. Most focus on land-based initiatives such as The National Oceanic and Atmospheric Administration's regional action plans that coordinate cleanups around the U.S. through their Marine Debris program. The agency is also working with the fishing industry and the National Fish and Wildlife Foundation to reduce the damage done by derelict fishing gear.
Prototypes for marine robots – such as the Veolia Drone developed by French International School of Design student Elie Ahovie or the Protei invented by Cesar Harada – could one day scour the ocean for trash. Larger groups that employ booms and filters, like the Ocean Cleanup system proposed by entrepreneur Boyan Slat, could be placed in areas of concern to help trap trash. However, most of these technologies are still firmly situated on the drawing board, and have not adequately addressed logistics (like how the machines would determine the difference between tiny bits of plastic and living critters of a similar size). They would also have to be durable enough to withstand the destructive effects of seawater, storms, and physical stress.
In recent years, scientists have observed various species of bacteria colonizing rafts of plastic debris, making up what they have dubbed the "plastisphere." Scanning electron microscopy from researchers at the Woods Hole Oceanographic Institution revealed thousands of organisms creating an almost reef-like ecosystem on the surfaces of floating flotsam. It is still a mystery how the byproducts of their digestion affect the rest of the ecosystem. Bioengineers have proposed manufacturing bugs that could act in a similar way to their naturally occurring relatives to mop up the mess, both on land and sea. But releasing any new element into an incredibly complex web of life carries enormous risk. Considering at least one of the species of bacteria chomping on the particulate plastic occupies the same genus as one that causes cholera, no one wants to make any rash decisions. For the plastic that remains solely on land, students from Yale University's Rainforest Expedition and Laboratory discovered a fungus in the Amazon in 2012 that likes to dine on polyurethane without the need for oxygen. Adding a heap of plastic into a strictly controlled digester along with Pestalotiopsis microspora may one day be a way to reduce the amount of plastic reaching the ocean from land.
How You Can Take Part
On a smaller scale, communities can do their part by organizing beach cleanups and switching from petrochemical plastics to organic-based alternatives. Simple changes in everyday habits, such as swapping plastic water bottles for reusable containers and opting for cloth bags instead of flimsy carryout sacks, would make a sizable dent in reducing the trash reaching our waterways. Choosing personal care products that do not contain tiny plastic scrubbing beads or seeking out packaging made from a percentage of recycled material help send a message to corporations: The health of the environment and human safety are important factors consumers are prepared to pay a little extra for. Supporting non-profits such as the All One Ocean Campaign, Annie Leonard's The Story of Stuff, and 5gyres.org expands efforts to spread awareness, mobilize citizens, and establish lobbying interests with enough power to influence legislation. Like climate change or air pollution, removing the plastic from the planet's oceans will involve stakeholders that occupy positions in government, media, and the scientific community. Although the immensity of the situation may seem overwhelming at first, it is possible for a species clever enough to engineer such feats of chemistry to also help deal with its consequences.
Morgana Matus|Care2 Causes Editors|October 30, 2014

Edible Packaging is the Ultimate in Zero Waste
Some companies have come up with brilliant solutions to the excessive packaging waste in the food industry, but the big question is whether customers are ready to make the mental shift to eating their food wrappers.
It doesn't make sense that a single food item that gets consumed within minutes or even seconds should leave behind a piece of packaging that will linger on Earth for years. Think of a granola bar and its plastic wrapper, a mini yogurt container, a bag of chips, or a bottle of juice. These items, together with countless others, offer such fleeting satisfaction at a long-term cost, whether the destination is a landfill site or the convoluted, unreliable processes of a recycling facility.
Fortunately there is a growing number of conscientious shoppers who care about the amount of waste they generate, and who would choose not to buy the above-mentioned items precisely for the fact that packaging would go to waste following consumption. While these "Zero Wasters" make a big difference in their own lives, unfortunately their influence on the rest of society is limited.
That is where the packaging industry could step in and reinvent food packaging to be far more sustainable, perhaps even non-existent. According to an article in The Guardian, there are some really fascinating advances in the world of "waste-free, Willy Wonka packaging," but the big question is whether consumers are psychologically ready for it. Buying apples and bagels directly from a bin at the supermarket is one thing, but sifting through a display of yogurt balls in edible skins is a different kind of experience.
Or is it? Shoppers are simply unaccustomed to seeing certain foods being sold without packaging, although they're perfectly comfortable with other items, such as produce and baked goods, being sold loose. It's time to get over that mental barrier.
The Guardian describes a company called WikiFoods that "wraps a vast range of foods and beverages in plastic-free and edible packages made of natural ingredients," like the protective skins on fruits. The first commercial WikiPearls (little balls of ice cream and frozen yogurt with edible skins) launched in the U.S. and France in 2013. (TreeHugger contributor Kimberley Mok gives a more detailed description of how it works here.)
A Swedish company called Tomorrow Machine has come up with a series of food packages "where the packaging has the same life span as the foods they contain." One is an "oil package" made of caramelized sugar coated with wax; you crack it like an egg to open. The "smoothie package" is made of agar seaweed and water, and withers at the same rate that you drink its contents. Another package made of beeswax is peeled to open and can hold dry ingredients such as rice or flour. Unfortunately, a company employee told me that none of the series is available yet commercially.
While these innovations are fascinating and sensible, it will likely be a while before they hit the mainstream food market or become available anywhere other than Whole Foods. In the meantime, the best thing consumers can do is avoid wasteful, unnecessary packaging like the plague, buy in bulk whenever possible, and always take your own reusable containers and bags to the store.
This post originally appeared on TreeHugger.
Katherine Martinko|TreeHugger|November 12, 2014
Miscellaneous

In Ballona Wetlands preserve, homeless are unwanted intruders
Homeless encampments cause damage to Ballona Wetlands
Arrests are temporary fix to homeless encampments in Ballona Wetlands.
As land manager of the Ballona Wetlands just south of Marina del Rey, ecologist Richard Brody thinks he has a "dream" job — but one that comes with an unusual caveat.
Along with being able to name nearly every type of flower, tree and animal dotting the 600-acre state preserve, he must fight a seemingly endless stream of homeless people who try to take root there.
Brody was hired in October 2013 to manage the preserve and address the growing number of encampments and the problems they have created. Parts of the wetlands have been littered with syringes and liquor bottles that can endanger wildlife. And the underbrush can serve as a hiding place for suspected vandals and thieves, such as those who periodically plague the nearby Culver-Marina Little League field.
Culver-Marina Little League Vice President Matthew Wind recalls arriving at the field one day in August to find that nearly everything that wasn't bolted down had been stolen, including a heavy pitching machine and several banners and trophies. The walls of the snack bar and equipment room were covered with profane, satanic graffiti.
A few days later, the league received a water bill for $3,000. The pipes servicing the fields had been smashed, causing a huge leak. The field now remains dry and barren as the league looks for a way to pay for damage estimated at close to $50,000.
"We have minor vandalism incidents in the offseason nearly every year," Wind said. "But this is the worst it's ever been."
The Ballona Wetlands are closed to the public unless accompanied by Brody, 51, or an approved volunteer, but it's easy to gain entry illegally through holes in the chain-link fences that surround its 11-mile perimeter. Only a few areas are actually low-lying, marshy wetlands. The rest — including the land leased by the Little League — is upland and full of tall vegetation, creating shaded pockets of land where encampments often pop up.
The vandalism was easily traced to the encampments, Brody said, because thieves had dragged stolen equipment across the sandy field, leaving tracks that took LAPD officers directly to encampments surrounding the baseball field. After finding much of the stolen equipment, two arrests were made.
However, Wind believes the arrests are only a temporary solution.
A large water bottle contains used syringes collected from homeless encampments in the Ballona Wetlands. (Marcus Yam, Los Angeles Times)
"Until these camps are out for good, [the arrests] are like putting lipstick on a pig," he said.
Concerted efforts to address the homeless issue began last year after a member of the Friends of Ballona Wetlands, a nonprofit group dedicated to restoration of the wetlands, happened upon a debris-filled encampment off a bike trail that runs past Ballona Creek. Some of those living in the camp were also siphoning electricity from nearby power boxes, said Lisa Fimiani, executive director of the Friends of Ballona Wetlands.
In the following months, crews from the state and the city of Los Angeles conducted several cleanups, at one point removing 300 bags of trash from a particularly entrenched encampment.
But law enforcement agencies can't do it all, Fimiani said: "If it's between breaking up a homeless camp in the wetlands and dealing with a homicide, the priority is the homicide. We need someone — the City Council, the state — to provide more funding for patrols and outreach."
Removing an encampment is laborious — first, Brody enters with a member of the Sheriff's Department and delivers a 72-hour eviction notice with a list of resources for homeless people living on the Westside. After the homeless leave, he and a trained crew clear out whatever is left behind.
Brody usually finds dozens of syringes (he has a water bottle in his office containing several hundred that he has collected), pornographic magazines, bottles and batteries, which he says are particularly damaging to the wetlands' ecosystem.
Until these camps are out for good, [the arrests] are like putting lipstick on a pig- Ecologist Richard Brody
Everything must be removed by hand to avoid further damage to the preserve, a process that requires a skilled crew that is able to deal with potentially hazardous materials.
"I can't just take any crew of volunteers with me — they have to know what they're doing, or they could get sick," Brody said.
In the last year, Brody says, he has brought the number of camps down from 30 to about two or three.
"Right now, I'm just playing a game of cat and mouse," he said. "If I ask a camp to leave, sometimes they'll just move to a different part [of the wetlands]…. I always tell them, 'These may be your belongings, but this isn't your home.'"
In search of a long-term solution to the homeless problem, PATH Ventures, an affordable housing service in Los Angeles, has broken ground on a 23-unit affordable-housing building that will be completed in Marina del Rey next year. Although Joel Roberts, PATH's chief executive officer, hopes the building will attract people living in the wetlands, they haven't had much luck so far.
"You can't really sell people on something that'll be done in six months," he said. "You have to be able to offer a better solution than that."
Homeless activists from several organizations on the Westside have taken trips into the wetlands to meet and work with individuals living there, but they say that success will take a sustained, prolonged effort.
"To get people out of these places, you have to build trust," said Booker Pearson, a commissioner for the Los Angeles Homeless Services Authority. "That takes more than a few trips."
Priya Krishnakumar

Veterans Love the Environment Too!
The U.S. Environmental Protection Agency's (EPA) Veterans Day Celebration on November 6 gave participants the pleasure of hearing an inspiring speech by Admiral Michelle Howard, the first woman to achieve the rank of admiral in the Navy and the first African-American woman to achieve a 4 star ranking in the U.S. Armed Forces. Listening to the Admiral talk about her military experiences as well as her proud interest and commitment to our environment inspired the Office of Environmental Justice to begin exploring how other veterans, inside EPA, in other federal agencies, and in other sectors, are putting their love for the environment and for their communities into action.
What we found was that here at EPA, more than 1,500 of our colleagues are veterans or continue to serve as reservists in the U.S. armed forces. Starting in 2012, EPA developed a series of videos about some of our home grown champions. These EPA sheroes and heroes share their love for the military, their love for the Agency, and their love for the environment.
As daughters of veterans, we have seen first-hand the dedication and commitment of veterans who came home to make our world better for others. We're also keenly aware of national environmental justice champions who served our country. Many of you may know the story of Hilton Kelley, who served in the Navy before serving his Port Arthur, Texas community. Dr. Robert Bullard, author of more than 18 books about environmental justice, served two years in the U.S. Marine Corps after college.
In addition to these leaders of the environmental justice movement, many new veterans are joining the fight for healthy environments in their neighborhoods by working in the non-profit sector. Take a look at Kelly Carlisle, a Navy Veteran, who founded Acta Non Verba: Youth Urban Farm Project, a non-profit urban farm focusing on serving at-risk youth, who also plans to establish a farmers market with educational opportunities for involved youth in basic gardening and composting. To learn more about what Kelly is doing, please visit the Farmer Veteran website.
Former Army and National Guard Veteran Sonia Kendrick founded Feed Iowa First, a nonprofit with a mission of combatting food insecurity by raising food and farmers, and was honored earlier this year at the White House as one of 10 leaders who are White House "Champions of Change – Women Veteran Leaders." The event highlighted the incredible contributions of women veterans to our nation's business, public, and community sectors. Go here to find out more about Sonia and Feed Iowa First.
As a local Washington DC veteran, Joe Wynn, President of Veteran's Enterprise Training and Services Group, recently remarked "veterans are people too!" The EPA's Office of Environmental Justice wants to learn about the other veterans who "love the environment too!" and are working on social justice and environmental concerns in communities across the country. Please let us know who you are, which branch of the military service you served in, and what work you are doing to make a visible difference in environmentally overburdened, underserved, and economically-distressed communities.
Please post in the comments section below because we want to hear from our homegrown sheroes and heroes. We thank you for your service abroad and here at home.
About the authors: Victoria Robinson currently is the Acting Communications Director for EPA's Office of Environmental Justice. Recently she served 5 years as Designated Federal Office (DFO) of the National Environmental Justice Advisory Council. She also works as the OEJ point of contact for climate change. She has been served EPA in the Office of Environmental Justice for more than 11 years.
Marva E. King, PhD, a U.S. Air Force veteran, recently rejoined the staff of EPA's Office of Environmental Justice where she had worked for over 10 years as a Senior Program Analyst in EPA's Office of Environmental Justice managing the EJ Collaborative Problem-Solving (CPS) Cooperative Agreement Program and the National Environmental Justice Advisory Council. Previously she served as Program Co-Chair for the Community Action for a Renewed Environment (CARE) Program. She also serves as a community expert on several EPA teams across the Agency. Dr. King holds a Masters in Public Administration from the University of Delaware and a Ph.D. in Public Policy at George Mason University.
Victoria Robinson and Dr. Marva E. King|2014 November 13

Coal Mines Keep Operating Despite Injuries, Violations And Millions In Fines
Jack Blankenship was pinned facedown in the dirt, his neck, shoulder and back throbbing with pain.
He was alone on an errand, in a dark tunnel a mile underground at the Aracoma Alma coal mine in Logan County, W.Va., when a 300-pound slab of rock peeled away from the roof and slammed him to the ground. As his legs grew numb, he managed to free an arm and reach his radio. For two hours, he pressed the panic button that was supposed to bring help quickly.
"I couldn't hardly breathe," Blankenship remembered four years later. "I'd black out and come to. I was waiting to die. I'd already had my little talk with God."
Aracoma Alma and then-owner Massey Energy had a history of serious safety problems, including falling rock. In the two years before Blankenship's accident, the mine was cited by federal regulators more than 120 times for rock fall violations, according to records from federal regulators. That included inadequate roof support and deficient safety checks for loose rock.
Citations and the fines that go with them are key components of the federal law designed to protect miners. They are supposed to make violations expensive — costing hundreds of thousands of dollars for the most serious offenses — and create an incentive for mine owners to keep workers safe.
Yet on that December day in 2010, as Blankenship lay pinned and in pain, Aracoma Alma owed $200,000 in overdue mine safety fines, federal records show. The penalty system that is designed to discourage unsafe practices failed Blankenship, and his story is not unique.
Dangerous Delinquents
A joint investigation by NPR and Mine Safety and Health News found that thousands of mine operators fail to pay safety penalties, even as they continue to manage dangerous — and sometimes deadly — mining operations. Most unpaid penalties are between two and 10 years overdue; some go back two decades. And federal regulators seem unable or unwilling to make mine owners pay.
Our joint investigation looked at 20 years of federal mine data through the first quarter of 2014, including details about fines, payments, violations and injuries. We used raw Department of Labor data and delinquency records provided by the Mine Safety and Health Administration to calculate the number of injuries and injury rates, and violations and gravity of violations, at mines with delinquent penalties while they were delinquent.
Among the findings:
2,700 mining company owners failed to pay nearly $70 million in delinquent penalties.
The top nine delinquents owe more than $1 million each.
Mines that don't pay their penalties are more dangerous than mines that do, with injury rates 50 percent higher.
Delinquent mines reported close to 4,000 injuries in the years they failed to pay, including accidents that killed 25 workers and left 58 others with permanent disabilities.
Delinquent mines continued to violate the law, with more than 130,000 violations, while they failed to pay mine safety fines.
Most mine operators pay their penalties, our investigation found. Delinquents account for just 7 percent of the nation's coal, metals and mineral mining companies. But that small subset of the industry is more dangerous than the rest, federal data show.
The violations at delinquent mines included 40,000 that are labeled in government safety records as "Significant and Substantial," which means serious injury or illness were likely if inspectors hadn't intervened. More than 15,000 violations were the kind found in fatal accidents, major disasters or mining deaths, the records also show.
And when those safety records are compared with other government data on coal production, it shows that some of the top delinquents continued to mine coal and reap millions of dollars in revenue while their safety fines remained unpaid.
"Most folks out there, including me, are totally shocked when they find out that … you can actually just sit around and not pay the fine and keep producing coal and put money in the bank," said Tim Bailey, Blankenship's attorney and a West Virginia native with three generations of coal miners in his family.
A Formula For Catastrophe
Mine safety advocates say the mix of delinquency, violations and injuries is a formula for catastrophe.
"To the people who continue to run an operation that puts people at risk on a daily basis, this is a bonanza," said Davitt McAteer, a former assistant secretary of labor for mine safety and health and an independent investigator of three recent mine disasters.
"This is to them, 'I can beat this system,' " McAteer added. "This is the kind of attitude that leads to mine disasters."
Officials at the National Mining Association, the industry's lobbying group, declined to be interviewed, but NMA said in a written statement that it "believes that all truly delinquent fines should be paid."
The group also said the government, not industry, should address this issue.
About This Investigation
This story was reported by correspondent Howard Berkes and data reporters Anna Boiko-Weyrauch and Robert Benincasa of NPR, together with Ellen Smith, the managing editor of Mine Safety and Health News, an independent publication focused on the mining industry.
NPR's Barbara Van Woerkom contributed research to this report.
The federal agency responsible for regulating mines is the Mine Safety and Health Administration (MSHA) in the Department of Labor. MSHA conducts regular inspections — four a year for underground mines — looking for safety hazards such as excessive and explosive coal dust, loose rock, electrocution threats, volatile methane gas and weak ventilation.
Serious violations must be fixed before mining can continue. But even minor violations can result in citations and fines, which can range from $112 to $220,000, depending on the violation.
An appeals process gives mine owners the chance to challenge fines they consider unfair. Any fine that is unchallenged or upheld on appeal but still not paid is deemed delinquent by regulators.

When a fine becomes delinquent, MSHA sends out letters requesting payment. If necessary, the Treasury Department follows up with letters, phone calls and referrals to collection agencies. Sometimes, the Justice Department is asked to seek federal court orders demanding payment.
Joe Main, the current head of MSHA, said the delinquency problem looks worse than it really is, because the agency's records don't include payments that may take time to process. To compensate, NPR and Mine Safety and Health News excluded from the analysis any delinquency less than 90 days old.
Main also said his agency is focused more on rooting out and correcting dangerous workplace conditions than on collecting fines.
Howard Berkes|Ana Boiko-Weyrauch|Robert Benincasa|November 12, 2014

Amish And Mennonite Farmers Are Polluting Lancaster County
The old farming techniques used by some Amish and Mennonite farmers may be traditional, but that doesn't mean they're necessarily environmentally friendly. The government recently had to step in and make some changes to prevent pollution from seeping into Lancaster County waterways.
The legal status of Amish and Mennonite farmers is delicate and tricky; mostly, the government leaves the farmers alone, and the farmers leave the government alone, in stark contrast to the way most agriculture is done in this country. But in the past few years, that's all gone out the window, as the Environmental Protection Agency has begun to crack down on violations from farmers that pollute the environment. The first major grant has just come through: about $400,000 to help farmers clean up their act.
Typically, some Amish and Mennonite farmers (we're using these terms loosely; there are a lot of subtleties and variations, but we're talking about what are more specifically called "plain sect" families, those who follow a doctrine of separation from the rest of the world) opt out of government entirely. They do not accept government subsidies, nor do they pay into or receive benefits like Social Security, and mostly, the government is fine with that. But as of around 2009, the EPA has begun cracking down, because the Chesapeake Bay watershed area, which abuts the heaviest concentration of plain sect farmers, is heavily polluted.
Of all the counties that farm this area, the worst offender is Lancaster County, the home of many plain sect farmers. According to the New York Times, the county as of 2010 generated about 61 million pounds of manure per year, far, far more than any other county in the area. Runoff from that manure, organic or not, can pollute the water systems in disastrous ways, spiking nitrogen and phosphorous rates while reducing oxygen, thus killing off wildlife. When the EPA visited farms in this area back in 2009, they found, says Grist, violations in 85% of the farms, ranging from improperly stored manure, improperly contained cows, and high levels of E. coli in the wells. Another problem: the traditional methods of farming, like horse-drawn plows, tear up the soil and promote erosion much more than more modern methods.
The National Fish and Wildlife Foundation issued a grant in the odd number of $383,744 to help farmers clean up the Pequea (pronunciation: "peek-way") Creek Watershed on the Susquehanna River. That money will go toward proper fencing to keep cows out of the creeks, better cattle crossing, and more efficient and safer storage methods for manure. Hopefully it'll help the plain sect farmers do what they've always set out to do: protect the land.
Dan Nosowitz|November 10, 2014
Environmental Links
SFAS International Wildlife News Audubon Advocate Audubon Restore Eco-Voice South Florida Wildlife Care Center Sawgrass Nature Center & Wildlife Hospital The Turtle Hospital The Marathon Wild Bird Center Climate change info Audubon's Coastal Strand Audubon of Florida News Blog Bioenergy News Climate Progress – climate science, politics and solutions Collins Center for Public Policy Comprehensive Everglades Restoration News EcoWatch – feeds from the WaterKeeper Alliance Everglades Foundation – press releases Everglades Hub Fort Myers News – Press Green Front Pages from Florida Newspapers Herald Tribune Newspapers - Environmental News KeysNews.com Naples Daily News – Environmental News National Public Radio Eco-News Riverwatch News about the Caloosahatchee Sierra Club Sierra Club Florida South Florida Watershed Journal South Florida Water Management District Union of Concerned Scientists – news Yahoo News Search: Everglades NASA Climate Information American Littorial Society log NASA Climate Information Sun Newspapers – Lake Okeechobee News Everglades City News – Mullet Wrapper IFAW's World of Animals Magazine